V prvom rade si treba uvedomiť, že každá rodina je iná a "pravé" hodnoty v jednej nemusia korešpondovať s hodnotami v druhej. Tiež je dôležité pamätať si, že to čo vyhovuje Vám, pokiaľ to neškodí iným či neohrozuje ich vlastný blahobyt, zdravie a podobne, je úplne Vaša vec a nikomu sa v tomto smere nemusíte spovedať. Z toho dôvodu, ak s niečím v článku nebudete súhlasiť, smelo to preskočte.
U nás doma sa už dlhodobo zaoberáme našim vplyvom na životné prostredie, otázkami konzumu a výchovy a tiež tým, čo robiť, aby z nášho syna vyrástol človek empatický, asertívny a s rebríčkom hodnôt v (pre nás) správnom poradí. Tému hodnôt vs. matérie v období Vianoc som otvorila medzi svojimi priateľkami a vyšlo nám z toho pár odporúčaní. Skúsme sa na tipy nášho ženského kruhu pozrieť spolu:
Deti robia to, čo rodičia – preto choďte príkladom
Ospravedlňujem sa za klišé v úvode, ktoré ste už počuli miliónkrát, ale je to tak. Ako si má Vaše dieťa vážiť niečo iné ako matériu, ak doma plačete nad tým ako a) nemáte peniaze, b) máte prázdnu skriňu, c) chýba Vám toto či ono, d) vždy, keď sa dá kúpite niečo materiálne sebe alebo dieťaťu, e) pred dieťaťom rozprávate, čo majú iní a porovnávate to s tým, čo Vy nemáte? Dieťa Vás skutočne kopíruje, tak sa vždy pri vkladaní vecí do košíka zamyslite, čo skutočne potrebujete. Baby, jasné, nemám v pláne obrať Vás o ženské pôžitky či rozmary, veď aj tie sú z času na čas potrebné, ale všetko s mierou. Žijeme v dobe, keď je možné kúpiť si takmer všetko, tak prečo si trochu nepotrénovať ducha. Veď i Aristoteles sa chodil na trhy iba pozrieť na veci, ktoré nepotrebuje, a to ho napĺňalo spokojnosťou.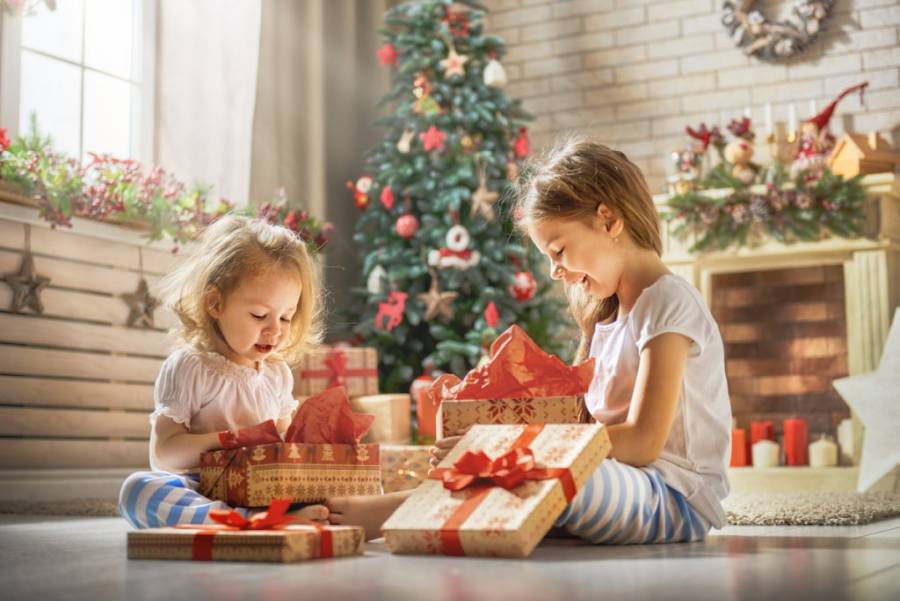 Vytvorte si rodinnú tradíciu, ktorá sa Vám bude navždy spájať s Vianocami
Deti sa budú vždy medzi sebou porovnávať, najmä, ak sú už trochu väčšie a sú súčasťou kolektívu. Tým, že žijeme v materiálnom svete, porovnávajú si materiálne veci. Čo ak však príde práve Vaše dieťa do školy s tým, že vždy na štedrý večer spoločne vymyslíte rozprávku/ idete nakŕmiť vtáčiky/ pomôcť ľuďom bez domova a pod.? Mne by sa to ako dieťaťu páčilo. Tradícií, ktoré môžete spoločne vytvoriť je množstvo a fantázii sa medze nekladú. Medzi mojimi kamarátkami ma najviac zaujali nasledovné:
Pomoc ľuďom bez domova, istá rodina celý mesiac namiesto adventného kalendára zbiera do škatule veci, ktoré by mohli niekoho potešiť a na Štedrý deň tento dar venujú vybranému človeku, na ktorom sa dohodnú vopred
Kŕmenie vtáčikov- iní kamaráti spolu zvyknú vyrobiť vtáčiu búdku a túto na prvý sviatok vianočný spoločne zavesia na strom a naplnia stravou pre vtáčiky
Vianočný príbeh- celá rodina si po večeri, namiesto pozerania tradičných rozprávok, sadne na gauč a spoločne tvoria vianočný príbeh. Môže byť akýkoľvek šialený. Vždy sa pri tom dobre nasmejú a príbeh založia do rodinnej kroniky, kde ich takto už majú osem. Raz z toho bude celá kniha 🙂
 Na príchod sviatkov sa pripravujte spoločne – aktivity pred Vianocami
Ako dieťaťu sa mi s príchodom Vianoc spájal adventný kalendár pochybnej kvality, Mikuláš a upratovanie. Veľa upratovania. Otravného. Zbytočného. Vôbec na to nespomínam rada. Samozrejme, je príjemnejšie Vianoce stráviť v čistom príbytku, ale skutočne treba vytrieť všetky zásuvky, skrine a svadobný kryštál? Ak Vám na tom záleží, smelo do toho, ale ak to nie je až také dôležité, prečo si radšej v mesiaci december nevypĺňať čas príjemnejšími rodinnými aktivitami? Pobyt vonku, spoločné pečenie, vytvorenie vlastného adventného kalendára alebo pravidelný čaj o piatej môžu byť všetko Vaše adventné aktivity.
Vďačnosť
Spoločná vďačnosť je na mieste každý deň, nielen počas Vianoc. Už len samotná rekapitulácia dňa a uvedomenie si všetkého, za čo môžeme byť vďační, má ozdravný charakter. U mojej kamošky psychologičky takto ďakujú vždy pri spoločnej večeri. Ak to s deťmi v ten konkrétny večer nejde, povedia si svoje slová vďaky aspoň s manželom a vraj sa im hneď zaspáva ľahšie.