"Sme dielom Boha, jeho božskosti. K nemu sa chceme navrátiť, odolať zlobe, falši, slabosti. V jeho mene len LÁSKU tasiť"- toto sú verše z knižočky Vitajte v Banskej Bystrici, ktorú napísala Anna Drevická. Sú v nej aj ďalšie básne a hlavne fotky zachytávajúce mesto a prírodu. Anka nemá len, ako sa vraví "básnické črevo", ale aj výtvarný talent. Matka dvoch, dnes už dospelých synov, však všetky tieto svoje danosti zo seba "vypustila" von až potom, ako ju utrápilo psychicky náročné pracovné prostredie. Áno, práve to bolo "spúšťačom" jej tvorby.
Vchádzame do útulného ateliéru, respektíve do mini galérie, v Banskej Bystrici. Neviem, kam sa skôr pozrieť a čo skôr obdivovať. Očami blúdim po pestrofarebných obrazoch, niektoré sú aj plastické, teda dotvorené textilom. Niekde jasne rozoznávam motív ukrižovaného Krista či fialové orgovány. Inde zas popúšťam uzdu vlastnej fantázii a na obraze vidím to, čo odráža moja myseľ. To, čo tam spozorujem len ja a práve v danej chvíli, vo svojom citovom rozpoložení. Keď som sa už nasýtila pohľadov, obraciam sa na moju hostiteľku, aby predo mnou "rozplietla" svoj príbeh. Anka Drevická pochádza zo Spišských Vlách a do školy chodila v Spišskej Novej Vsi. Vyštudovala ekonomiku a pracovala na rôznych pozíciách. Naposledy bola zamestnaná v bezpečnostných zložkách. Svoj nový domov našla v srdci Slovenska, v meste s bohatou históriou a nádhernou prírodou. A práve tu si zriadila aj ateliér. "Ostatná práca bola veľmi náročná a v istom období aj vzťahy a prostredie na pracovisku. Zdravotne som sa necítila dobre, dá sa povedať, že som sa psychicky, ale aj fyzicky zrútila. Cítila som sa vyčerpaná a "stratená". Tak som iniciovala svoj odchod," hovorí pani Anka. Čo všetko zažila, hovoriť z pochopiteľných dôvodov nemôže. Nuž, odchod je jedna vec, no zároveň treba vedieť, čo ďalej.
Enkaustika a iné
"Začala som zisťovať, čo sa mi vlastne stalo a aj hľadať spôsob, ako sa z toho vymaniť. Na PN-ku mi nebolo umožnené nastúpiť, no ja som nevládala žiť. Obávala som sa, že začnem robiť v práci chyby, preto som odišla. Izolovala som sa od ľudí. Nemala som silu vysvetľovať, čo mi je, keď som to ani ja sama nevedela. Neskôr som si podľa symptómov diagnostikovala depresiu, čo sa aj odborne potvrdilo. Svoj nový život som začala tým, že som sa presťahovala do Banskej Bystrice," vysvetľuje. Zmena lokality bola jej prvým terapeutickým krokom. Potom sa prihlásila na Univerzitu tretieho veku, kde chcela študovať výtvarné umenie. Jej nadšenie však rýchlo opadlo. Zistila totiž, že nastavený spôsob výučby jednoducho nezvládala. Náhoda však chcela, že ju známa pozvala na kurz enkaustiky. Je to druh výtvarnej techniky – maľovanie horúcim voskom a žehličkou. Hneď sa jej to zapáčilo a povedala si, prečo v tom nepokračovať? K enkaustike sa pridalo ešte maľovanie na hodváb, drôtikovanie aj paverpol. To posledné je ďalší druh výtvarnej techniky, pri ktorej sa používa technický stužovač , pomocou ktorého sa tvaruje rôzny materiál, prevažne látky, textil. Vďaka tomu potom mohla vytvárať aj 3D obrazy. Napokon sa dostala aj k akrylovým farbám a začala tvoriť i takzvané klasické obrazy maľované štetcom. Postupne, ako sa zahĺbila do výtvarnej činnosti, zistila, že sa cíti akosi lepšie. Pomaly sa zbavovala svojej veľkej bolesti a jej život sa dostával do normálnych koľají.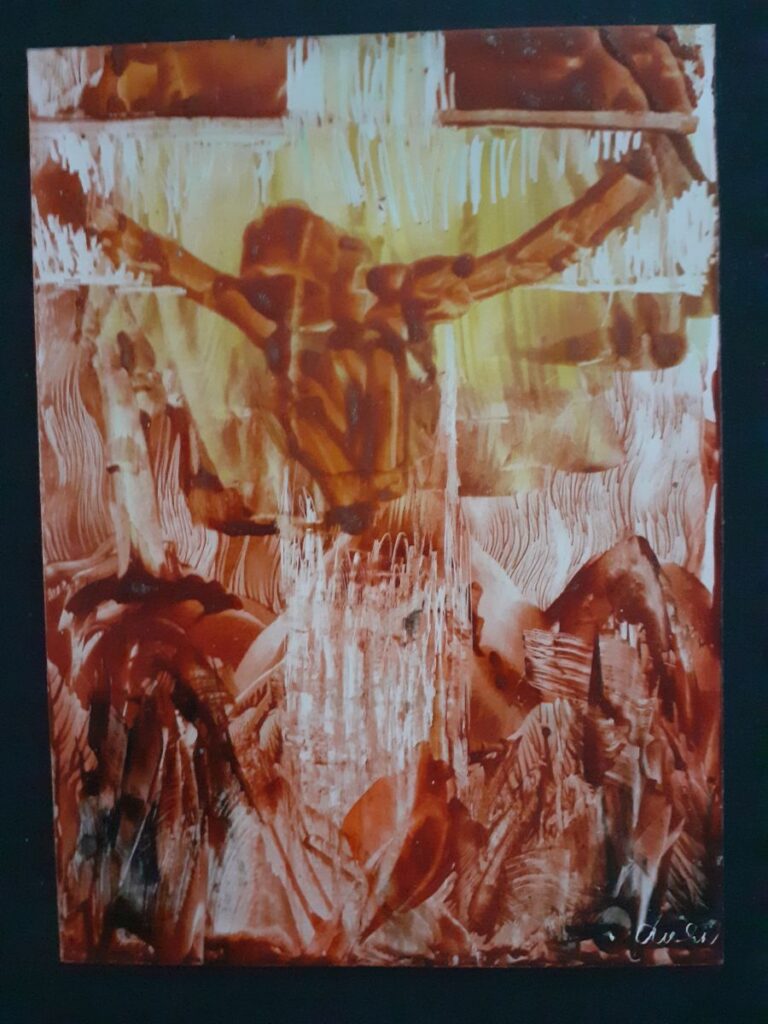 Z bolesti sa "vybásnila"
Aby toho nebolo málo, začalapísať aj básne a okrajovo i prózu. Na konte má už niekoľko samostatných kníh – básnických zbierok. "Keď som prvé verše začala zapisovať na papier, pocítila som úľavu na duši. Nikdy by som si nepomyslela, že raz vydám svoje básne," opisuje Anka. V roku 2018 spod jej pera vyšla prvá básnická zbierka Naliehavé klopanie, o rok neskôr Na javisku večnosti a v roku 2020 Miesto môjho narodenia Zem. Jej najnovším počinom je ďalšia útla knižka Vitajte v Banskej Bystrici, ktorá je doplnená aj autorkinými fotografiami, ktoré zachytávajú genius loci Banskej Bystrice očami ženy. "Ľudia z Banskej Bystrice reagujú pozitívne na moje fotky a aj mi hovoria, že som ich upozornila napríklad na sochu pri bábkovom divadle a na ďalšie na krásy, ktoré si oni v podstate nikdy nevšimli, neregistrovali ich," pokračuje Anka. Zaujímavosťou tejto poslednej básnickej zbierky je, že verše, okrem toho, že sú vďaka jej synom a priateľom prebásnené do dvoch svetových jazykov, dala preložiť aj do aktuálnej ukrajinčiny. Preklad urobila Viktória Machek. "Keď nastala vojna na Ukrajine, tak som sa prihlásila ako dobrovoľník. Mesiac som pomáhala organizovať prepravu Ukrajincov na miesto ich nového ubytovania na Slovensku, v spolupráci s množstvom skvelých ľudí, prevažne cez skupinu dobrovoľníkov Kto pomôže Ukrajine. Bolo to veľmi náročné obdobie. Neskôr som sa začala osobne venovať dvom rodinám. Keď sa trochu udomácnili, zoznámila som ich s enkaustikou a tá ich, ako takmer každého, kto sa s ňou stretol, zaujala. Fantastické sú hlavne deti, lebo ak tie chytia žehličku do ruky, tak to je akoby ste ich "vypli". Nastane ticho a absolútne sústredenie. Ukrajinským detičkám to teda tiež pomohlo, psychicky sa odpútať od každodennej reality a zabudnúť na smútok," komentuje pani Anka.A ako dodáva,záujemcov o enkaustiku učí najmä, aby sa nebáli slobodne sa prejaviť cez výtvarné umenie.
Terapiu umením odporúča
Jej výtvarná tvorba neostala bez povšimnutia ani v samotnej Banskej Bystrici. Mala už viacero výstav a dve priamo na radnici mesta. Jej výstavy sú zároveň aj charitatívnym podujatím – výťažok z nich putuje k tým, ktorí to potrebujú. Napríklad, cez Svetielko nádeje sa takto peniažky dostali do Detskej fakultnej nemocnice v Banskej Bystrici, na kúpu motivačných korálikov pre onkologicky choré detičky. A spolu s ňou vystavujú a pomáhajú nadanej Banskobystričanke aj jej priatelia. "Ja by som môj prístup k psychickým ťažkostiam, teda terapiu tvorivosťou, odporúčala aj iným ľuďom. Mne to pomohlo, cítim sa oveľa lepšie, už sa aj usmievam, znova sa stretávam s ľuďmi. Nedajte sa obrať o radosť z tvorby, keď vás budú iní "usmerňovať". Nebrzdite sa presne nalinajkovaným štýlom, predpísaným postupom. Umenie je o slobode. A hlavne, nezabúdajte na láskavosť," dodáva na záver Anna Drevická. Tak, čo na to hovoríte? Posmelila vás táto nekonvenčná žena plná nápadov a dala aj vám nový impulz?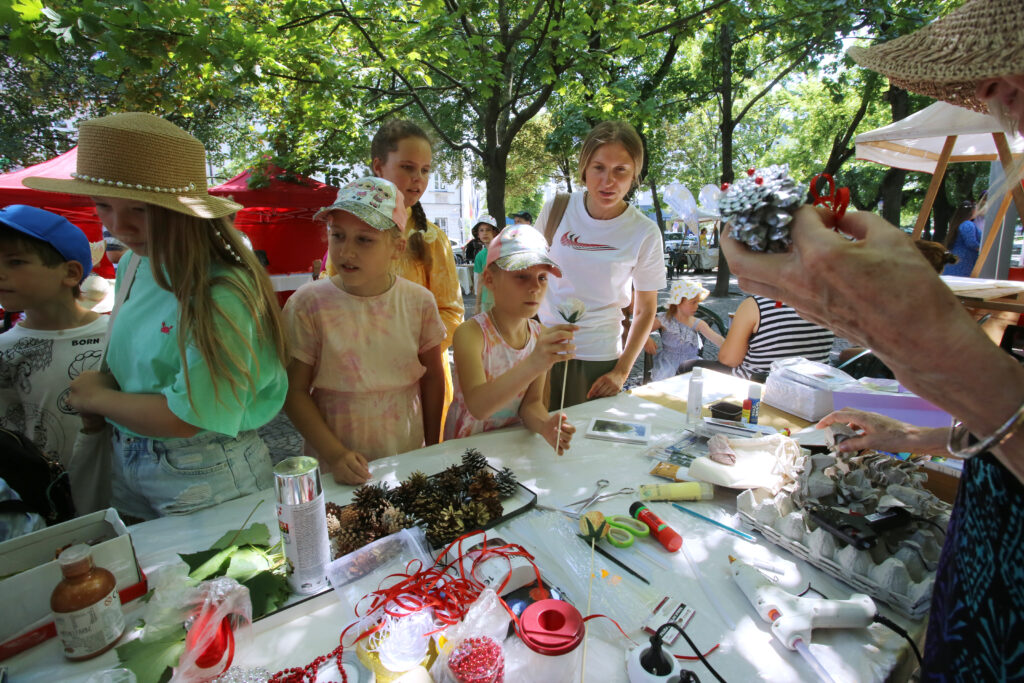 Viera Mašlejová
Foto: Ramon Leško, A. D.