Impozantné skvosty z dielne svetových sochárov v sebe nesú mnohé odkazy. Stali sa akýmsi kultúrnym dedičstvom a mekkou turistov. Gigantickými rozmermi k sebe lákajú návštevníkov z ďalekých krajín, či sú na púšti uprostred ničoho alebo v centre rušného veľkomesta.
Ruka púšte – Atacama, Čile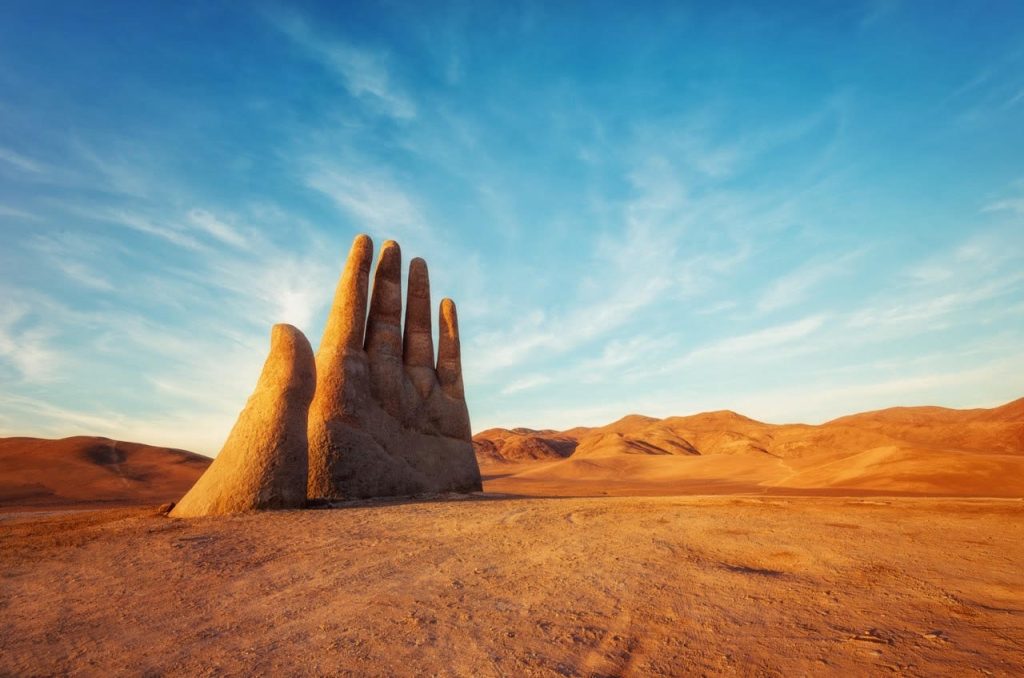 Gigantický monument v Čile sa vyníma na okraji diaľnice. Obrovskú ruku vyčnievajúcu z najsuchšej čilskej púšte Atacama dalo mesto Antofagasta zhotoviť ako symbol prázdnoty a stratenej civilizácie. V marci 1992 odhalili výsledok: štyri natiahnuté prsty a palec z betónu pôsobiace akoby nejaký podzemný gigant uviazol naveky v piesku. Táto slávna pamiatka, ktorá sa nachádza 75 km južne od Antofagasty "trčí" vo výške 1 100 metrov nad morom. Je dielom čilského sochára Maria Irarrázabala, ktorý sa prostredníctvom svojich sôch snaží vyjadriť emócie ako osamelosť, zraniteľnosť, bezmocnosť či bolesť. Ľavá ruka v Čile je pritom pokračovaním pravej ruky, ktorú vyrezal o desať rokov skôr v Uruguaji.
Cadillac Ranch – Texas, Spojené štáty americké
Rad Cadillacov bol "pochovaný do zeme" v texaskom meste Amarillo v roku 1974 a pre mnohých sa stal zaujímavou atrakciou. O pôvode tejto inštalácie sa tradujú mýty o excentrickom Amarillovi – texaskom milionárovi, ktorý kupoval jeden Cadillac za druhým, a keď nastal čas kúpiť si nový, starý dal najskôr zakopať na svojom rozsiahlom pozemku. Pravdou však je, že tvorcovia z Ant Farm Art Group umeleckú inštaláciu zámerne zasadili na Route 66, aby symbolizovala sny a nádeje amerického ľudu.
Neptún – Kanárske ostrovy, Španielsko
Sochár Luis Arencibia už ako malý chlapec plával k vulkanickej skale, ktorá vyčnievala nad morom na južnej strane kanárskej pláže Melenara. To ho o mnoho rokov neskôr, v roku 2001, inšpirovalo vytvoriť štyri metre vysokú bronzovú sochu Neptúna, ktorá sa dodnes týči nad oblasťou a umožňuje tak pánovi morí pozerať sa na svoje kráľovstvo z kamenného trónu na vodnej hladine. Umiestnenie sochy v plytkých vodách na pláži spôsobuje, že to vyzerá, akoby sa Neptún vynáral z oceánu s trojzubcom v ruke a lákal ľudí do vody, aby ho nasledovali.
Le Pouce – Paríž, Francúzsko
Parížska Eiffelovka nie je jediný pozoruhodný monument v hlavnom meste Francúzska. Medzi sklenenými mrakodrapmi, obchodmi a kaviarňami, nablýskanými autami, obchodníkmi preháňajúcimi sa v oblekoch a všetkým ostatným, ​​čo človek očakáva, že nájde vo finančnej štvrti, vyčnieva 18-tonová avantgardná socha. Návštevníci prechádzajúci cez La Défense, najväčší parížsky obchodný sektor, možno nečakajú, že tu nájdu čudné umelecké diela, no práve to tento park ponúka. "Le Pouce" alebo "The Thumb" – palec s výškou 12 metrov vyrobil v roku 1965 francúzsky sochár menom César Baldaccini. Je zdvihnutý k oblohe ako znak súhlasu, nezmieriteľného optimizmu, ale aj márnosti.
Visiaci Freud – Praha, Česko
Ak pôjdete po Husovej ulici v Prahe v starom meste, stretnete sa tvárou v tvár s mužom visiacim jednou rukou na tyči! Nezľaknite sa, nie je to blázon pripravený vrhnúť sa do prázdna. Je to bronzová socha venovaná otcovi psychoanalýzy Sigmundovi Freudovi a intelektualizmu 20. storočia. Ide o jednu z najkurióznejších pamiatok mesta a je najznámejším dielom českého sochára Černého. Dielo bolo po svojom odhalení v roku 1996 schopné cestovať po svete, a tak bolo vystavené na viacerých miestach od Londýna po Grand Rapids v Michigane. Už je však naspäť v Prahe a visí nad úzkou historickou ulicou, čo spôsobuje, že okoloidúci odvracajú zrak od starobylého okolia a pozerajú sa hore, aby premýšľali o budúcnosti.
Čumil – Bratislava, Slovensko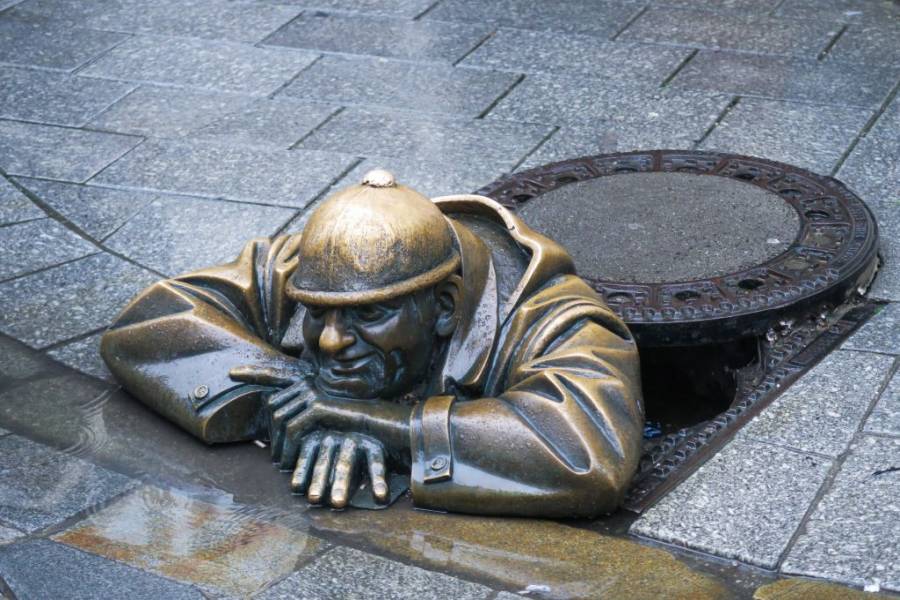 Čumil je jedna z najznámejších sôch v Bratislave, kto s ním nemá fotku, ako keby v hlavnom meste ani nebol. Je to vlastne jeden z najfotografovanejších objektov mesta. Bronzová socha, ktorej autorom je akademický maliar, grafik a výtvarník Viktor Hulík bola osadená 26. júla 1997 v rámci udalosti s názvom Korzo párty, na počesť osláv zrekonštruovanej a vynovenej pešej zóny. Stačí letmý pohľad do tváre "muža v práci" na križovatke Laurinskej a Panskej ulice, aby sme pochopili, prečo sa volá "Čumil". Socha s úškrnom na tvári vykúka spod šachty v Starom Meste a vyzerá, že sleduje každý krok okoloidúceho.
Autor: Nikola Bene