Dlho očakávaný štart veľkolepej módnej udalosti Bratislavské módne dni by Mercedes- Benz usporadúvanej agentúrou Promotion sa včera stal skutočnosťou už sedemnástykrát a všetci nadšenci módy sa mohli nechať unášať na vlnách talentu slovenských, českých a ukrajinských návrhárov priamo na hladine Dunaja v eventovom priestore Ponton s fantastickými výhľadmi na hlavné mesto.
Včera sa uskutočnil prvý z dvoch dní veľkolepej a dlho očakávanej šou. Udialo sa tak už sedemnástykrát, ale predsa len bola atmosféra umocnená faktom, že podobná udalosť prišla na scénu po dlhom období lockdwnov a obmedzení. Hoci sa hostia mohli konečne atmosféry nadýchať zhlboka a v plnom počte, nik nezabudol ani na spoločenskú situáciu u našich východných susedov. A práve návrhárky z Ukrajiny ozvláštnili a obohatili prehliadky českých a slovenských tvorcov.
Generálna riaditeľka Mária Reháková tentokrát vybrala unikátny priestor Ponton priamo na hladine Dunaja. Okrem známych osobností prišla akciu podporiť aj jej najbližšia rodina. Na fotke s vnučkou a moderátorkou Simonou Simanovou.
"Tešíme sa, že otvárame už sedemnásty ročník Bratislavských módnych dní- jarnú časť. Je to dnes o to špeciálnejšie, že Dunaj tečie priamo pod nami a keď sa zotmie, pozadím bude vysvietená Bratislava," prezradila nám svoje úvodné pocity generálna riaditeľka agentúry Promotion pani Mária Reháková. Nezabudla však na prítomnosť a vysvetlila, čo ďalšie je tento rok iné, ako v minulosti: "Žijeme neľahkú dobu poznačenú vojnou na Ukrajine. Podarilo sa nám však zachytiť ukrajinské návrhárky, ktoré mali kolekcie pripravené na Fashion week v Kyjeve, ktorý sa kvôli situácii, aká nastala neuskutočnil. Ale práve zomknutosť našich návrhárov sa prejavila v tom, že vytvorili podmienky, aby mohli aj tieto tvorkyne svoje kolekcie predstaviť, tu v Bratislave."
Prvý deň prehliadok sa niesol v znamení značiek La Rena so sviežimi trendami, už spomínaná Natalia Galagan z Ukrajiny, ktorá chce svetu ukázať, že štrikované prvky nie sú len pre babičky, ale hodia sa ku každej modernej žene, nazameniteľný Rozbora Couture, Siloe.Design a Ateliér Luz v dokonalej symbióze čistých línií šiat s extravagantnými šperkami či Alexis Vidic Millinery s klobúkmi, ktoré si nájdu miesto aj v súčasnom modernom svete. Nechýbali ani Monika Laceková, Zuzana Haková, Lucia Bugárová, Jana Jurčenko či víťazka minulého ročníka kategórie Nové tváre Juliána Brnáková so svojou módou z recyklovaných materiálov. Slovenské ľudové vzory sa vynímali na šatách Mišeny Juhász doplnených kabelkami Suzania a záver prehliadok patril zohratým súrodencom Ponerovcom s ich značkou Poner.
Vo svojich príhovorch sa generálna riaditeľka agentúry Promotion Mária Reháková, generálny riaditeľ spoločnosti Mercedes- Benz Slovakia Oliver Zink aj generálna riaditeľka Mary Kay pre Českú a Slovenskú republiku Edita Szabóová zhodli, že sa na túto udalosť neskutočne tešili. Prítomným zapriali, aby si tiež vychutnali krásu na móle, ako aj tú za oknami jedinečného priestoru udalosti- Ponton.
Po predstavení modelov všetkých návrhárov z prvého dňa nastal čas na voľnejšiu zábavu, kde si hostia okrem skvelej kávy značky Veronia coffee, mohli pochutiť aj na víne, v ktorom sa skrýva pravda a tí odvážnejší mohli svoje otázky spojené s krásou konzultovať s plastickým chirurgom MUDr. Lukášom Šimkom, PhD z Kliniky zdravia a krásy- Interklinik.
"Som veľmi hrdá na slovenských návrhárov, ktorí sa skutočne posunuli dopredu a chcem sa poďakovať všetkým zúčastneným, že sa nám podarilo dať priestor aj návrhárkam z Ukrajiny a vytvoriť tak priestor na pomoc. Myslím si, že každý si tu dnes našiel to svoje," povedala na záver prvého dňa Mária Reháková. Dobrou správou je, že dnes večer sa môžeme tešiť na pokračovanie udalosti, kde sa predstavia opäť ďalší návrhári v skvelej módnej šou.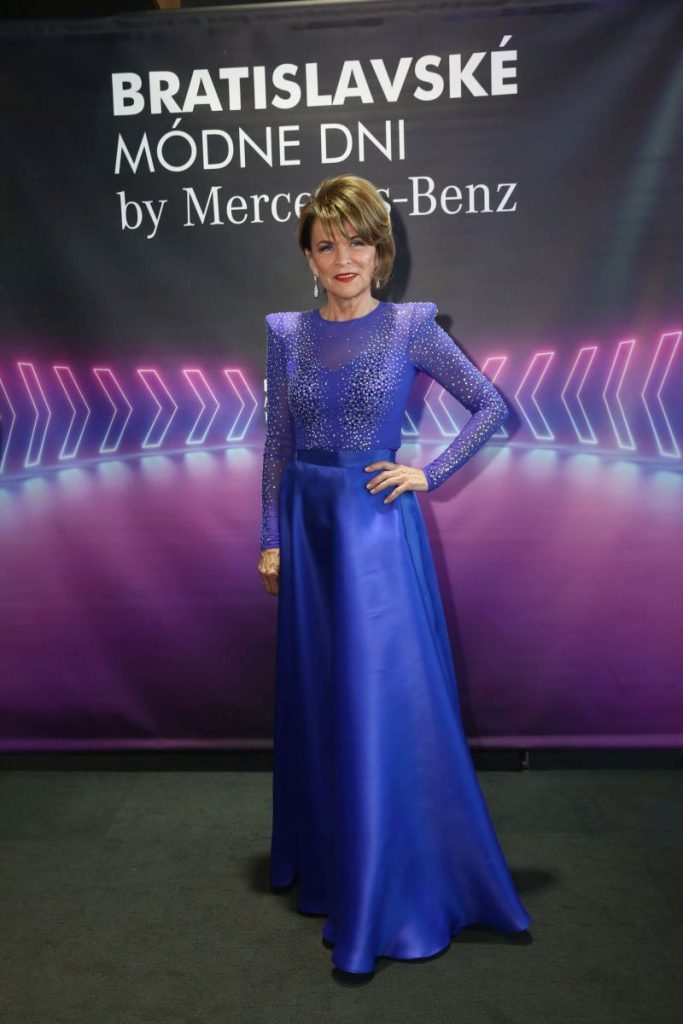 Záznam z prvého dňa exkluzívnej módne šou Bratislavské módne dni by Mercedes-Benz 2022
Bratislavské módne dni 2022 - D1 - ROZBORA COUTURE