Monika Šulová Kardošová žila spokojný život mladej mamičky dvoch detí, až kým si jedného dňa nenahmatala hrčku v ľavom prsníku. Zrazu bola konfrontovaná s realitou chemoterapií a rádioterapií. Prsník bolo nutné vybrať a mladá žena sa musela naučiť žiť so svojím novým ja. 
Onkologický nádor našli Monike v prvom štádiu, keď je veľká šanca na úplné vyliečenie. Situáciu však komplikovala prvá vlna pandémie na jar 2020. "Hrčku na prsníku som si našla, keď som mala tridsaťdva rokov. Stále som dojčila mladšiu šesťmesačnú dcéru. Vtedy sa rozbehol celý kolotoč vyšetrení. Podľa lekárov a prehliadok, ktoré som v tom čase absolvovala, to vyzeralo, že som v poriadku. Ja som však vnútorne cítila, že sa so mnou deje niečo vážne. Neviem to racionálne vysvetliť, no cítila som sa veľmi krehko a choro. Bola som neustále unavená, mala som zvýšenú teplotu, tvorili sa mi herpesy, dostala som ekzém a alergiu. Tieto veci som nikdy predtým nemala," opisuje Monika svoje stavy spred dvoch rokov.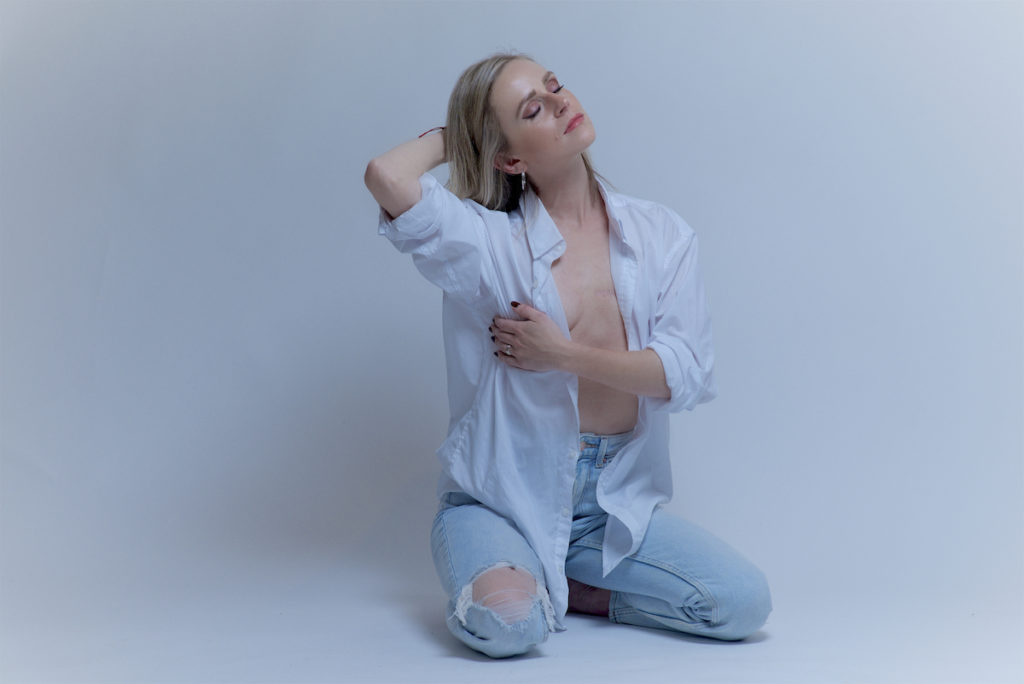 Polovicu materskej strávila chodením po nemocniciach
Monika poprosila lekárov o lumbálnu punkciu, pomocou ktorej jej zistili fibroadenóm na prsníku. Útvar, ktorý by žena v prsníkoch mať nemala, však zhubný vraj nebol. Podľa lekárskych vyšetrení bola Monika v poriadku a nebola rizikovým pacientom (v čase pandémie sa totiž operovali iba zhubné nádory). Prekvapenie nastalo až po operácii. Výsledky z komplexnej histológie potvrdili karcinóm prsníka. Po tejto informácii sa zosypala na zem. Monika absolvovala každé tri týždne štyri tzv. "červené" chemoterapie, po ktorých jej vypadali vlasy. (Nasledovali každé tri týždne cykly chemoterapie) a šestnásť ožiarení. To, že ide o výnimočne silnú ženu potvrdzujú aj jej slová o tom, ako celú chorobu prežívala: "Choroba ma vrátila silou do života, moment, keď som zistila, že mám rakovinu, ma paradoxne nakopol. Povedala som si, že mám predsa rodinu, malé deti, a že tu chcem byť pre nich. Samozrejme, že som si prvýkrát porevala, no keďže sa všetko zbehlo tak rýchlo, tak som ani nemala veľa času na nejaké opúšťanie sa. Rakovina sa predtým v mojich očiach rovnala smrti, avšak zrazu som si o tom začala viac čítať a čím viac som o chorobe vedela, tým som bola pokojnejšia."
Manžel sa vystrihal spolu so mnou
Fyzickú bolesť z choroby a stavy po chemoterapii Monika prirovnáva k opici po alkohole, avšak v tisícnásobnom meradle. V tomto náročnom životnom období mamu Moniku čakali doma ročná dcéra Paulínka a trojročná Alicka. Rodina pomáhala ako mohla, brat sa o Moniku staral tesne po chemoterapiách, mama s otcom jej boli veľkou psychickou oporou a úsmevy detí motiváciou. "Sama som nevedela, ako na mňa bude chemoterapia vplývať, reakcie sú u každého iné, veľa som spala a jedla, o deti sa v tom čase starala rodina. Najhoršie mi bolo asi po prvej chemoterapii. V ten deň som sa išla ešte poprechádzať, no večer mi začalo byť príšerne. Po ďalších to už bolo lepšie," prezrádza Monika, ktorej veľkou oporou je po celý čas manžel. "Keďže mi vlasy začali po chemoterapii húfne vypadávať, ráno na vankúši sme mali už naozajstnú hotovú vlasovú spúšť. Manželovi som povedala, nech ma ostrihá strojčekom. Mňa skôr iritovalo, že sú vlasy všade, čiže, keď mi ich ostrihal, tak sa mi uľavilo. Spýtal sa ma, na akú dĺžku ma má ostrihať. Odpovedala som, že je to jedno, i tak to celé zrejme vypadne. A on sa celý ,vykosil´ spolu so mnou, takmer na koleno", hovorí s láskou v očiach o súdržnosti Monika.
Do práce chodí s vďakou
Monika bola vždy veľmi pozitívne naladeným človekom a aj to určite dopomohlo k zvládnutiu náročnej situácie. Aktuálne je v stave remisie, pričom každé tri mesiace chodí na kontrolné vyšetrenia. Teraz sa cíti výborne. Môže sa pracovne realizovať, čo jej po päťročnej materskej dovolenke v spojení s chorobou príde veľmi vhod. "Užívam si to, že môžem komunikovať s ľuďmi, byť produktívna, riešiť bežný pracovný kolotoč. Posledné dva roky môjho života som sústredila svoju myseľ iba na chorobu, takže toto je príjemné ,znovu-oživenie´, konštatuje s vďakou. "Tým, že som mala hormonálny typ nádoru, absolvujem teraz hormonálnu liečbu, ktorá ma umelo priviedla do menopauzy, čiže oficiálne som v prechode, so všetkými nepríjemnosťami, ktoré s tým súvisia," vraví Monika. Patria medzi ne nočné návaly tepla, potenie, ktoré sa strieda so zimnicou, bolesti kĺbov a kostí, výkyvy nálad a nespavosť. Každý deň si na rakovinu spomenie skrz jazvu, ktorá jej na hrudi ostala, avšak s pokorou. Je veľmi vďačná za to, ako sa s celou chorobou popasovala. Treba si vážiť čo máme, pretože nič nie je také komplikované, ako sa na prvý pohľad zdá. "Niekedy sa sama sebe čudujem, koľko síl som v danom čase mala," uzatvára Monika.