Detská skupina PACI PAC vyráža na jedinečné turné po celom Slovensku! Mário Praženec a Nikoleta Kupčíková zahrajú best of svojej tvorby v 14-tich kinosálach Cinemax, ktoré ponúkajú fantastické možnosti spestrenia  vystúpení. Na turné si berú aj posilu v podobe herca Matúša Šťastniaka, ktorý dokonale zahrá každú postavičku z ich pesničiek. PACI PAC si kvôli turné dokonca dali ušiť nové traky a motýliky!  
PACI PAC vydali nový album plný najobľúbenejších pesničiek od začiatkov kapely až po súčasnosť. Výberovka To najlepšie deťom vyšla spolu s DVD, na ktorom nájdu fanúšikovia videoklipy na všetky skladby. A tie teraz Mário Praženec a Nikoleta Kupčíková predstavia naživo na turné po celom Slovensku.
"Tešíme sa, že sa konečne uvidíme naživo spoločne s deťmi a aj rodičmi. Dva roky sme kvôli pandémii nemali turné a teraz už konečne môžeme vyraziť za malými fanúšikmi. Tento program je nový a úplne iný ako doteraz videli. Teším sa, ako budú reagovať deti na nové scénky a rekvizity. Oprášime aj staršie pesničky z prvého CD. V podstate je to taký prierez našou tvorbou, odohráme spolu 16 pesničiek. Počas predstavenia sa na pódiu objaví sedem postavičiek v kostýmoch z našich videoklipov," predstavuje Mário Praženec alias PAC.
Jedinečné koncerty PACI PAC sa odohrajú v 14-tich kinosálach Cinemax, v Prešove a v Trnave dokonca dvakrát.
"Naši fanúšikovia sú predovšetkým deti, ale tentokrát, okrem šťastných detských tvári, plnej sály smiechu, lásky a zábavy sa môžu aj rodičia tešiť na koncert vďaka komfortu, ktorý ponúkajú kinosály Cinemax. Je to obrovská výhoda, že si naše turné budú môcť užiť aj oni. Pohodlne v teple, s občerstvením, pestrým programom pre ich drobcov, konkrétnym miestom na sedenie či bezproblémovým parkovaním," prezradila Nikoleta Kupčíková alias PACI.
Obľúbená detská skupina na turné plne využije kvalitný zvuk, ktorý kinosály Cinemax ponúkajú. Okrem toho dvojica použije aj plátno, na ktorom sa bude premietať animovaný vizuál.
"Kým my budeme naživo hrať, na plátne budú animovaní PACI a PAC tancovať. Som zvedavý ako to celé zafunguje a aký zážitok si diváci odnesú. Na plátne sa bude premietať animovaný loop, ktorý vyrobilo štúdio Plutoon. Máme nový tím, ktorý bude cestovať s nami. Dokonca sme si dali ušiť nové traky a motýliky, aby bolo všetko tip top. Pôjdeme dvoma autami, pretože sa nám všetky kulisy, kostýmy a ozvučenie do jednej dodávky už nezmestia. Dokonca budeme z turné nakrúcať aj aftermovie, ktorý si potom budú môcť návštevníci pozrieť na našom youtube kanály," konštatuje Mário Praženec
Prípravy na turné sú už v plnom prúde. Nikoleta a Mário deti do programu aktívne zapájajú a pripravili aj kopec prekvapení.
"Deti dostanú nielen sladké maškrty, ale aj zdravé a obľúbené mliečka Brejky. Budú mať možnosť stretnúť sa s obrovským plyšovým kamarátom, ktorého poznáte ako maskota z Turbo TV. Súčasťou koncertu je aj fotenie, takže okrem darčeku, ktorý od nás dostane každé dieťa, si zo sebou domov odnesiete aj fotografiu na pamiatku. Spestrením koncertu je aj tretí člen našej kapely Matúš Šťastniak, ktorý fantasticky zahrá každú postavičku z našich pesničiek. Prezlieka sa za rôzne postavičky, ako napríklad Levíka Lea, Pána Trampolíniho, Sloníka, Pána Traktoristu a mnohých ďalších," teší saNikoleta Kupčíková.
Duo PACI PAC je na scéne od roku 2015 a na konte majú päť CD a päť DVD. Aktuálne sú opäť v štúdiu, kde pripravujú nové pesničky. A finišujú s pesničkami do filmu, ktorý by mali čoskoro nakrúcať. Nenechajte si ujsť ich februárové turné, vstupenky si môžete kúpiť tu https://www.cine-max.sk/akcie/akcia/paci-pac-turne-v-cinemax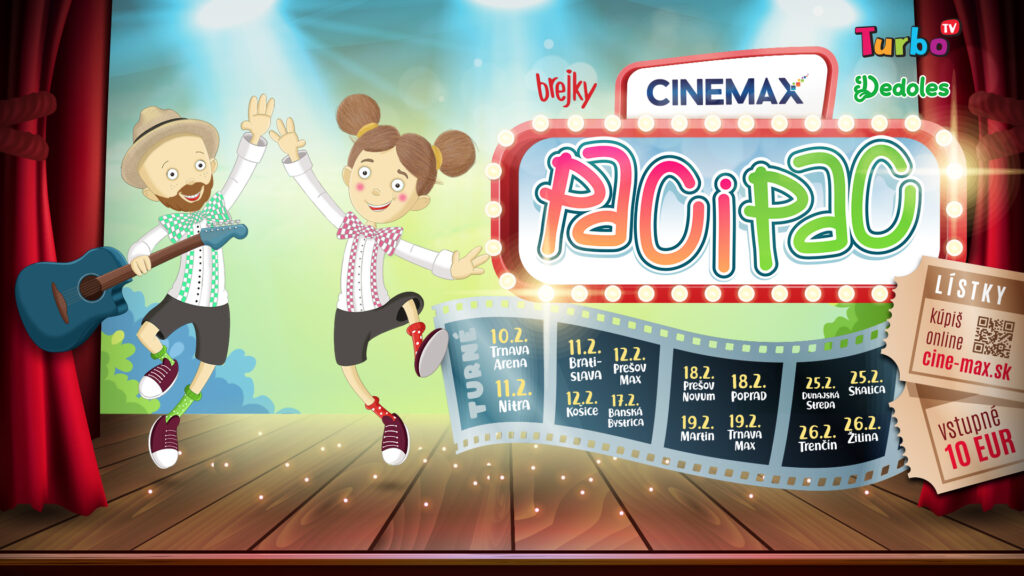 WEB: http://pacipac.sk/
FB: https://www.facebook.com/pacipac.sk
INSTA: https://www.instagram.com/paci_pac/
YT: https://www.youtube.com/channel/UCGWk8azphTdm0PKH0vKDIfw
CD a DVD To najlepšie deťom: https://www.spinaker.sk/paci-pac#diskografia
Spot k turné: https://www.youtube.com/watch?v=-eW-Cu_ctvY
PACI PAC CINEMAX TURNÉ 2023
10.2. TRNAVA ARÉNA
11.2. NITRA
11.2. BRATISLAVA
12.2. PREŠOV MAX
12.2. KOŠICE
17.2. BANSKÁ BYSTRICA
18.2. PREŠOV NOVUM
18.2. POPRAD
19.2. MARTIN
19.2. TRNAVA MAX
25.2. DUNAJSKÁ STREDA
25.2. SKALICA
26.2. TRENČÍN
26.2. ŽILINA