Ako nájsť v dnešnom svete lásku na celý život? Cez Tinder, Badoo, Grindr, v práci, na párty, vo fitku, v škole…? A čo tak nechať rozhodnúť o životnom partnerovi svojich rodičov? Alebo využiť služby profesionálneho dohadzovača? Zdá sa vám to ako zlý vtip? Romantická komédia Čo s tým má láska? vám ukáže, že nájsť toho pravého či tú pravú sa dá rôznymi spôsobmi. 
Hlavná hrdinka Zoe (Lily James) je mladá, ambiciózna filmárka, ktorá na zoznamovanie s opačným pohlavím rada využíva vymoženosti modernej doby. Na zoznamovacích aplikáciách je pečená-varená, no "swajpovanie doprava" na Tinderi jej zatiaľ prinieslo len niekoľko trapasov, množstvo zlých rande a pár príležitostných sexuálnych zážitkov. Zoe to však neberie príliš tragicky, do vážneho vzťahu sa veľmi nehrnie a okoliu svoj single status komentuje slovami, že má stále otvorené výberko na toho pravého. Jej svojrázna a sarkastická mama (Emma Thompson) z tohto prístupu nie je dvakrát nadšená a najviac zo všetkého si želá, aby sa jej dcéra už konečne usadila s niekým "milým" a "dobrým". Napríklad so sympatickým veterinárom Jamesom (Oliver Chris), ktorého sa jej trochu nešikovne snaží dohodiť. Zoe však o tom nechce ani počuť.
Zoein kamarát z detstva Kazim (Shazad Latif) na rozdiel od nej dá v milostných záležitostiach na radu svojich príbuzných, a to doslova. Rozhodne sa totiž pre takzvané dohodnuté manželstvo so ženou, ktorú mu vybrali jeho rodičia. Predchádzajúce vzťahy, založené na chémii a vzájomnej iskre, mu nevyšli, a tak sa rozhodne zobrať to z opačného konca. Napokon, aj manželstvo jeho vlastných rodičov bolo dohodnuté a dopadlo šťastne, prečo by to teda v jeho prípade nevyšlo? Keď sa Zoe dozvie, do čoho sa jej kamarát pustil, vzbudí to v nej nedôveru, no zároveň aj záujem. Rozhodne sa sprevádzať ho s kamerou na veľkolepú, exotickú svadbu do Pakistanu, kde na Kaza čaká krásna neznáma, ktorá sa má stať jeho ženou, a natočiť o tom film. Postupne však zisťuje, že jej je Kaz bližší, ako si pôvodne myslela…
Zaujímavosťou je, že dvaja hlavní hereckí predstavitelia, Lily James a Shazad Latif, sú dobrými priateľmi aj v skutočnom živote. Ich príjemná chémia na plátne je tak 100 % uveriteľná. "Shazad je jedným z mojich najlepších priateľov. Kamarátime sa viac ako desať rokov, takže keď mi počas prvého lockdownu prišiel email s ponukou a zistila som, že práve on hrá Kaza, povedala som si: ,Určite idem do toho," prezradila Lily James, pre ktorú bola rola Zoe v istom zmysle aj veľmi osobná. "Myslím si, že Zoe je zmätená a vytvorila si okolo seba množstvo ochranných múrov. Našla si útočisko vo svojej práci a naozaj sa jej darí. Ale len čo svoj film odpremiéruje, akoby sa všetko vyjasnilo a uvedomí si, že sa len bráni tomu byť zraniteľná a otvoriť sa druhému človeku. Ak mám byť úprimná, v tejto postave som sa naozaj spoznala. Človek sa v postavách, ktoré ho priťahujú, vždy tak trochu nájde, ale v tomto prípade vidím skutočne obrovskú podobnosť so svojím vlastným životom," priznala sa sympatická herečka.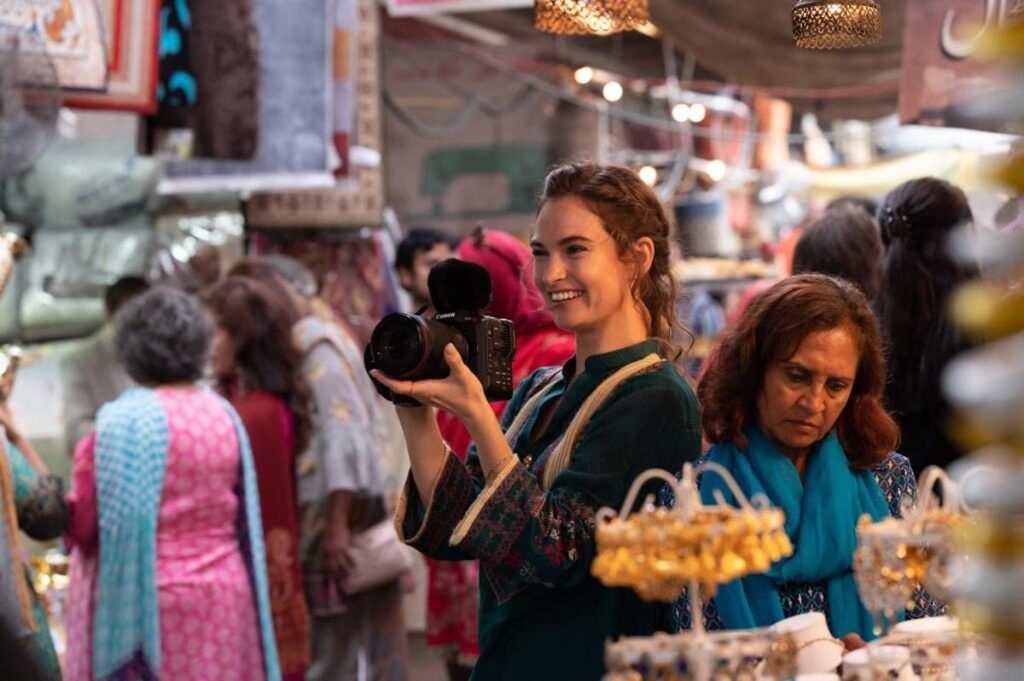 Scenár k filmu Čo s tým má láska? napísala britská scenáristka a producentka Jemima Khan, ktorá v ňom vychádzala z vlastnej životnej skúsenosti. Jemima je rodená Britka, ktorá si zobrala pakistanského manžela a desať rokov s ním žila v Pakistane. Po rozvode sa presťahovala späť do Londýna a istý čas randila napríklad aj s hercom Hughom Grantom. Počas svojho pobytu v Pakistane spoznala množstvo párov z tradičných dohodnutých (či po novom asistovaných) manželstiev, ktoré si takýto zväzok pochvaľovali. "Ich vzťah sa síce láskou nezačal, ale skončil sa ňou. Podľa mojich pakistanských priateľov je celoživotná láska založená na filozofii ,nechaj to prebublať a potom var'. Kompatibilita predstavuje pre vzťah pevnejší základ ako vzájomná chémia, spoločný hodnotový systém je pevnejší než dobrodružstvo, pragmatizmus je silnejší ako vášeň. Moje manželstvo bolo jediným sobášom z lásky v histórii manželovej rodiny. A ako jediné sa skončilo rozvodom," uviedla Jemima, pre ktorú je film okrem iného aj skúmaním kontrastu medzi "západným" a "východným" prístupom k milostným vzťahom.
Romantickú komédiu Čo s tým má láska? režíroval oscarový režisér Shekhar Kapur, ktorý má na konte napríklad historické veľkofilmy Alžbeta a Kráľovná Alžbeta: Zlatý vek. Hlavnú úlohu, anglickú kráľovnú Alžbetu I., v nich stvárnila skvelá Cate Blanchett. Zárukou kvality sú aj producenti Tim Bevan a Eric Fellner, ktorí stoja za romantickými megahitmi ako Láska nebeská či Denník Bridget Jonesovej.
To, či bude rovnako úspešná aj ich najnovšia romantická komédia, sa dozvieme už čoskoro. Film Čo s tým má láska? príde do slovenských kín 26. januára 2023.