Stretnutie laureátok 15. ročníka prestížnej ankety Slovenka roka 2023 opäť potvrdilo jej výnimočnú podstatu. To, akým spôsobom sa stará o prepojenie našich vzácnych Sloveniek je celosvetovým unikátom. Podobne výnimočná udalosť totiž nemá v inej krajine obdobu. "Anketa Slovenka roka, to zďaleka nie je iba gala večer, staráme sa o to, aby medzi dámami vznikli naozajstné plnohodnotné vzťahy, pretože iba tie majú v dnešnom svete skutočnú hodnotu," hovorí organizátorka ankety Slovenka roka 2023 Mária Reháková.
V dnešnej dobe niečo pozitívne je doslova zázrakom
Sú to slová jednej z nominantiek, ktoré sa počas dvoch dní mohli bližšie spoznať v krásnom prostredí hotela ROYAL PALACE***** v Turčianskych Tepliciach. Dámy mali dostatok času sa porozprávať, vymeniť si pracovné skúsenosti a poznatky. To všetko v luxusných priestoroch obklopených nádherným parkom.
Nominantky na slávnostnom obede privítala v mene generálnej riaditeľky vydavateľstva Márie Rehákovej šéfredaktorka týždenníka Slovenka Katarína Hanzelová: "Anketu Slovenka roka organizujeme pätnásty rok. Je pre vás a o vás, milé naše Slovenky, o vašej šikovnosti a snahe čeliť dennodenne problémom s ktorými zápasíte a napriek tomu sa nevzdávate. Dôkazom toho je aj vaša prítomnosť na tejto udalosti. Verím tomu, že spolu zažijeme veľmi príjemné chvíle a, že aj vy pocítite zadosťučinenie za všetku snahu, ktorú zo seba vydávate."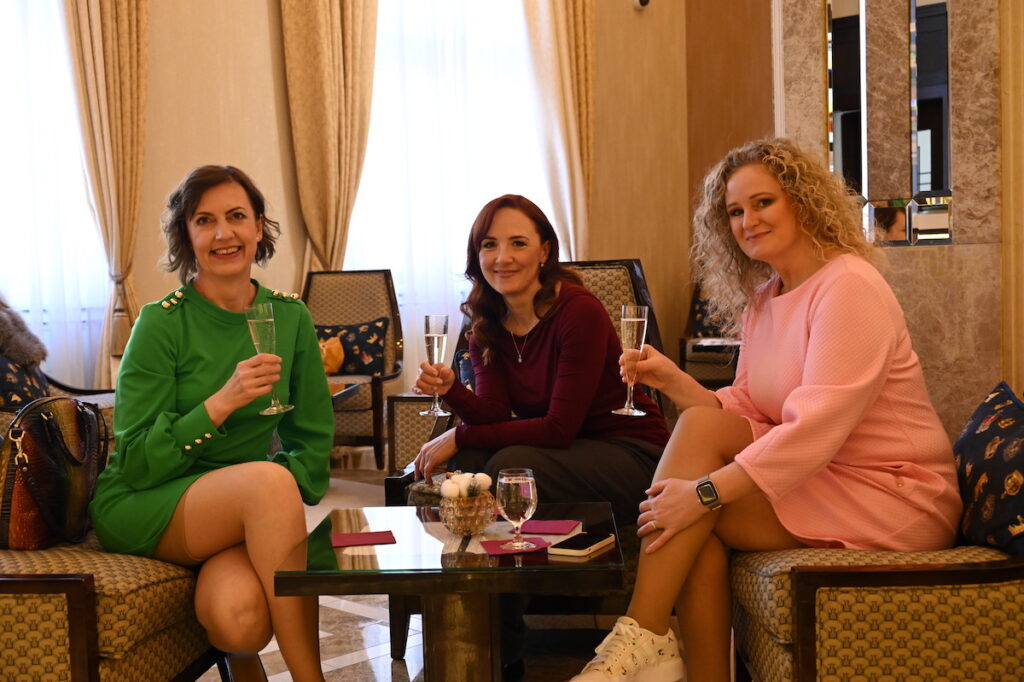 Na pleciach žien je starostlivosť o rodinu, kariéra aj sebarealizácia
A to všetko dokážeme robiť s úsmevom. Iba my vieme, čo znamená vstávať v noci k dieťaťu s vysokými teplotami a ráno o 8:00 byť tip-top nastúpená na jednaní. Všetky sme svedkyne toho, ako náročné je zarobiť peniaze, byť spravodlivá k sebe aj k ostatným a súčasne sa realizovať v odvetví, ktoré je nášmu srdcu blízke. Na ceste je mnoho prekážok, ktoré musia zdolávať aj naše Slovenky. Či je to náročná situácia v slovenskom zdravotníctve, ťažké časy v biznise, nedocenenie v kultúrnej oblasti. Každá z nominovaných žien pôsobí v inej sfére, ale spája ich ľudskosť a ochota na sebe pracovať. Tie vzácne črty ich dotiahli až k nominácií a vybrali sa spolu s týždenníkom Slovenka na cestu za víťazstvom. Nie každej sa to podarí, ale už samotná nominácia hovorí o ich výnimočnosti.
Ďakujeme, že ste také, aké ste a ukazujete aj iným ženám, kam to vie Slovenská žena dotiahnuť. Poctivou prácou, pozitívnou energiou a s dobrým srdcom a úmyslom ste dôkazom toho, že skratky nefungujú a všetko, čo je poctivé a od srdca sa musí prejsť krôčik po krôčiku. A výsledok sa dostaví. Taký, čo stojí za to, pretože vás dennodenne zahreje pri srdci.
Nominantky sa po príchode nechali upraviť a nalíčiť šikovnými rukami vizážistiek zo spoločnosti PHYRIS, k dispozícií mali šperky z klenotníctva SHERON.
Ich krásu a výnimočnosť zvečnila fotografka Ivona Orešková. Výnimočné zábery v podobe vyhotovených obrazov budú dámam čoskoro k dispozícií na vernisáži.
Veľká vďaka patrí partnerom podujatia ankety Slovenka roka 2023
Hlasovať môžete tu: https://www.slovenkaroka.sk/hlasovanie/