Dovolenka v Thajsku, to je luxus za super cenu. Pre veľa Slovákov je nepredstaviteľné, ako môže byť táto destinácia taká lacná. A pritom, toľko, čo by sme minuli za dva týždne v Chorvátsku, nám vystačilo na mesiac v Thajsku. Rozhodli sme sa podstúpiť test a počas našej 4 týždňovej dovolenky sme vyskúšali jedny z najlepších hotelov na populárnom ostrove Koh Samui, menej známom ostrove Koh Chang a v Bangkoku. Stálo to za to?
Do Thajska sme sa rozhodli cestovať na jeseň, v období dažďov. Moje očakávania preto neboli veľké, no bola som veľmi milo prekvapená. V prázdnych uliciach na ostrove Koh Chang sme zažili len niekoľko daždivých chvíľ a mohli sme si vychutnať pobyt v hoteli Emerald Cove na Koh Changu plnými dúškami. Okrem prekrásnych západov slnka sme si užívali prázdny plavecký bazén a krásne prostredie. Pozdĺž celým areálom sa tiahlo jazierko s množstvom farebných rybiek a zaujímavých rastlín. V hoteli si nás prekvapili šou vyrezávania ovocia, ktoré som si mohla aj vyskúšať a pripravili sme si populárny thajský dezert – trojfarebné guličky z ryžovej múky v kokosovom mlieku. Vyrezávanie vyzeralo na pohľad jednoducho, no realita bola úplne iná. Miestami som si pripadala, akoby držím nožík v ruke prvýkrát. Zelené guličky pripomínali hrášok, čo sa mi k sladkému kokosovému mlieku na oko vôbec nehodilo, no musím povedať, že dezert chutil oveľa lepšie, ako vyzeral.
Nevyspytateľné počasie
Nevýhodou cestovania na ostrov Koh Chang počas obdobia daždov je, že nikdy neviete, aké bude počasie. Predpoveď počasia hlási dažde celý deň no realita je niekde úplne inde. Jeden deň sme si kvôli silnejšiemu dažďu prenajali auto, čo bolo v danej situácií najlepšie rozhodnutie, keďže cesty na Koh Changu vedú po kopcoch a sú sprevádzané strmými zákrutami. Uzreli sme aj pár rozbitých motoriek, čo nás len uistilo, že auto v daždivý deň je tam nevyhnutnosť. Zväčša nám však počasie prialo a jeden deň sme si urobili výlet na ostrov vzdialený iba 30 minút kajakom, ktorý nám požičali priamo na hoteli. Výhodou takýchto opustených ostrovčekov, ktorých je v Thajsku okolo 1430, prázdna pláž na ktorej sa môžete v pokoji opaľovať aj bez plaviek.
Koh Samui
Počas našej dovolenky v Thajsku sme na týždeň navštívili aj populárny ostrov Koh Samui. Očaril nás nielen azurovou vodou, čistými plážami, prekrásnymi výhľadmi no najmä svojou rozmanitosťou. Hneď pri príchode som zostala v šoku. Nevedela som nájsť jeden plast, odpadky či znečistené miesta. V porovnaní s inými oblasťami Thajska je vidieť, že tento ostrov sa snažia naozaj udržiavať, keďže si chcú zachovať jeho popularitu u zahraničných návštevníkov.
Mali sme možnosť zažiť dve veľmi odlišné oblasti ostrova. Prvé tri noci sme mali priam rajský zážitok v päťhviezdičkovom Hoteli Melati Beach Resort & Spa. Špičkový personál, nádherný areál s rozmanitou zeleňou doplnený riekou, ktorá pretekala cez jeho stred, s viacerými vodopádmi. Zeleň v hoteli bola obohatená aj o vlastnú organickú minifarmu. Náš pobyt sme si mohli vychutnať v priestrannej vile s rozlohou viac ako 140 m2 s privátnym bazénom. Vďaka ústretovosti personálu a možnostiam rezortu sme si mohli v jedno ráno vychutnať raňajky v súkromí, prestreté priamo v našom bazéne vo vile. Užívali sme si skvelé drinky v plážovom bare a rôznorodé jedlo z ala carte ponuky. Vyskúšali sme pizzu s morskými plodmi či tuniakový burger. V rámci areálu bolo možné zapojiť sa do rôznych aktivít ako thajský box, joga či zrelaxovať na thajskej masáži priamo pri pláži. Thajský box bol zábavný, hlavne keď si náš tréner obliekol penový opasok a prikázal mi, aby som ho poriadne odkopla. Kopla som z plnej sily, no ani ním nepohlo. Celý pobyt v tomto rezorte sa niesol v nádychu pokoja a relaxu. Posledný večer sme sa boli prejsť na pláž a okrem potulných psov, ktorí neboli žiadnym prekvapením, sme tam stretli aj ďalšieho štvornohého kamoša. Poriadne vypasené prasiatko. Kvôli týmto tvorom si robia turisti výlety na iný ostrov, kde sú prasiatka bežné, preto ma to veľmi prekvapilo a potešilo zároveň.
Chaweng Beach
Medzi hotelmi funguje kyvadlová preprava, ktorou sme sa vedeli dostať do úplne odlišnej časti ostrova Chaweng Beach, kde sme strávili aj posledné tri noci nášho pobytu na Koh Samui. Úplne odlišná skúsenosť nás čakala v rezorte Chaweng Regent Beach Resort, ktorý je situovaný priamo na najznámejšej pláži Chaweng. Tieto dva rezorty patria do tej istej siete hotelov. Z jednej strany rezortu sa nachádza rušná ulica plná reštaurácií, obchodov a nočných barov a z druhej strany pláž s pravidelnou večernou ohnivou šou a nádychom romantiky. Pozoruhodné boli takisto aj kontrasty medzi dňom a nocou. Keď prídete do známej siete obchodov 7eleven vo večerných hodinách tam hrá hudba ako na párty a ľudia sa bavia a tancujú pri nakupovaní. Chaweng Regent má okrem moderných izieb s priamym prístupom k bazénu aj možnosť ubytovania vo vilách, kde sme videli bývať spokojné rodiny s deťmi.
Pobyt na Koh Samui považujem za vrchol nášho cestovania Thajskom. Určite tento ostrov odporúčam navštíviť. Malo to len jednu chybu a to, že sme tam nezostali dlhšie.
Bangkok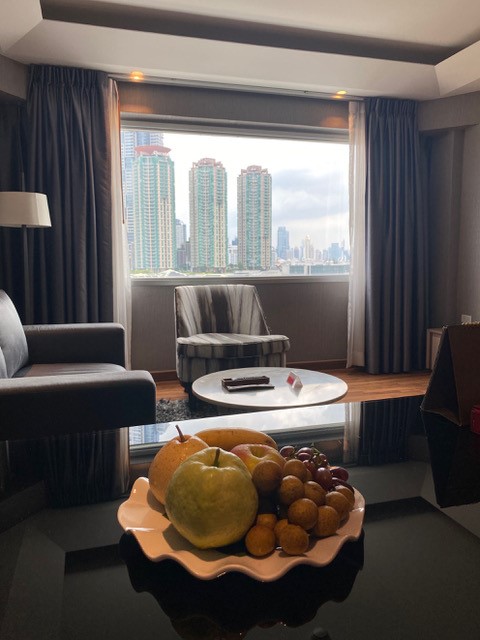 Našou poslednou zastávkou pred odletom domov bol Bangkok, ktorý sme zažili z úplne inej perspektívy ako kedykoľvek predtým. Bývanie v Hoteli Ramada Plaza Menam Riverside, priamo pri rieke Chao Phraya, bolo skvelou voľbou, keďže sme sa chceli vzdialiť od ruchu veľkomesta a užiť si posledné dni dovolenky. Vďaka lodnej kyvadlovej doprave poskytnutej hotelom sme sa však pohodlne dostali na zastávku, odkiaľ nás ďalšie lode zobrali priamo do centra. Lodná doprava je skvelou voľbou prepravy v rámci Bangkoku. Väčšina hlavných atrakcií je situovaná okolo rieky alebo v pešej vzdialenosti od nej. Keďže sme Bangkok videli už v minulosti, orientovali sme sa skôr na menej turistické miesta. Ani v Bangkoku však nikdy neviete, aké bude počasie, a tak nás na lodi zastihla taká búrka, že celý personál začal sťahovať plastové okienka, aby nás udržal aspoň ako-tak v suchu a povozili sme sa o niečo dlhšie, ako sme plánovali.
Keďže sme Bangkok v minulosti navštívili, tentoraz sme väčšinu času trávili v hoteli, kde sme sa vôbec nenudili. Vychutnali sme si pestré raňajky, v ktorých výbere bolo doslova všetko, vrátane suši, polievok, slaného a sladkého a rôznych pokrmov z celého sveta. Mali sme prístup k bazénu a do klubu na vrchnom podlaží, kde sme si mohli v určitých časoch vychutnať poobedný čaj a rôzne dezerty či večerný kokteil s množstvom jedla a rozmanitej selekcie nápojov. Večer pred odletom sa nám po pár drinkoch cestovalo oveľa rýchlejšie. Pobyt v hoteli Ramada bol skvelou čerešničkou na torte našej dovolenky a určite sa tam v budúcnosti plánujeme vrátiť.
Autor: Dominika Kubišová
Instagram: @domiskitchendiary