Jesenná edícia najprestížnejšej módnej udalosti Slovenska – Bratislavské módne dni by Mercedes-Benz – sa konala v nádherných priestoroch historickej budovy Národnej rady SR. Počas dvoch dní mali diváci možnosť vidieť viac ako 200 modelov od mladých, ale aj etablovaných návrhárov. A práve nim patril druhý veľkolepý večer.
"Stretávame sa v nádherných priestoroch historickej budovy NRSR, ktorá bude dnes večer podčiarknutá krásou kolekcíí našich módnych návrhárov, na čo sa veľmi teším. Práve prezentácia týchto modelov ukazuje, že slovenská módna tvorba ide dopredu a za to som veľmi vďačná. Chcela by som, aby sme návrhárom spoločne zatlieskali a dali energiu, lebo v súčasnej situácii vytvoriť taký počet modelov nie je vôbec jednoduché," prihovoril sa na úvod generálna riaditeľka agentúry Promotion pani Mária Reháková.
Mária Reháková, generálna riaditeľka agentúry Promotion v spoločnosti Borisa Kollára, Andrey Gontkovičovej, Romany Rehákovej, Simony Simanovej, Veroniky Šiklovej a Petry Krištúfkovej.
Na veľkolepej šou nechýbali ani partneri podujatia a ďalší známi hostia, medzi inými aj Predseda národnej rady Slovenskej republiky Boris Kollár, ktorý zobral záštitu nad týmto projektom.
"Móda a krása idú ruka v ruke, preto je nám veľkou cťou, že aj tento rok môžeme byť súčasťou týchto skutočne fenomenálnych bratislavských módnych dní, ktoré, ako už spomenula pani Reháková, majú 17 rokov," povedala na úvod aj Edita Szabóová, generálna riaditeľka Mary Key pre SR a ČR, značku, ktorá sama tento rok slávi 25.výročie.
Druhý večer módnej udalosti otvorila Renáta Kliská so svojou značkou La Rena. "Prvý to má vždy najťažšie, lebo musí prítomných uviesť do čo najlepšej nálady, celý rok som však na kolekcii tvrdo pracovala, takže verím, že si to všetci užijú," priznala sa nám ešte pred začiatkom šou návrhárka.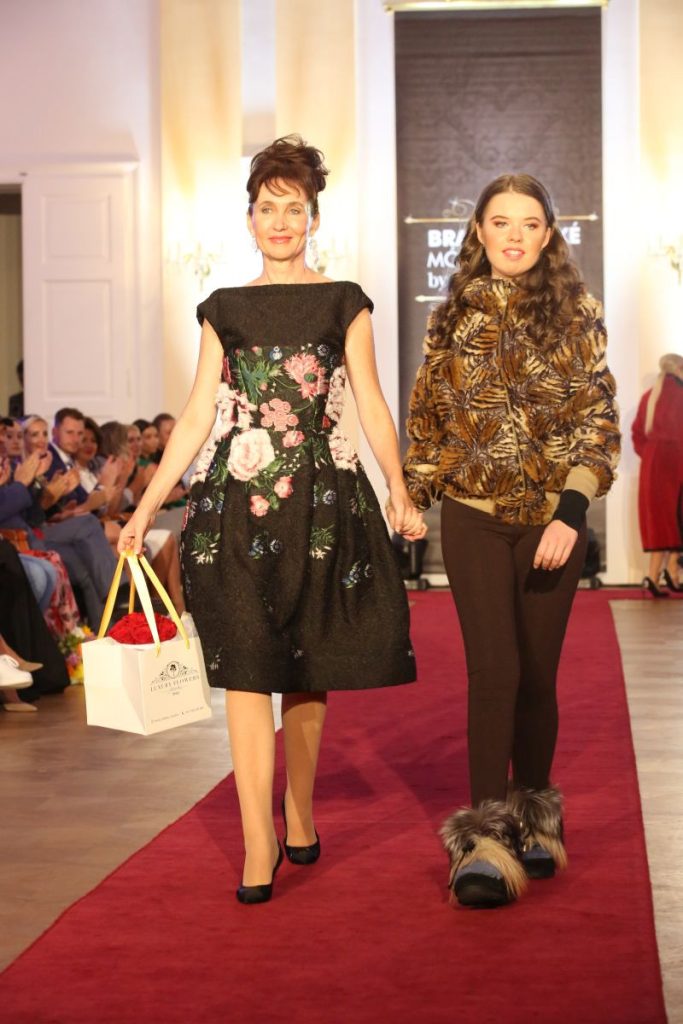 To, čo nasledovala bola skutočne šou plná zvučných mien, keď sa prítomným doslova zastavoval dych od úžasu. Nielen Renáta Kliská, ale aj unikátne šperky značky SOLOOM vždy vyrobené len v jednom kuse, Zuzana Haková a jej elegantné modely, v ktorých sa nájde každá žena, či kabelky Ammyla a značka Mišena Juhász divákov nadchli hneď v úvode. Tempo prehliadky naberali aj naďalej, keď sa postupne predstavili Radovana Svýbová, Martina Vrábelová, BEPON, klobúky Alexis Vidic Milinery či Natália Hnátová. A publikum už doslova vrelo, keď nastúpili hviezdy zvučných mien ROZBORA, Jana Jurčenko, exkluzívna česká značka PONER, LOMBARDI a Jana Pištejová.
La Rena
Soloom
Zuzana Haková & Onebyone Design & Major Optik
Radovana Svýbová
Mišena Juhász a Ammyla
Martina Vrábelová
Bepon
Alexis Vidic
Natália Hnátová
Poner
Lombardi Fashion House
Rozbora Couture
Jana Pištejová
"Bolo to skutočne úžasné, kolekcie zažiarili a medzi etablovanými návrhármi sa tento rok už ocitli aj účastníčky projektu "Hľadáme nové tváre" z minulých rokov, Martina Vrábelová a Radovana Svýbová, z čoho mám veľkú radosť. Ostatne to bola šou a je fantastické, že návrhári boli vôbec schopní vytvoriť takéto kolekcie v súčasnej ťažkej dobe" povedala na záver Mária Reháková ešte plná emócií.
Po predstavení modelov všetkých návrhárov z prvého dňa nastal čas na voľnejšiu zábavu, kde si hostia okrem skvelej kávy značky Veronia caffee, mohli pochutiť aj na bublinkách značky Hubert, videli sme príbeh kúzelného prsteňa pod palcom Siloe Design, ďalej partnerov Kliniku zdravia a krásy- Interklinik, kozmetickú značku Mary Kay, Soloom, mestskej časti Bratislava – Staré mesto, Imeprial vitamins a veľká vďaka patrí generálnemu partnerovi projektu, značke Mercedes-Benz Slovakia.
Ďakujeme všetkým zúčastneným partnerom projektu a tešíme sa na vás opäť o rok!