Návrhári zo Slovenska, Čiech a tento rok výnimočne aj z Ukrajiny predviedli svoje modeli v exkluzívnych priestoroch Pontónu, tesne nad hladinou Dunaja.
Bratislavské módne dni by Mercedes Benz sú už sedemnástym rokom zárukou nádherných diel zo sveta módy. Po dvoch rokoch pandémie mali diváci možnosť osobne obdivovať originalitu a krásu predvedených modelov.
Riaditeľka BMD Mária Reháková privítala hostí slovami: "Ukážeme vám to najlepšie čo na Slovensku v oblasti módy máme, mladých aj etablovaných návrhárov. Každú kolekciu robili s láskou a teším sa, že sme tu všetci spolu, na krásnom modrom Dunaji, pod hradom a buďme vďační, že tu môžeme byť. Týmto aj oficiálne oznamujem tému projektu Nové tváre módnej scény, SVET BEZ DYMU."
Svojou návštevou poctila BMD aj starostka mestskej časti Bratislava Staré mesto, inžinierka a architektka Zuzana Aufrichtová: "Mám veľkú radosť, keď sa veci udržujú a staráme sa o ne s úctou. Mám na sebe šaty z roku 1968 a mám dojem, že aj to by mohla byť cesta, ako sa o našu planétu budeme starať. Recykláciou a udržiavaním toho dobrého čo medzi sebou máme. Do toho spadajú aj takéto podujatia. Ďakujem za pozvanie s výhľadom na naše srdce Bratislavy."
BMD sú už sedem rokov prepojené so značkou Mercedes Benz a o tom, ako spolupráca dobre funguje povedala viac riaditeľka marketingu z Mercedes Benz, Ingrid Janečková: "Rada by som vzdala hold pani Rehákovej, že opäť našla odvahu zorganizovať takéto výnimočné podujatie, a za našu značku som naozaj rada, že tu môžeme byť. Teším sa na všetko, čo nás tu dnes čaká."
A čo nám návrhári včera predviedli?
Jaroslava Wurl Kocanová už tradične ukázala krásne ľudové motívy na nádherných šatách z jemnučkých látok. Natasha Azari predviedla modeli na vyzývavých a sexi princeznách, akoby nás preniesla do iného sveta. Ukrajinská návrhárka Olena Minkova predviedla nadčasovú kolekciu s citlivým dôrazom na súčasnosť. Radovana Svýbová vsadila na klobúky a vlnené materiály vhodné na leto aj na zimu. Nasledovali elegantné šaty v podaní Martiny Vrábelovej. Farebná a elegantná móda v podaní Veroniky Hložníkovej uchvátila mnohých návštevníkov. Ručne šité topánky českej značky Vasky si obuli aj modeli z kolekcie Lombardi fashion house. Tí zase upútali mnohých pánov originálnymi oblekmi určenými pre mužov, ktorá vedia čo chcú. Farebný fosfor v kombinácií s klobúkmi sme už tradične mohli vidieť u Rebeccy Justh. Kristína Krajčovičová predviedla kolekciu v béžovej a bielej farbe s nečakanými tanečnými prvkami, ktoré zožali potlesk publika. Značka Bepon predviedla novú fashion kolekciu pančuchových nohavíc a trendy podkolienok, určených do šatníka každej ženy. Bruuu Slovakia zase vsadila na víly, čo si chcú ísť ľahnúť v tom najkrajšom čo doma majú. Jana Pištejová na záver ohromila svojou jemnou kolekciou Anjeli a démoni.
Posúďte samy: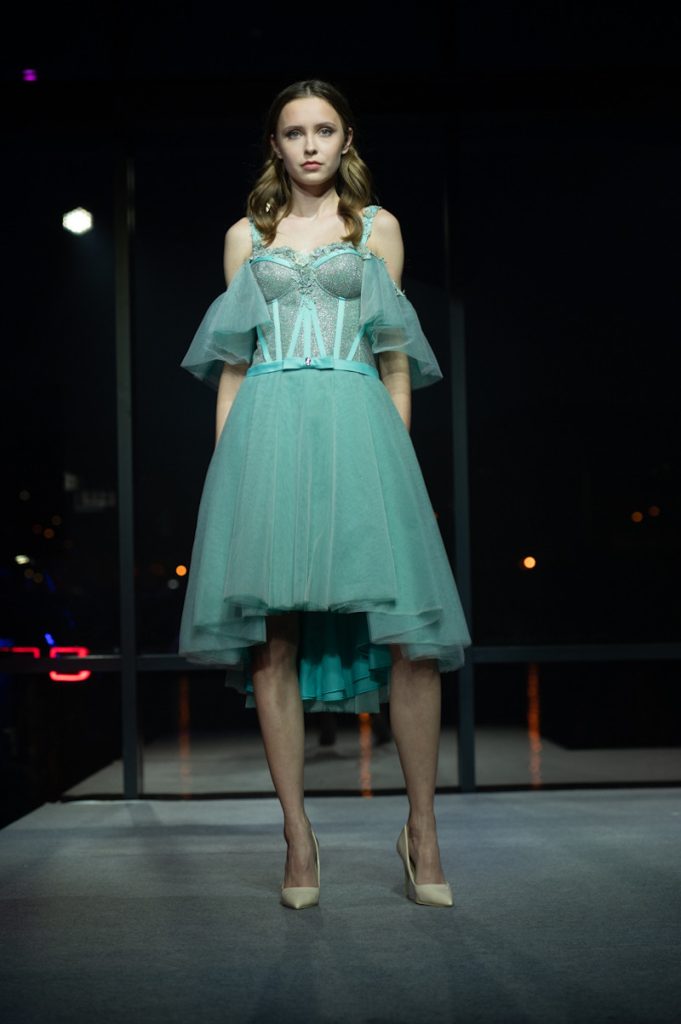 Jarná časť je zároveň aj štartom už desiateho ročníku súťaže NOVÉ TVÁRE MÓDNEJ SCÉNY, ktorá je určená mladým módnym tvorcom. Téma na tento rok je "SVET BEZ DYMU". Finále sa uskutoční v septembri 2022 počas jesennej edície Bratislavských módnych dní by Mercedes-Benz. Mladí tvorcovia môžu prihlášky posielať do 19. júna 2022. Všetky informácie nájdete na www.bmd.sk.