Pre verejnosť sa otvorila zrekonštruovaná budova SNG s novým architektonickým členením, koncertnou sálou, modernou knižnicou a multifunkčnými kapacitami. Priestory sú nádherne vzdušné a konečne hodné európskeho hlavného mesta.
Potreba rekonštrukcie Slovenskej národnej galérie sa zrodila už pred 21 rokmi, keď musela vtedajšia riaditeľka Katarína Bajcurová z havarijných dôvodov nechať zatvoriť ikonické Premostenie od architekta Vladimíra Dedečka. Pre nevyhovujúce podmienky sa k nemu postupne pridalo aj uzavretie ďalších častí."Rekonštrukcia národnej galérie bola s nami tak dlho, že je pre mňa zvláštne a nečakane ťažké uchopiť jej koniec. Riskujúc veľké slová, naozaj si myslím, že toto je historická chvíľa, a to nielen pre galériu, ale aj pre našu krajinu. Je to najväčšia kultúrna stavba, ktorú sme začali a dokončili po revolúcii. Je to naša vizitka, o ktorú sa zaslúžila tvrdá práca mnohých, vrátane ľudí z kultúrnej obce a rezortu, kolegov/kolegýň zo SNG, architektov a projektantov, dodávateľov, samotných stavbárov a mnohých ďalších," hodnotí generálna riaditeľka SNG Alexandra Kusá.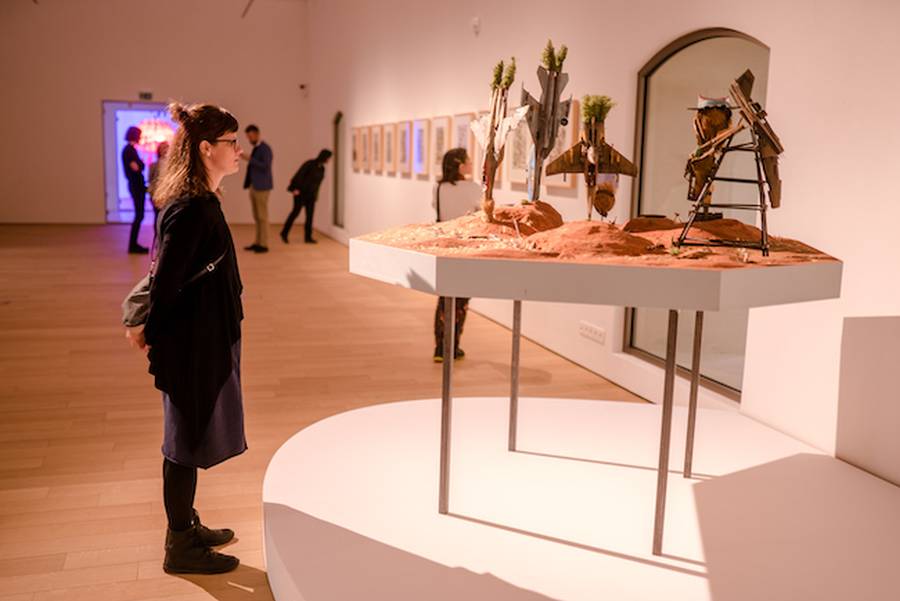 Dokončenie tohto náročného projektu je míľnikom pre slovenskú kultúru, umeleckú scénu, ale aj pre samotné hlavné mesto, ktoré dostane úplne nový verejný priestor pre trávenie voľného času na brehu Dunaja. "Príprave a realizácii projektu stavby areálu národnej galérie sme sa s kolektívom našich kolegov venovali 17 rokov. Bol to proces dlhý so všetkými peripetiami architektonickej profesie. Našou snahou bolo vytvoriť autentické dielo, v ktorom sú skĺbené štyri posledné storočia architektúry, priestory pre modernú prevádzku inštitúcie a prezentáciu našej výtvarnej kultúry. Či a ako sa nám to podarilo, povie história," rekapitulujú architekti Martin Kusý a Pavol Paňák. Novými priestormi SNG vás po prvýkrát prevedie dvanásť tematických výstavných situácií. Uvidíte diela starého, moderného aj súčasného umenia vo vzájomných dialógoch a viac či menej prekvapivých vzťahoch. Cez netradičné spojenia diel z rôznych historických období sa obzriete za akvizíciami galérie za ostatných 30 rokov a predstavia vám zbierky SNG v ich celej rozmanitosti. Veľkorysé inštalácie vám zároveň pootvoria dvere do pripravovaných stálych expozícií, ktoré bude galéria postupne sprístupňovať od roku 2023. V januári zostane ešte galéria pre verejnosť zatvorená kvôli dokončovacím prácam. Návštevníkom ponúkne komentované prehliadky na ktoré sa môžu prihlasovať. Viac informácií zverejní SNG začiatkom januára. 
Prezentované umelkyne a umelci vystavujúci v SNG, ktorých diela majú návštevníci možnosť vidieť :
Robert Bielik, Peter M. Bohúň, Gerard G. Bouttats, András Cséfalvay, Radovan Čerevka, Žofia Dubová, Andrej Dúbravský, Albrecht Dürer, Tomáš Džadoň, Stano Filko, Johann Melchior Füssli, Pavol Gross st., Jozef Hanula, Martin Kollar, Vladimír Kordoš, Jan Kupetzky, Jan Luyken, Ladislav Mednyánszky, Juraj Meliš, Štefan Papčo, Pavla Sceranková, Ester Šimerová-Martinčeková, Emőke Vargová, Ján Zelinka, Jana Želibská a ďalší, zväčša anonymní autori a autorky z minulosti.