Píše sa rok 1939 a podobne ako všetky veľké európske mestá, aj Bratislava otvára svoj moderný obchodný dom. Dej nového seriálu Dunaj, k vašim službám je situovaný do komplikovanej doby vyhlásenia Slovenského štátu, kedy Slovensko síce vstupuje do svojej samostatnej existencie, prakticky sa však stáva vazalom nacistického Nemecka a o demokracii môže len snívať. Čo nám o svojich pocitoch z natáčania prezradil Ján Koleník?
Walter Klaus (Ján Koleník)
Nemecký vojenský pridelenec pod Ministerstvom vojny, ktorý má za úlohu na Slovensku zastupovať záujmy Nemecka. Sebavedomý, pedantný, ale aj dokonalý džentlmen. Pod pozlátkom však skrýva temnú stránku, ktorá z neho spravila zástancu hodnôt, ktoré čoskoro otrasu svetom. S manželkou Helgou má na prvý pohľad ukážkový vzťah, ale sú skôr pragmatickí a robia to, čo majú naučené a čo sa očakáva. Jedna vec sa im však nedarí – nech sa snažia, koľko chcú, nevedia splodiť potomka, čo je zdrojom rastúcej frustrácie a napätia v ich vzťahu. Vďaka svokrovi mohol mať Walter veľkú kariéru v Nemecku, ale vybral si Slovensko. Na rozdiel od Helgy sa mu tu páči, lebo tu pre seba vidí potenciál. Tu je sám za seba a nemusí byť nikomu za nič vďačný.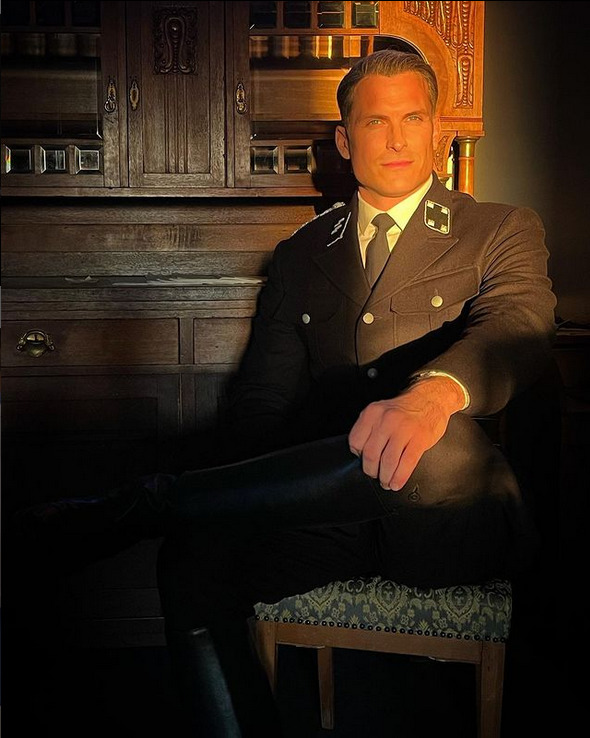 Obchodný dom Dunaj bol svojho času pojmom, máte s ním aj nejakú osobnú spomienku?
Som rodák z Banskej Bystrice takže nemám. Do Bratislavy som prišiel v čase, keď Dunaj bol ešte obchodným domom, ale zároveň miestom na kultúrne akcie. Obchodné domy mali svoje čaro, boli komornejšie – dnes ich vytlačili nákupné centrá.
Čo vám je na vašej seriálovej postave blízke a v čom ste naopak odlišný?
Je mi blízka dôležitosť témy. Prenasledovanie istých skupín obyvateľstva. Odopieranie ľudských práv. Deje sa to aj teraz. To znamená, že z histórie sme sa nepoučili a nepamätáme si, čo znamená fašizmus, nacizmus, holokaust.
40.roky patria v móde snáď medzi tie najkrajšie, užili ste si natáčanie v dobových kostýmoch?
V dobových seriáloch som už hral veľa, obdobie Druhej svetovej vojny zatiaľ nie tak komplexne, ako teraz. Preto sa tomu teším. Z tohto obdobia poznáme pár starších filmov, a bolo by treba o tom rozprávať častejšie. Je to obdobie, s ktorým sa Slovensko, ako kolaborant s nacistami, za čias Slovenského štátu, nevie dodnes vyrovnať.
Na ktoré momenty z natáčania len tak nezabudnete?
Spomenúť treba najväčší ateliér, v akom som kedy nakrúcal. Je autentický, scénu tvoria
vzácne originálne a hodnotné kusy nábytku a zariadenia.
(Text: TV Markíza a Silvia Cipruš)