Blíži sa čas rozkvetu – rozkvitnite aj vy! Od prirodzenej krásky až k výraznému sexi líčeniu vás prevedie mejkap artistka Ivetka Škrabáková.
Nežná ako kvet
Sviežosť a jemnosť sú podstatou tohto jednoduchého, no zároveň netradičného jarného líčenia. Základom je krásne zjednotená pleť s použitím hydratačných produktov a mejkapu s ľahkým krytím. Jemné krémové kontúry, krémová lícenka a rozjasňujúci highlighter dodajú pleti svieži vzhľad. Nežnú krásku z vás spravia lesklé trblietavé tiene v jemne ružovej farbe doplnené tenkou vrstvou špirály, ktorú sme naniesli iba na horné riasy pre zanechanie prirodzeného looku. Svetlou kontúrkou v nude ružovom odtieni sme dodali perám plnosť, svieže jarné líčenie sme podčiarkli ružovým leskom.
Zmyselná kráska
Pre ozvláštnenie jemného líčenia sme zvolili výraznejšiu linku, avšak nie v čiernej, ale v hnedej zemitej farbe, nakoľko sme chceli zachovať jemnosť výslednej vizáže. Aby nebola linka príliš ostrá, použili sme pri nanášaní hnedý tieň, ktorý sme aplikovali tenkým skoseným štetcom. Efekt "predĺženého" oka sme dosiahli linkou potiahnutou až k vnútornému kútiku. Je to aktuálne veľmi trendy technika vytvárania linky, ktorá oči krásne zvýrazní. Na pery sme tentoraz zvolili decentný rúž v neutrálnom odtieni. Doplnil sme ho transparentným leskom.
V jarnom daždi
Z jednoduchého jemného denného líčenia viete stále vyčarovať sexi večerný look, ideálny napríklad na party, oslavu, večeru či inú spoločenskú príležitosť. Základné lesklé jemné ružové tiene doplnené o hnedú pudrovú linku sme ozvláštnili tým, že sme ňou pokračovali nad pohyblivé viečko oka. Tým istým hnedým tieňom sme vytvorili jemný cut crease – oblúk pozdĺž pohyblivého viečka. To nám vyčarovalo efekt krásnych veľkých a zmyselných očí. Pri tvorbe tohto looku treba dbať na správne rozpracovanie hnedého tieňa dostratena, smerom von. Na pery sme opäť zvolili nude rúž a jemný ružový lesk.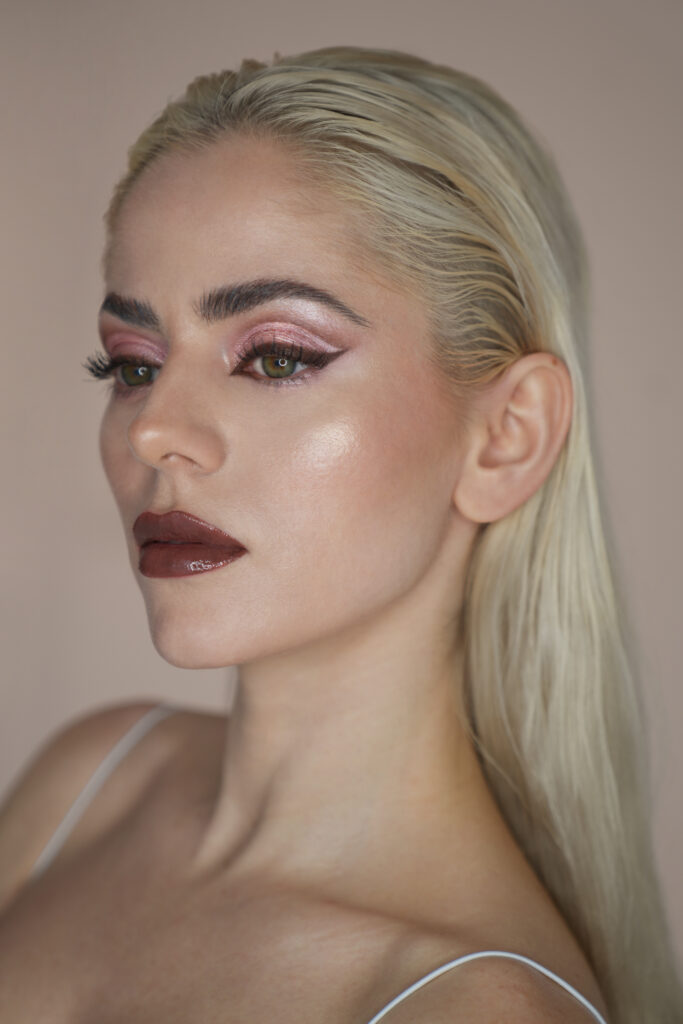 Druhou alternatívou pre dosiahnutie netradičného sexi stylingu sú výrazné pery. Hodia sa skôr dámam s plnšími perami. Zvolili sme tmavý lesk na pery v hnedom odtieni, ktorý dokonale ladil s hnedou linkou na očiach. Tento zmyselný look sme podčiarkli vlasovým stylingom v štýle "wet look" – mokrých vlasov.
Mejkap artistka Iveta Škrabáková pôsobí v oblasti profesionálneho líčenia desať rokov. Do jej portfólia patria svadobné líčenia, mejkap-stylingy na rôzne fotenia či spoločenské udalosti. Organizuje individuálne a skupinové kurzy sebalíčenia pre všetky ženy, ktoré sa chcú naučiť prikrášliť a podčiarknuť tak svoju prirodzenú krásu.