Možno si poviete, že na vás v nedeľu ideme zhurta, ale minimálne sa dnes môžete zamyslieť nad tým, aký postup pri upratovaní zvolíte. Pomôžu vám pritom títo osvedčení bojovníci za čistotu.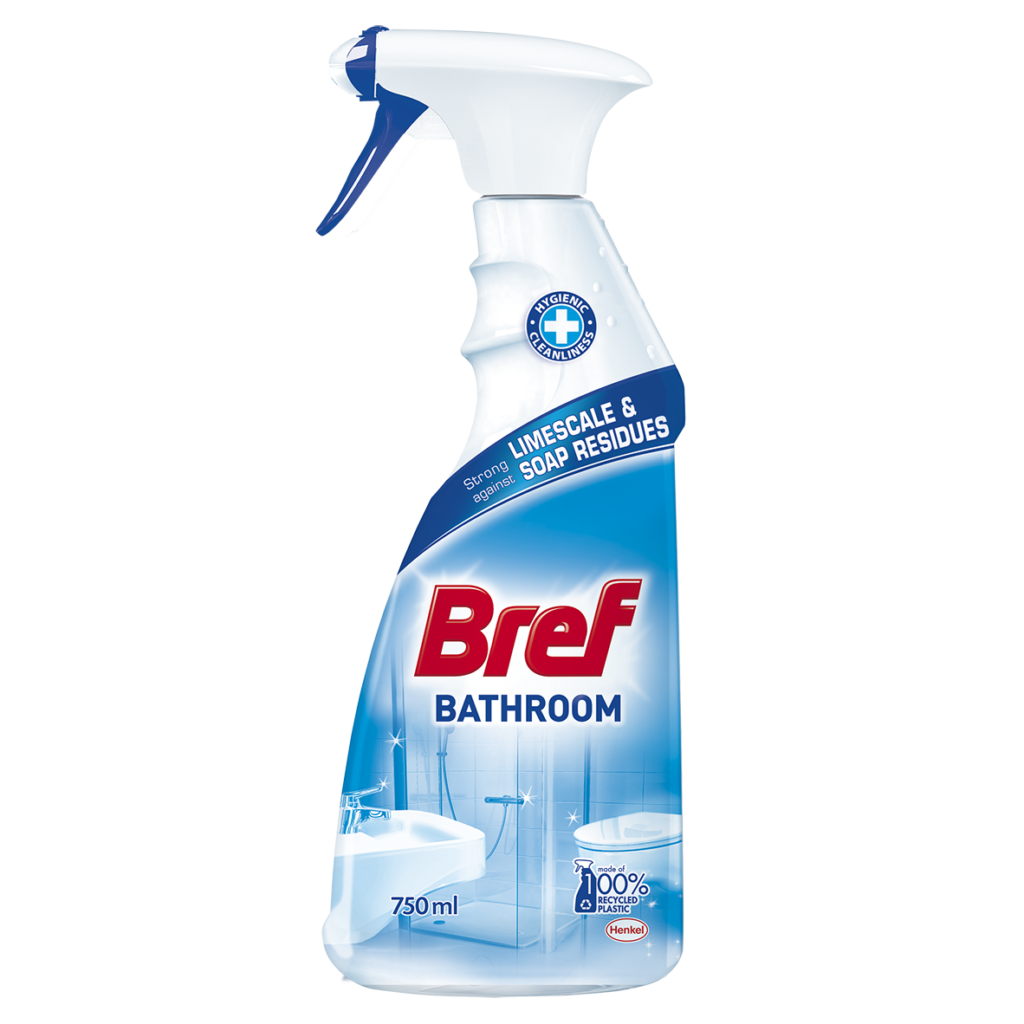 Tipy: Kúpeľňový čistič Bref účinne odstraňuje zvyšky vodného kameňa, vody a mydla a poskytuje brilantný lesk vani a sprche. Naneste na povrch, nechajte pôsobiť a potom sa len tešte z hygienicky čistej kúpeľne. Fľaša je vyrobená zo 100 % recyklovaného plastu, z čoho 50 % tvorí sociálny plast (social plastic) – vyrobený z plastového odpadu vyzbieraného na plážach a vstupoch do oceánu.
WC čistič Bref Excellence Gel Color Aktiv+ s efektívnym zložením pre odstránenie vodného kameňa vašu toaletu zanechá vždy hygienicky čistú a bez stôp akýchkoľvek škvŕn a usadenín. Navyše praktická fľaša na lepšiu manipuláciu s dlhým zaobleným hrdlom zjednodušuje čistenie pod okrajom vašej toalety, a tak ho stačí len aplikovať, nechať pôsobiť a užívať si lesk a osviežujúcu vôňu levandule.
WC blok Bref Color AKTIV+ sa postará o čistotu vašej toalety a vďaka špeciálnym polymérom prináša do nej až o 50 % vyšší lesk. Navyše, účinná technológia Odor stop úspešne bojuje s nepríjemným zápachom. Každým spláchnutím sa uvoľňuje čistiaca pena, ktorá udržiava vašu toaletu čistú a sviežu.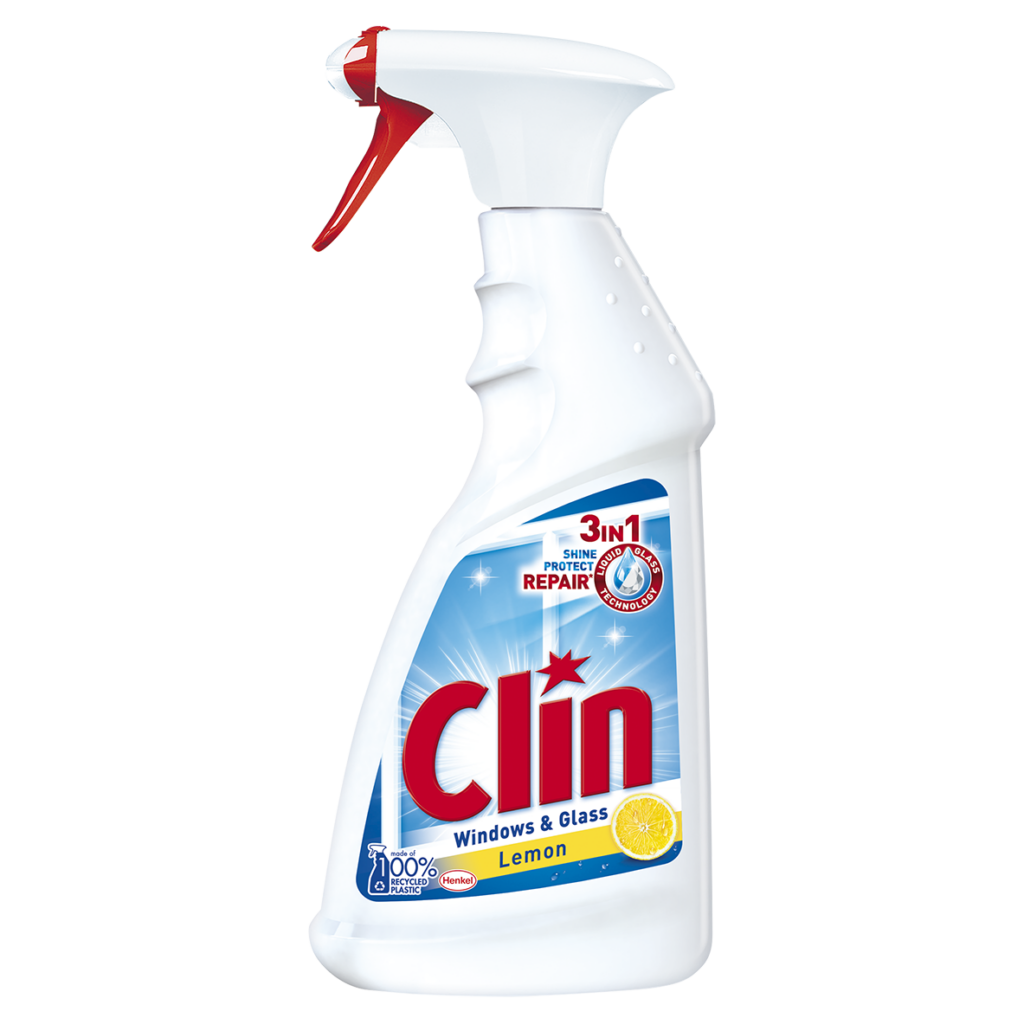 Tip: Clin 3in1 sa dokonalo postará o všetky sklené povrchy. Inovatívna Liquid Glass technológia s novou receptúrou 3v1 ponúka perfektný lesk, dlhodobú ochranu a dokonca opraví* mikroškrabance, ktoré sa vyskytujú na povrchu skla a sú spôsobené bežným používaním. Vaše okná a ostatné sklené povrchy sa budú lesknúť akoby mávnutím čarovného prútika.
Tento praktický čistič ľahko vezmete so sebou napríklad aj do auta, na ktoré by ste pri jarnom upratovaní nemali zabúdať. Poriadne povysávať a preleštiť všetky okná, ktoré sú po dlhej zime poriadne znečistené z vnútornej aj vonkajšej strany. Zvoľte funkciu aktívnej peny, ktorá sa dlhšie na čistenom mieste udrží a nesteká. Nechajte chvíľu pôsobiť a už len suchou handričkou, papierovými utierkami alebo gumovou stierkou utrite do sucha. Aj vďaka osviežujúcej vôni citrónu sa budete cítiť vo vašom aute komfortnejšie.
* dočasný opravný efekt mikroškrabancov na skle (na základe záťažového laboratórneho testu)
Priebežnú čistotu umývačky riadu zabezpečíte vďaka prípravku Somat Čistič umývačky vo forme tabliet. Tento jedinečný čistiaci prostriedok s dvojitou silou odstráni vodný kameň, usadeniny a mastnotu aj v ťažko dostupných miestach, a to už počas bežného cyklu umývania. Jeho vylepšená receptúra účinne bojuje proti zápachu a dodáva sviežu vôňu. Stačí raz za mesiac vložiť na dno naplnenej umývačky riadu, k tomu už len pridať tabletu na umývanie riadu a spustiť umývací cyklus. Šetríte tým energiu, čas aj peniaze. Okrem vylepšenej receptúry je plastová časť obalu vyrobená zo 100 % recyklovaného plastu.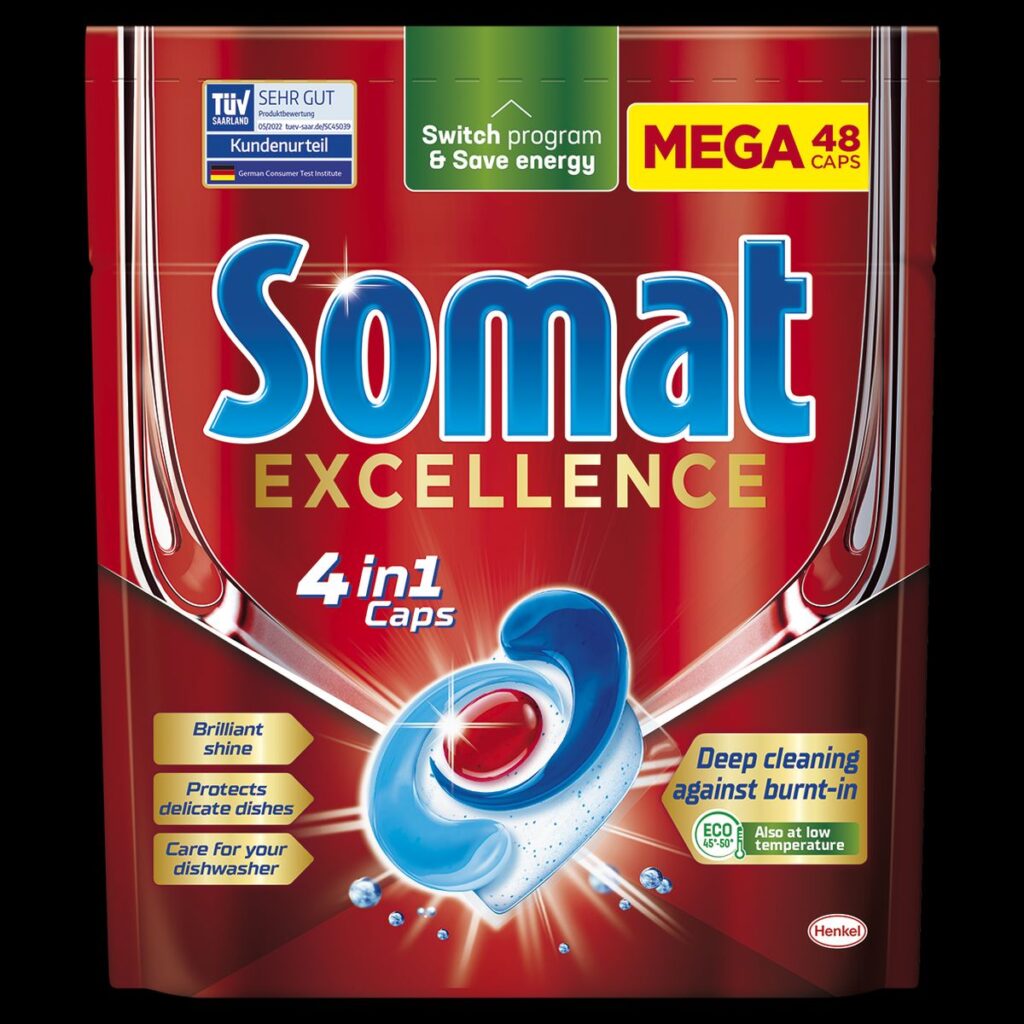 Tip: Prémiový produkt Somat Excellence 4v1 skrýva v jednej kapsule štyri dôležité funkcie – hĺbkové čistenie pripálenín, dokonalý lesk, ochranu delikátneho riadu a starostlivosť o vašu umývačku. Tieto multifunkčné kapsuly sú vyrobené z prášku a 3 unikátnych tuhých gélov, ktoré zabezpečia, že na vašom riade už nebudú zvyšky jedál či škvrny od vody. Špeciálna receptúra s octanom zinočnatým navyše riad chráni a pomáha predchádzať tvorbe nežiadúcej hrdze. Navyše teraz v novom zložení s intenzívnejšou citrónovou vôňou a ochranou striebra. Vaša umývačka je tak dennodenne chránená a riad žiarivo čistý.
Čistiaci prostriedok na umývanie riadu Pur Power je hrdinom predovšetkým v jeho sile rozpustiť a vyčistiť aj tie najodolnejšie nečistoty. Jeho nové zloženie je 3x hustejšie, a tak účinne bojuje proti mastnote a pripáleninám, a to aj pri nízkej teplote vody. Umývanie riadu bez zdĺhavého namáčania alebo náročného drhnutia ocení aj vaša peňaženka. Pri umývaní riadu v studenej vode s Pur Power šetríte energiu až o 50 %*, pretože preniká hlboko do zaschnutých zvyškov jedla, a tak zanecháva váš riad čistý, žiarivý a lesklý.
*V porovnaní s umývaním riadu vo vode 45 °C vs. 25 °C
Tip: Pracie kapsuly Perwoll Renew & Care s unikátnym zložením 4v1 boli špeciálne vyvinuté tak, aby nielen šetrne odstránili nečistoty, ale postarali sa aj o životnosť vlákien vášho oblečenia a tak pomáhali uchovávať jeho pôvodné tvary i farby po dlhšiu dobu*. Okrem predĺženia životnosti oblečenia k udržateľnosti prispieva aj ich obal. Je vyrobený z 50 percent recyklovaných materiálov a je plne recyklovateľný.
* Oproti bežným pracím prostriedkom na farebnú bielizeň.
Inovácia v praní
Zjednodušte si prianie s revolučnou novinkou, vyskúšajte nové pracie tablety Persil Eco Power Bars. Kombinujú v sebe hneď 3 silné benefity, ktoré zaručia účinné prianie s novým udržateľným štandardom. Prvým z nich je ekologické balenie, ktoré vyrobené je z recyklovaného papiera. Balenie pracích tabliet obsahuje totižto až o 97 % menej plastu*. Druhý benefit ponúka hĺbkové čistenie bielizne. Precízna pracia sila tabliet Persil Eco Power Bars účinkuje už pri teplote od 20 °C. Tretí benefit predstavuje kompaktnosť a jednoduché dávkovanie – vďaka svojmu minimalistickému baleniu sú tablety ľahko prenosné, jednoducho sa používajú a dávkujú, pretože pred praním nie je nutné odstraňovať ochranný obal. Už nemusíte ani strácať čas nad správnym dávkovaním, pretože pri praní normálnej dávky bielizne vám postačí vložiť jednu tabletu do bubna práčky, pri veľkom objeme bielizne alebo pri silne znečistenom oblečení použite dve tablety. Dajte zbohom veľkým krabiciam, rozliatemu gélu alebo rozsypanému praciemu prášku v okolí práčky.
*Na praciu dávku v porovnaní s balením od tekutého pracieho prostriedku