Majsterka v plánovaní času si dokáže rozložiť dni tak, aby sa venovala dostatočne rodine, práci i sebe samej. Dominika Morávková síce nedávno ohlásila odchod zo skupiny S hudbou vesmírnou, s fanúšikmi sa však nelúči, naopak, môžu ju sledovať v desiatkach hereckých projektov, v ktorých sa cíti ako ryba vo vode.
Ako sa má jedna z najkrajších slovenských herečiek a čo má nové, sa dočítate v rozhovore. Dozviete sa, čo zdedila po mame, čo po otcovi a čo vštepuje ďalej svojim ratolestiam.
Diváci vás viac vnímajú ako herečku spojenú so zábavným žánrom, videli vás v komédiách, rodinných seriáloch i slovenských rozprávkach. Nemôžeme však opomenúť vážne témy ako napríklad film Špina, v ktorom ste stvárnili hlavnú úlohu znásilnenej Leny. Existuje typ postavy, ktorý by ste rozhodne odmietli?
Niekedy si hovorím, že toto určite odmietnem, to je už cez, hlavne, ak ide o ťažší žáner. Potom však zistím, že téma môže mať aj hlbší zmysel, takže rozhodovať sa predtým, než sa dozviem širší kontext príbehu, je priskoro. Myslím, že film Dimenze, ktorý príde v komornejšej premiére do kín, bude príkladom, že naša práca je v prepojení s naším životom. Vytvárame ju aj pre niečo viac. Som rada, keď mám príležitosť nakrúcať témy, ktorými sa sama zaoberám. A posúvať dôležité myšlienky divákom.
V čom sme vás mohli naposledy vidieť a čo najbližšie chystáte?
Mali sme premiéru filmu Tieňohra, vianočnú rozprávku Krakonošovo tajomstvo, v Miami, Rím, Miláne sme odpremiérovali film taliansko-českej koprodukcie Terezín. V Čechách a na Slovensku to bude možno na jeseň tohto roka. Nebude to ťažký žáner pre silné žalúdky, ale krásne spracovanie príbehu o láske k umeniu v židovskom gete. Pripravuje sa dobový seriál pre RTVS, ktorý teraz nakrúcame a možno ma zachytíte aj v nejakom televíznom projekte…
Ako to mama dvoch malých detí stíha doma manažovať, keď potrebuje byť celé dni na pľaci? Pomáha vám niekto?
Čas si vážim a vypĺňam ho prácou najmä vtedy, keď sú deti v škole a škôlke. Inak spolu trávime veľa chvíľ spolu s manželom Jankom, dokonca si stále dokážem vyhradiť čas aj sama pre seba. Som vďačná, že to máme takto nastavené. Pomáhame si navzájom a pomáhajú nám naši rodičia. Napokon, aj naše deti, sú úžasné.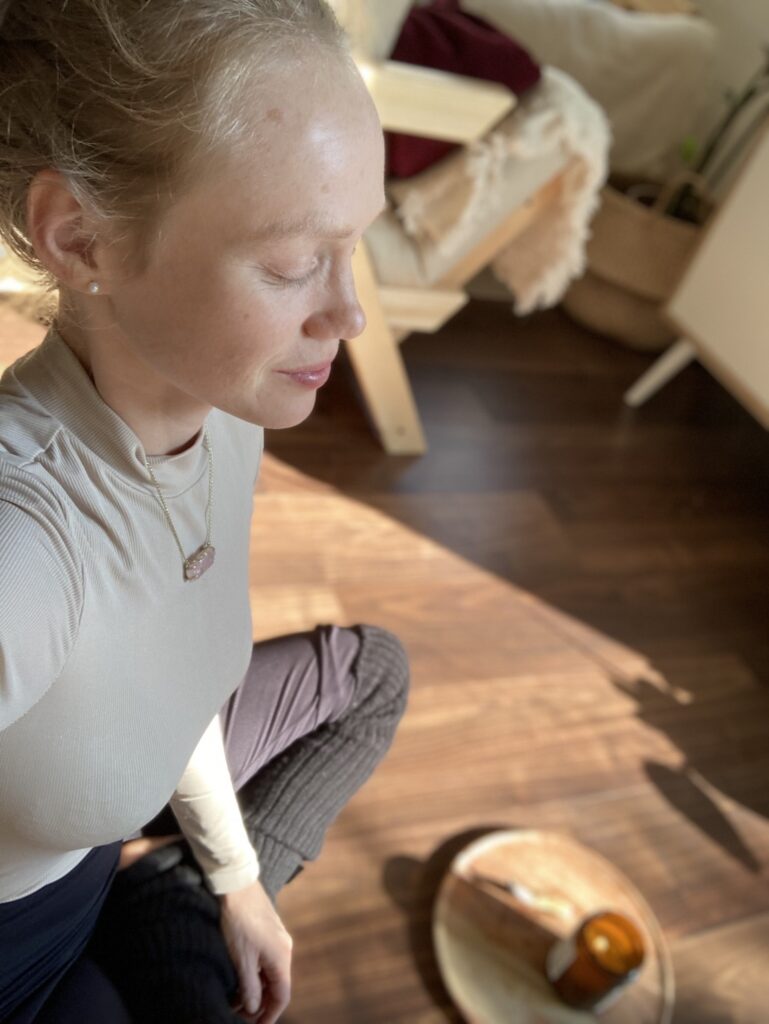 V umeleckej brandži pôsobí aj manžel Janko. Dokonca synček Damián, ani nie dvojročný si stihol zahrať pred kamerami v slovenskej romantickej komédii V lete ti poviem, ako sa mám. Aj jeho vediete k herectvu?
Nie, v tom čase som Damiána Huga ešte dojčila a chcela som ho mať čo najviac pri sebe, tak mi hral vo filme syna a boli sme spokojní.
Napokon, aj váš ocko sa venoval herectvu v ochotníckom divadle a bol aj kaskadér. To od neho ste dostali do vienka tú ľahkosť, nespútanosť a lásku k herectvu?
Pekná otázka. Obaja rodičia mi dali zo seba to dobré – mamina jemnosť, ženskosť, krásu a ocino mi dal mužský aspekt – odvahu, kreativitu, potrebu prejaviť sa ako ja! Objímam vás, rodičia.
Herectvo kráča ruka v ruke so spevom. Ako sa však k tomu všetkému pridal saxofón?
Na škole sme mali vedúceho ročníka Petra Mankoveckého, ktorý režíroval predstavenie Fellinni – Skúška orchestra. Za letné prázdniny sme sa mali naučiť základy hry na nejaký orchestrálny hudobný nástroj. Vybrala som si alt saxofón a neskôr som ho využila aj v predstaveniach ako Dievča bez vena (DAB v Nitre), Dvaja na jedného (inscenácia Divadla Lab), a napokon sme ho uplatnili aj v hudobnom zoskupení S hudbou vesmírnou.
Čo s ním bude teraz, keď už nie ste súčasťou kapely? Prevezme ho dcérka Amálka?
No, ešte chvíľu postojí v skrini, počká na mňa, a možno sa ešte uvidíme. Momentálne hraniu nevenujem čas. Amálka sa k nemu tiež už mala, tak uvidíme.
V živote všestranne nadaného umelca, akým ste vy, sa občas stáva, že jedna kariéra potlačí druhú. Bolo to u vás dôvodom, prečo ste odišli zo skupiny a vídame vás výlučne v hereckej pozícii?
Bolo to sčasti aj tak. Najskôr som pre hudbu potlačila herectvo a teraz, pre rodinu a svoj rozvoj, som potrebovala vypustiť to, čo ma už neposúvalo tam, kam som chcela, a tak som sa nechala viesť sama sebou. Som rada, že ma v kapele nahradila Sára, ktorej to ide úžasne.
Pomáhali ste chlapcom pri výbere nasledovníčky? Na poslednom vystúpení v Pezinku, kde sme vás s Hudbou vesmírnou mali možnosť počuť, padla aj slzička. Ako sa vám dnes pozerá na pokračovanie kapely v zmenenej zostave? Predsa len, sedem rokov je sedem rokov.
Chalanom som pri výbere nepomáhala. Vybrali si Sáru sami dvaja. Vždy mali na to správny čuch. Áno, slzička bola aj dve a ďalšie, pretože sa jedno krásne obdobie – náročné, bláznivé, hravé, veselé, s najlepšími fanúšikmi na svete, končilo, a toto bol rozlúčkový koncert. Mala som naozaj veľa emócií, ktoré sa dali vyjadriť len plačom. To je niečo také krehké, jemné a silné zároveň. Ďakujem, S hudbou vesmírnou!
S Marekom a Sorizzom ste sa počas spoločného pôsobenia napokon ocitli aj v roli moderátorov populárneho formátu Zem spieva. Čo pre vás znamená folklór, kroj a tradície?
S folklórom už nie som v takom kontakte, ako počas nakrúcania Zem spieva, no mám krásne spomienky na tento televízny projekt. Dcérka Amálka chodí do folklórneho súboru Lastovičky, mám z toho radosť, keď vidím, ako sa deťom vštepujú tradície. Možno sa od nej opäť niečo naučím.
Zdroj foto: Archív D.M.