Počet bezdetných manželstiev sa zvyšuje. Za problémom počať potomka je v polovici prípadov žena a takmer v polovici prípadov muž. Ak sa vyšetrením potvrdí, že muž je v poriadku, "rieši sa" žena. O tom, akú liečbu ponúkajú v tejto oblasti Kúpele Lúčky, sme sa porozprávali s primárom MUDr. Igorom Dobríkom.
Ako sa vo všeobecnosti postupuje pri liečbe neplodnosti ženy?
Keďže vyšetrenie plodnosti u muža je jednoduchšie a omnoho menej zaťažujúce a komplikovanejšie ako u ženy, najprv sa vyšetruje muž. Po vylúčení mužskej príčiny neplodného manželstva hovoríme o ženskej neplodnosti a pristupuje sa k vyšetreniu a liečbe ženy. V prvom kroku obyčajne gynekológ nasadí trojmesačnú liečbu klomifencitrátom na vyvolanie ovulácie. Keď to nezaberie, pacientka by mala byť odoslaná na špecializované pracovisko, a to buď do ambulancie pre neplodné ženy alebo do nejakého fertilizačného centra.
Čo všetko môže zapríčiňovať neplodnosť ženy?
Ženská neplodnosť je veľmi zložitá, pretože ju nezapríčiňuje jedna choroba, avšak je to stav, ktorý môže byť zapríčinený mnohými poruchami alebo chorobami. Príčina sa môže nachádzať vo vnútorných rodidlách alebo v ich nadradených centrách, v hypofýze alebo hypotalame. Inokedy môže byť príčinou aj ochorenie mimo pohlavných orgánov, najmä žliaz s vnútorným vylučovaním. Často býva príčinou porucha činnosti štítnej žľazy, no najčastejšie sa príčina neplodnosti nachádza v chorobných zmenách alebo poruchách vo vaječníkoch, vajíčkovodoch a maternici alebo ich nadradených podmozgových centrách. Zväčša sa v týchto prípadoch jedná o poruchu tvorby vajíčka alebo o nepriechodnosť vajíčkovodov, zriedkavejšie o anatomickú anomáliu maternice.
Medzi ženami je ako dôvod neplodnosti dobre známa aj endometrióza alebo zápaly.
Áno, chronický zápalový proces na rodidlách môže spôsobiť poruchu jednotlivých častí vnútorných rodidiel alebo poruchu priechodnosti vajíčkovodov, prípadne môže byť aj faktorom, ktorý ničí vajíčka alebo spermie. A ajendometrióza alebo myómy patria k chorobným nálezom, čo môžu spôsobiť neplodnosť. Mozgová kôra síce priamo neriadi hormonálnu činnosť, avšak môže spôsobiť poruchu v mechanizme hormonálnej osi ovárium-hypofýza-hypotalamus, a tým zapríčiniť zase takzvanú psychogénnu sterilitu. V neposlednom rade aj poruchy žliaz s vnútorným vylučovaním môžu narušovať činnosť vaječníkov a spôsobovať anovulačné cykly. A aby toho nebolo málo, tak príčina neplodnosti môže tkvieť aj v poruche imunitného systému, poruche zrážania krvi, genetických poruchách a rôznych poruchách metabolizmu. Tých príčin je naozaj veľa, nie je tu priestor vymenovať všetky.
Prečo je dôležitá kúpeľná liečba v procese liečby neplodnosti? A ako liečite ženskú neplodnosť v Kúpeľoch Lúčky?
Najdôležitejším činiteľom v procese liečby ženskej neplodnosti v Kúpeľoch Lúčky je liečivá minerálna voda využívaná formou kúpania sa v bazéne a tiež formou pitnej liečby. V priebehu kúpania dochádza k lokálnemu prekrveniu a zlepšenej výžive, a tým k stimulácii činnosti vaječníkov, vajíčkovodov a maternice. Podobne dochádza k väčšiemu prekrveniu a stimulácii hypofýzy a hypotalamu, ktoré riadia činnosť vaječníkov. Tým sa navodzuje vyvážený stav v produkcii hormónov a stimuluje sa tvorba vajíčok vo vaječníkoch. Pitnou kúrou dochádza k zlepšenej využiteľnosti koenzýmu Q10, ktorý podmieňuje primeranú činnosť vaječníkov a tvorbu životaschopných vajíčok. Pobyt, cvičenie a plávanie v minerálnej vode napomáha k úprave a uvoľneniu svalových stiahnutí a blokád chrbtice a krížovo-bedrového spojenia. Tento liečivý proces umocňujeme cielenou liečebnou telesnou výchovou so špeciálnymi cvikmi zameranými na iliopsoasové svaly a svaly panvového dna.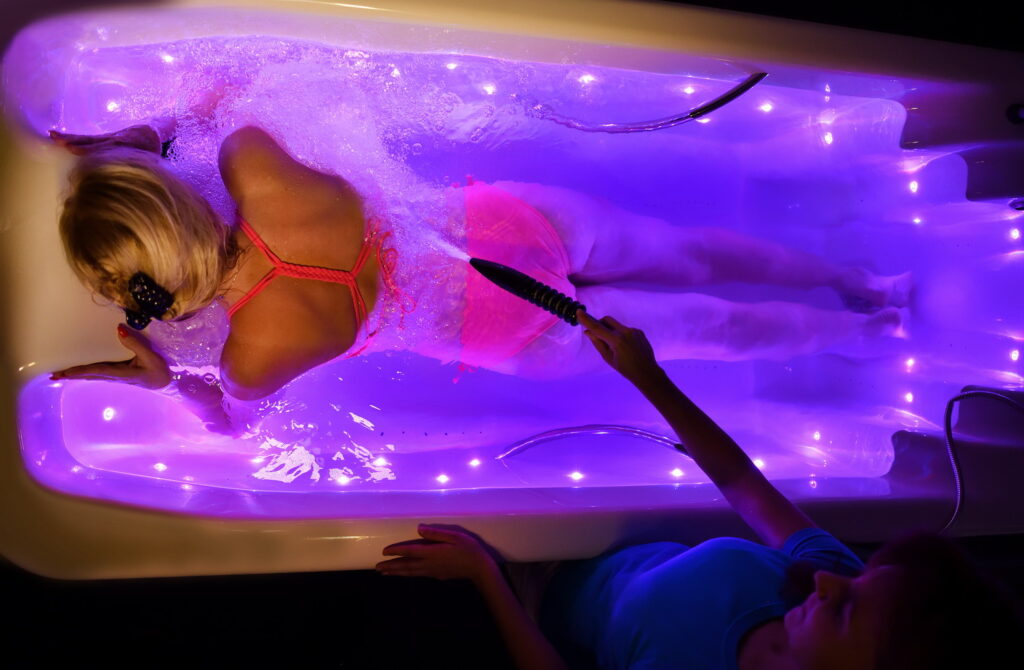 To sme však určite nevymenovali všetko, veď o vašej minerálnej vode sa hovorí, že pôsobí na viacerých "frontoch" naraz.
Áno, napríklad v prípadoch chronických zápalov rodidiel využívame imunomodulačný účinok lúčanskej vody jej pitím z prameňa, ktorý zabezpečuje zvýšenú obranyschopnosť organizmu a aj samotných rodidiel pri náchylnosti na infekcie a zároveň potláča neželané imunitné činitele zápalu. Pobytom v minerálnej vode podporeným cielenou pohybovou liečbou sa zlepší kolobeh krvi a lymfy v malej panve a to dáva spolu s prehrievaním v rašeline predpoklad pre uvoľňovanie jemných zrastov. Celkovo sa posilňuje svalovina a sliznica maternice a vajíčkovodov a tým sa zvyšuje preprava vajíčka vajíčkovodmi a zvyšuje sa pripravenosť maternice na uhniezdenie zárodku. Pravidelným pobytom a pohybovou liečbou v bazéne sa upravujú narušené mozgové pochody. Samozrejme, v priebehu kúpeľnej liečby v Lúčkach využívame aj pomocné procedúry, ktoré zosilňujú a znásobujú účinky minerálnej vody. Prednostne predpisujeme špeciálnu liečebnú telesnú výchovu, oxygenoterapiu, magnetoterapiu, TENS prúdy, mikrovlnnú diatermiu, rašelinu, plynové injekcie. Hypotermo-hyperemický paradoxný účinok vody využívame pri stavoch s endometriózou, tvorbou vaječníkových cýst alebo pri prítomnosti myomatóznych uzlíkov. Nezanedbateľným faktorom v procese komplexnej kúpeľnej liečby neplodnosti je aj vplyv mierne stimulačnej klímy v okolí kúpeľov.
Viera Mašlejová
FOTO: Kúpele Lúčky