Mária Čírová si záver roka užila plnými dúškami na pódiu. Po návale pozitívnej spätnej väzby od svojich fanúšikov na vianočných koncertoch sa teší na chvíle pohody s rodinou. Do nového roka vstupuje s osvedčenou metódou, že všetko bude prijímať tak, ako k nej prichádza a negatívne myšlienky nebudú mať v jej nastavení priestor.
Čo vám dal a vzal rok 2022?
Rozhodla som sa žiť podľa vlastnej vytvorenej filozofie, ktorá mi je príjemná. A spočíva v tom, že nebudem oponovať životnému toku, no budem všetko prijímať tak, ako ku mne prichádza. Je to kúzelné čaro okamihu. V súvislosti s tým nemám ani teraz v hlave negatívnu myšlienku o tom, čo sa mi v živote deje. Skôr sú tam veci, za ktoré som mimoriadne vďačná a robia ma šťastnou. V máji sme s dcérou Zoe dotočili seriál Oteckovia, to bola pre našu rodinu veľká výzva, rok sme sa mu venovali. Do toho škola, krúžky, moja a manželova práca, predsa len máme tri deti ( smiech). Mali sme nádherné leto, jazdili sme na koňoch, prešli sme niekoľko slovenských rančov, boli sme aj v zahraničí, konečne po pandémií to bolo také leto, aké má byť. Ak to mám zhrnúť, tak tento rok bol pre mňa nesmierne zaujímavý, lebo som sa pustila do takých vecí, o akých som ani netušila, že ich môžem a dokážem robiť.
Čo napríklad?
Začala som robiť influencerskú prácu, bolo to pre nás s manželom úplne niečo nové. Komunikovať s klientmi a s rôznymi firmami, robiť pre nich videá a fotografie a všetko možné, je to veľmi zaujímavé. Vie to byť naozaj pestrá práca, keď do toho ide človek naplno. Úžasné pre nás na tom je, že sme si okrem spievania a hrania skúsili niečo nové. Stali sme sa režisérmi a scenáristami. Som na nás hrdá, že sme nedali hlavu do piesku a nesťažovali sa, ako niečo nejde, ale že sme čelili výzvam a prinieslo to obrovský úspech.
Spomínali ste, že ste nastavená veľmi vedome a prítomne, ale ak sa vám predsa zjaví negatívna myšlienka v hlave, ako jej čelíte?
Každý z nás občas narazí na svoj limit v tom, že by sa rád posťažoval, ako niečo nefunguje a má chuť so všetkým buchnúť o zem. V mojej profesii si to však úplne nemôžem dovoliť. Veď, ako by to vyzeralo, keby medzi ľudí prišla nahnevaná speváčka? Tanečníci, herci a speváci sa musia naučiť prijímať situácie tak, ako sú, inak musí ísť z tohto kola von. Neexistuje, aby si to odniesli diváci.
Spomínate si na konkrétnu situáciu, keď vám "nebolo všetko jedno", no museli ste sa nastaviť tak, že je všetko v poriadku?
Nedávno nám všetky deti ochoreli, a to práve pred vianočným turné. Najmladší Ruben dostal laryngitídu, Zoe s Hugom mali silné kašle a sople, typické pre toto obdobie. Pri päťčlennej rodine musíte mať, samozrejme, plán B, spočívajúci najčastejšie v ľuďoch, ktorí vám pomôžu sa o nich v tejto situácii postarať. Čo sa však stane, keď ochorejú úplne všetci a vy musíte ísť na koncert? Ľudia nevedia, aké sirupy o tretej ráno dolujete z poličky a ako sa vám z hlavy parí pri vymýšľaní, čo by im zabralo. Ľudia vám od rána píšu, ako sa tešia na koncert a vy máte hlavu úplne inde. Treba sa vtedy "prenastaviť". Všetko ostatné viem vyriešiť, avšak deti sú pre mňa to najpodstatnejšie, tým pádom sú aj najcitlivejšou zónou. Aj keby mi ochoreli všetci spoluhráči naraz, dokážem si to zahrať sama na klavíri, no čo sa týka detí, to je pre mňa zakaždým silná káva. Túžim byť pri deťoch, keď ma potrebujú, no sú situácie, keď sa to naozaj nedá a ja musím plniť svoje poslanie. V tomto niekedy cítim tlaky.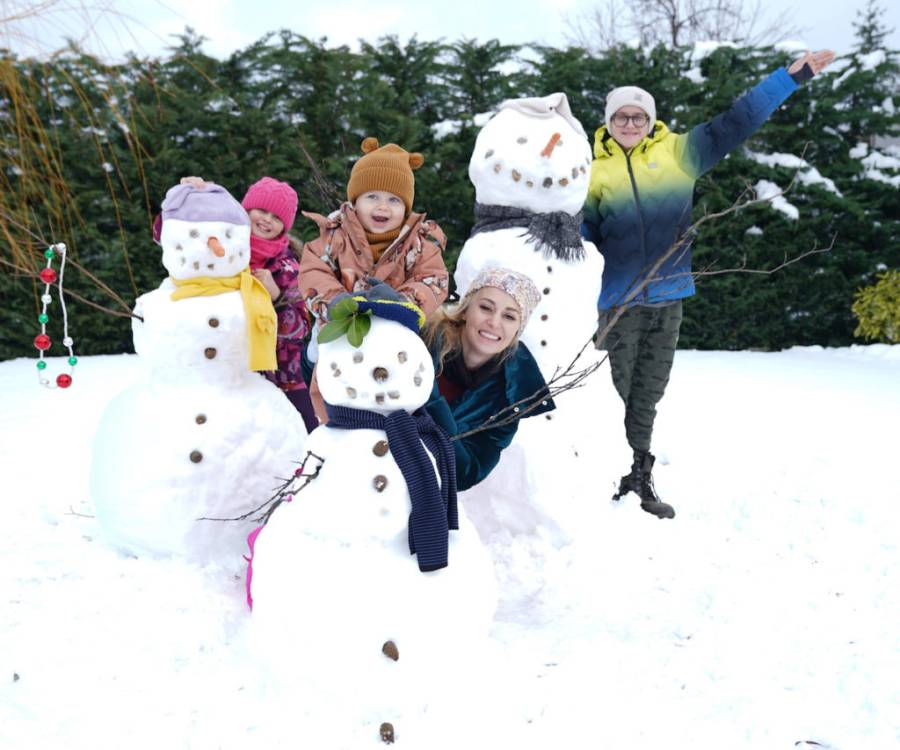 A ako s nimi ďalej narábate, aby ste sa nezacyklili v tom negatívnom?
Pozriem sa do neba a poviem: "Bože, veď my spolupracujeme, tak to prosím ťa nejako zariaď." (úsmev). Nech k nám príde niekto zdravý. Jeden večer som poprosila a na druhý deň sa to udialo, taká vie byť sila myšlienky. Aj v ťažkých chvíľach cítim silnú duchovnú podporu a som za ňu mimoriadne vďačná.
Premýšľali ste už nad plánmi na ďalší rok?
Iba trochu. Čokoľvek, čo riešime dopredu, môže napokon dopadnúť úplne inak. Aj vianočné turné sme mali celé perfektne naplánované a dnes spievam koncert s inými vokalistkami, ktoré sa za noc museli naučiť partitúru. Zostava, s ktorou spievam, mi ochorela. Doslova sa mi počas turné vymieňa tím. Robím však, našťastie, s veľkými profesionálmi. Nerozmýšľam teda nad tým, čo bude, a skrátka verím, že to bude nádherný čas. Keď som už dostala do daru 24 hodín, chcem ich využiť naplno – najviac, ako sa dá. Zažívať krásne situácie a momenty máme vo svojich rukách, tie nám nik nevezme. Detské oslavy, rodinné stretnutia, vždy sa snažím, aby sme si to užili v daný moment najlepšie, ako vieme, a aby nám bolo spolu dobre. Preto som na konci roka spokojná, a to, že by som nič nemenila, je práve kvôli tomu, že som konala počas neho vedome, v súznení s mojou dušou. To, ako sa veci stali, bolo to najlepšie, ako sa mohli stať. Ako príklad uvediem oslavu dvoch rokov nášho syna Rubenka, keď naši príbuzní dostali covid. Z plánovanej oslavy nič nebolo a my sme sa teda vybrali do Chorvátska s deťmi. Nakoniec sme mali krásnu spontánnu oslavu tam. A bola to pre nás tá najkrajšia oslava, akú sme mohli mať. Práve vďaka tomu, že sme sa "neopustili" rečami typu: "Ojój, ako to mohlo byť s rodinou iné". Prístup k situáciám je alfou a omegou. Som rada, že s manželom život prijímame tak, ako ide. Sme v tom myslení rovnako nastavení a posúvame sa spoločne. Som presvedčená aj o tom, že ak budeme zdraví, rok 2023 bude krásny. Či už to bude pracovná alebo súkromná oblasť. Ešte s Jurajom Bačom robíme na jednej detskej rozprávke z produkcie Fíha tralala, kde Juraj hrá kráľa a ja kráľovnú. Moja dcéra Zoe je jedna z ruženiek. Je to nádherné tanečné a hudobné dielo, teším sa z tejto spolupráce.
Chystáte sa aj na poriadnu zimnú lyžovačku?
Prvé dva januárové týždne budeme vyslovene oddychovať a, samozrejme, aj lyžovať. Silvester zrejme strávime doma, deti nám už vyzdobili dom trblietkami, všade sú svetielka a výzdoby. Plánujeme ísť na hory, ktoré máme všetci radi. Snáď budeme zdraví a všetko dobre dopadne. Moji krstní rodičia majú chatu v Bachledovej doline, tak tam chodíme veľmi radi alebo do Katschbergu, kde je to veľmi príjemne pre deti. Teším sa na všetko, čo nás čaká.