Martina Paulíková je jedna z tohtoročných "Biely vrán" – žena, ktorá ukázal svoju odvahu – neskutočných dvadsaťdeväť rokov dokázala bojovať proti nezmyselnému vodnému dielu v Slatinke.
"V roku 1993 sme založili združenie Slatinka – je to názov obce, ktorá leží v okrese Zvolen. Povedali sme si totiž, že skúsime dosiahnuť ochranu prírodne cenného údolia rieky Slatiny. Dvadsaťdeväť rokov sme strávili tým, že sme sa snažili vysvetliť úradníkom na ministerstvách, na úradoch životného prostredia, že je potrebné chrániť rieky v ich prirodzenom stave. Lebo to je dôležité pre ochranu klímy a pre kvalitu nášho života. Bojovali sme o údolie, o dedinu, ale zároveň to bol aj boj o zmenu vodnej politiky na Slovensku," hovorí útla žena, o ktorej by nikto na prvý pohľad nepovedal, že sa v nej berie taká sila a vytrvalosť. Martina je ekologička, vyštudovala ochranu prírody a krajiny na Fakulte ekológie a environmenalistiky Technickej univerzity vo Zvolene. Tam sa vlastne aj po prvý krát dozvedela, že na mieste dediny Slatinka sa má vybudovať vodné dielo – priehrada. Zaujalo ju to už ako vysokoškoláčku. "Nás tam vlastne ako študentov vodili naši pedagógovia a ukazovali nám, prečo je táto lokalita cenná – že sú tu vzácne rastlinné druhy a pestré živočíšne spoločenstvá. Vraveli nám – obzrite si to, lebo tu bude priehrada, zaplaví sa to a už to zmizne -. Nedalo nám to a začali sme pátrať, vzdelávať sa a začali sme spolupracovať aj so zahraničnými organizáciami. Pátrali sme, prečo je nutné, aby tá priehrada bola práve v Slatinke," vysvetľuje Martina Paulíková.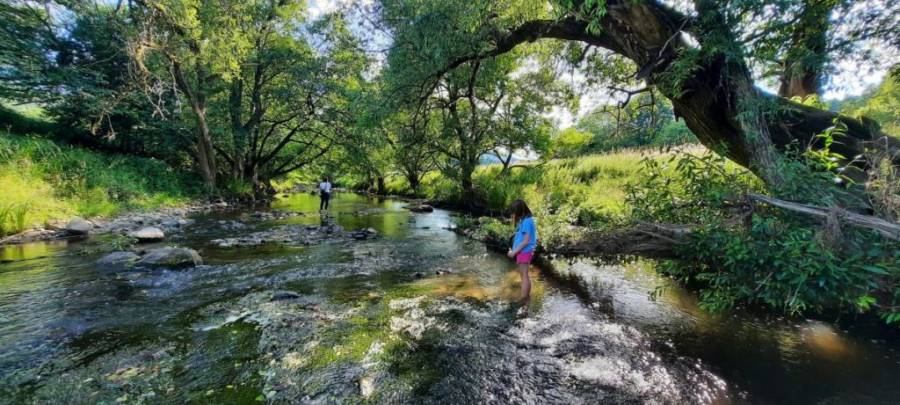 Tínežeri verzus úradníci
Ako dodáva, nepatrí k ekológom, ktorí obrazne povedané hlásajú – vráťme sa do jaskýň, nič netreba stavať. Po niekoľkých mesiacoch však prišli na to, tá priehrada má účel, ktorý sa neustále menil, a že tu nebol nikto, kto by ju naozaj potreboval. A to ešte viacej posilnilo presvedčenie mladých ľudí, že má zmysel postaviť sa proti priehrade Slatinka. "Boli sme devätnásťročné "decká", chodili sme na konania o posudzovaní vplyvov na životné prostredie. Prichádzali sme s argumentmi, že je to cenné územie, že ho treba zachovať. Nebrojili sme všeobecne proti priehradám, len sme dôvodili, že vodné diela stavajme tam, kde ich naozaj treba. A tí inžinieri, úradníci na ministerstvách na nás pozerali, čo to tu rozprávame. – Veď tá priehrada je naplánovaná veľa rokov. Už o tom dávno bolo rozhodnuté," uvádza Martina. Vtedy ešte nebolo také ekologické povedomie ako teraz. Dokonca, na niektoré stretnutia ich ani nepustili. Museli sa toho domáhať, a aj cez súdy. Oni však neváhali a kvôli ochrane rieky Slatina sa úspešne obrátili aj na Ústavný súd.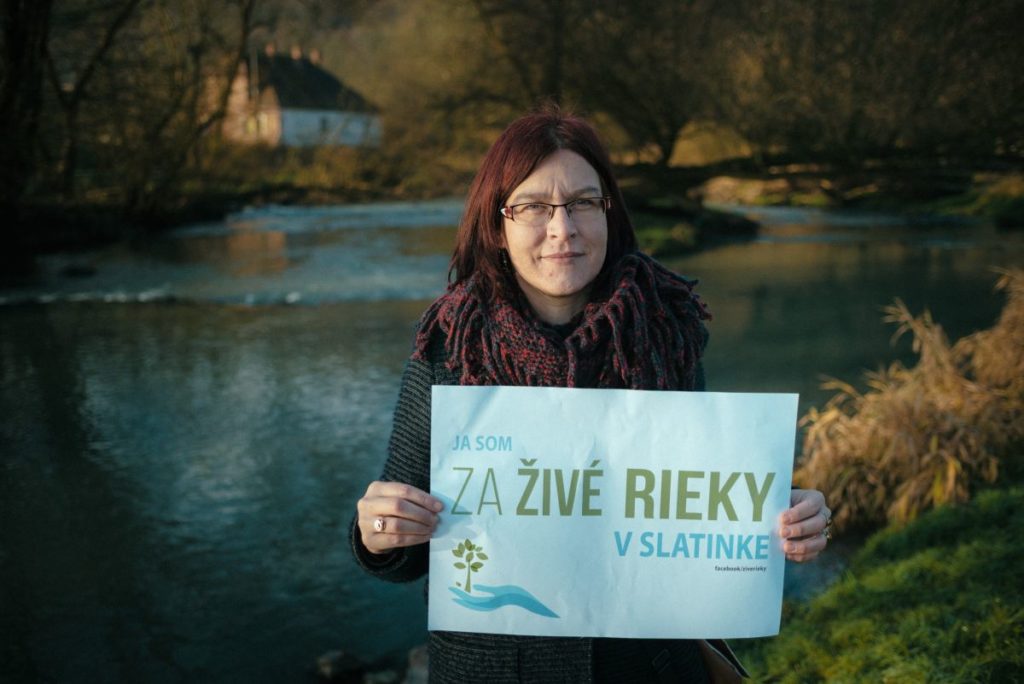 Zvolen je druhý domov
Dôležité je však povedať, že proti priehrade Slatinka nebojovali len ako zanietení študenti. Ich úsilie pokračovalo ďalej aj potom, čo začali pracovať a vlastne žiť každodenné životy. V prípade Martinky to znamená, že sa vydala a stala sa matkou troch dcér. Ostala vo Zvolene, toto mesto sa stalo jej novým domovom. Ináč pochádza zo Svätého Juraja, čo je mestečko blízko Bratislavy. Zvolen a najmä okolitá príroda si ju však získali už od vysokej školy.
Ako je však možné, že v tom boji vydržala takmer tridsať rokov? Veď život prináša rôzne problémy, čo človek musí riešiť. Čo ju vlastne držalo v tom zanietení? "Ja som nikdy nerozmýšľala nad tým, koľko to bude trvať. Nikdy som nemala taký pocit, že to nedokážeme. Stále som si verila a patrím k zakladajúcim členom Združenia Slatinka, som tam od začiatku," vysvetľuje Martina Paulíková.
Pyšná na dcéry
V roku 2022 Ministerstvo životného prostredia SR a vláda SR napokon rozhodli, že priehrada na Slatinke sa stavať nebude. Martinka a jej kolegovia zo združenia boli teda skutočne toutisícročnou kvapkou, čo rozbila betónové predstavy o priehrade. A tu opäť odcitujeme z laudácia, ktoré predniesla Eva Kovačechová, keď si Martina preberala ocenenie Biela vrana: "Bez násilia, kriku či agresivity, bez veľkých slov a fráz, bez nároku na odmenu či uznanie, takmer ticho, zato však pevne, tvrdohlavo, vecne a vytrvalo odkrývala nezmyselnosť stavby priehrady." Vraví sa – Aká matka, taká Katka. V rodine Martiny Paulíkovej to skutočne platí. Dve z jej dcér – najstaršia Sára a stredná Kaja, sú už vysokoškoláčky a študujú podobný odbor ako mama – konkrétne konkrétne Sára regionálny rozvoj na Masarykovej univerzite v Brne a Kaja zoológiu a ekológiu na Univerzite Palackého v Olomouci. "Ja som ich vždy vodila do prírody, vždy chodili so mnou aj na rôzne akcie, ktoré sa týkali ochrany životného prostredia. A som veľmi rada že sú z nich sebavedomé, samostatné a život si vážiace bytosti," dodáva s úsmevom pyšná matka. Najmladšia Lola doprevádzala mamu, keď bola v Bratislave prevziať si ocenenie. "No, dobré," – tak zareagovala na otázku, keď sme sa jej opýtali, čo vraví na to, že jej mama dostala ocenenie.
Prečo je toto územie vzácne: Rastie tam orchidea
-Rieka Slatina nad Zvolenom vytvorila v sopečných horninách zhruba 12 kilometrov dlhý prielom so skalami a suchomilnými spoločenstvami dubov, orchideí, motýľov aj iného hmyzu. Pod nimi sa v úzkom údolí zachovali lesy, mokrade a mokré lúky s kriticky ohrozenými druhmi rastlín aj živočíchov. Veľmi cenná je aj vlastná rieka so skalným dnom, ostrovčekmi, mŕtvymi ramenami, skalnými brehmi a s bohatou pobrežnou vegetáciou s jedincami sto- až dvestoročných ročných jelší. Vedci tu zistili výskyt 562 druhov vyšších a nižších rastlín, 123 druhov vtákov, 27 druhov cicavcov, 8 druhov plazov, 9 druhov obojživelníkov, 33 druhov rýb, 207 druhov chrobákov, 158 druhov motýľov a 10 druhov vážok.
-Zaujímavými chránenými druhmi sú napríklad orchidea, červenohlav obyčajný a kriticky ohrozená korunkovka strakatá, motýľ modráčik krvavcový. Z rýb druhy európskeho významu hrúz kesslerov a mrena škvrnitá a z cicavcov vydra riečna či netopier veľkouchý, ktoré populácia všeobecne klesá.
-V území, ktoré malo byť zaplavené, zdokumentovali vedci 17 typov biotopov európskeho a národného významu. Z nich sú predmetom ochrany – teda dôvodom, prečo bolo v júli 2022 územie zaradené do siete európsky významných území Natura 2000, lužné vŕbovo-topoľové a jelšové lesy, a tiež biotop vlastnej rieky s vegetáciou vodných rastlín ako napríklad močiarka, šípovka a iné.
Viera Mašlejová
FOTO: Viačeslav Šambazov a M. P.