Najkrajšie sviatočné obdobie sa už každým dňom blíži. Týždenník Slovenka spolu s Praktickou Slovenkou priniesli svojím čitateľov, ale aj návštevníkom nákupného centra Nivy deň plný zábavy, slovenských tradícií a folklóru, ktorý k Vianociam neodmysliteľne patrí. A pozor – nechýbali ani známe tváre z obľúbenej šou o pečení. Podujatie Tradičné slovenské Vianoce spojilo tradície s kulinárskym umením a my sme vám na ňom priniesli veľa prekvapení.
Kulinárstvo a estetika popretkávané vianočnými tradíciami
Tradičné slovenské Vianoce sú ojedinelým podujatím, ktoré spája folklórne tradície odprezentované na podujatí Slovenský deň kroja s vianočnými tradíciami a kulinárskym umením. Malý slovenský deň kroja vo vianočnom šate. V sobotu 19. novembra v nákupnom centre Nivy bol pripravený bohatý program. Viac prezradila organizátorka podujatia a generálna riaditeľka vydavateľstva STAR Production Mária Reháková: " Dnešný deň je venovaný šikovným pekárkam a Vianociam, dokonca nás zhora ráno aj pozdravili snehom. Neoslavujeme však iba vianočnú atmosféru, ale aj súťaž o Najkrajšiu tortu, ktorá vznikla pred deviatimi rokmi. Odteraz nám bude potešením, keď sa budeme spájať so Slovenským dňom kroja, ktorým vzdávame vďaku našim predkom a tradíciám. Máte možnosť zažiť 150 účinkujúcich folkloristov s fantastickým programom. Veľmi dôležité je aj to, že je medzi nimi kopec mladých ľudí, tak sa nemusíme o budúcnosť našich zvyklostí obávať. Každý z nás robme všetko preto, aby sa folklór zachoval v čo najreálnejšej podobe."
Predsedníčka poroty Katarína Novotová z 1. série šou Pečie celé Slovensko: "Som veľmi rada, že sme sa tu stretli vo veľkom počte, tento rok sa prihlásil rekordný počet záujemcov. Vidím, ako sú dievčatá šikovné, tak sa naozaj máme načo tešiť, poďme teda maškrtiť."
Súčasťou podujatia bola súťaž o najkrajšiu tortu s témou "Tradičná vianočná torta". Súťažilo spolu devätnásť cukrárok a cukrárov z celého Slovenska. Návštevníci tak mali možnosť sa s nimi stretnúť osobne a pozrieť sa, ako kvalitne pracujú.
…a víťazkami sa stali:
miesto: Anna Petiushka
miesto: Lenka Schwammel
miesto: Ľubica Kočálková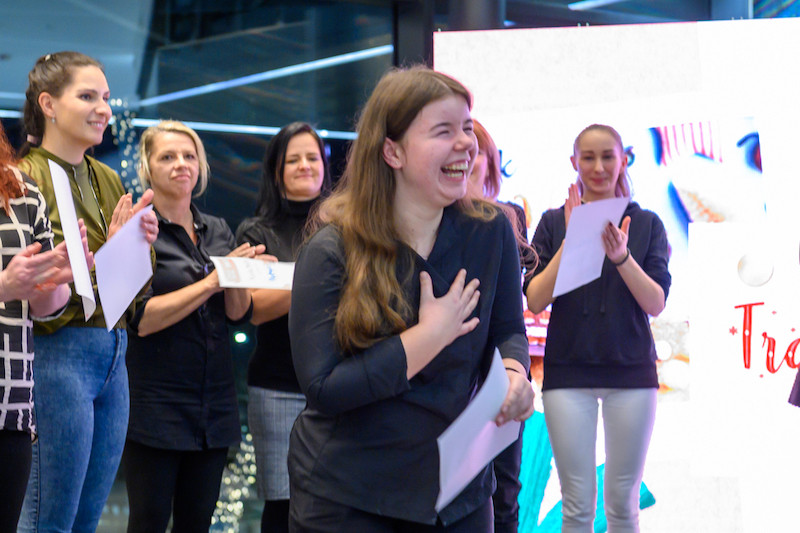 Cukrárske počiny hodnotila odborná porota, ktorá sa zamerala na zvládnutie témy, chuť aj estetickú stránku. Porota hodnotila v zložení: Katarína Novotová (predsedníčka poroty), Adriana Ihringová, finalistka Masterchef, víťazka Bez servítky, aristologička, Miroslav Macuľa, víťaz Pečie celé Slovensko, Ľuboslav Móza, galerista, historik umenia, Andrej Ondráš, slovenské cukrovary, Sered, Daniel Bidelnica, výtvarník. Súťažiace mali na prípravu torty tri hodiny.
Zástupcovia z regiónov celého Slovenska predstavili typické vianočné koláče a pečivo pre svoj región, deň bol tak prirodzene plný výborných maškŕt.
Perinbaba a dva svety
K Vianociam neodmysliteľne patrí sledovanie rozprávok a najmä z našej slovenskej tvorby. Vyvrcholením celého dňa bola prezentácia pokračovania rozprávky, ktorá je neodmysliteľnou súčasťou vianočného obdobia a tou je "Perinbaba a dva svety (Perinbaba 2). Zažili sme veľkolepú prezentáciu, na ktorej sa predstavili hlavní protagonisti z rozprávky. Film prišla predstaviť Deana Jakubisková spolu s predstaviteľkou Alžbetky Petrou Kolevskou a omladinou novej Perinbaby, Valériou Frištik a Lukáš Frlajs.
Petra Kolevská: "Som nesmierne rada, že som dostala šancu zahrať si v Perinbabe 1 a vždy si ju rada znovu pozriem. Je to nádherný film. Je to nesmierne nežný film, ktorý nám pripomenie to najzákladnejšie, čo v sebe máme. To, že sa máme mať radi."
Deana Jakubisková: "Každé Vianoce pozeráme na Vianoce Perinbabu, bola som pri natáčaní Perinbaby 1, keďže ju produkoval môj muž Juraj Jakubisko a mala som tú česť sedávať s Giulettou Masinou v šatni. Veľmi ma potešilo toto podujatie a dnes som sem prišla aj kvôli tomu, že práve Giuletta bola fascinovaná krásou slovenských krojov. Sú naozaj výnimočné. Tak malilinká zem a má tak rozmanité kroje. Máme byť na čo hrdý! Film je zázrakom vtedy, keď zázrak prírody spojíme so zázrakom snov a vlastnej predstavivosti."
Nechýbali ani ukážky z pripravovanej filmovej lahôdky. Unikátnu atmosféru znásobil blížiaci sa advent a vianočné sviatky, ktorá sa odzrkadľoval nielen v téme súťaže o najkrajšiu tortu, ale aj pri prezentácií tradícií z jednotlivých regiónov, pri zdobení vianočného stromčeka, či predstavení typických vianočných koláčov.
Ľudmila Fulöpová z Českej mincovne: "Toto krásne podujatie nám ukazuje našu jedinečnú históriu, tak ako aj mincovníctvo má vyše 1000 rokov, pripomíname si ju aj my v našich produktoch. Známe miesta, ľudové kroje či kultúru."
Malý Slovenský deň kroja
Slovenský deň kroja je ojedinelé podujatie zamerané na prezentáciu krojov, regiónu, regionálnych zvyklostí a tradícií a folklóru. Krása krojov folklórnych súborov a skupín z jednotlivých regiónov bol v rámci súťaže dominantným prvkom. Jednotlivé súbory a skupiny, ktoré sa predstavili aj počas Slovenského dňa kroja, odprezentovali svoje tanečné umenie a zvyky, vyzdobili pre región typický vianočný stromček a predstavili typické vianočné koláče.
Na podujatí vystúpili nasledovné folklórne súbory a skupiny, ktoré predstavili pre región typické tance a zimné tradície a zvyky: FS Hriňovčan aj s betlehemskými hrami, DFS Čečinka, Vajnorský okrášľovací spolok, FS Závodzan, DFS Lastovička, FSk Štrbän, FSk Lastovienka, Čičmany a Jozef Mak aj s piesňou Slovensko moje, otčina moja.
Nechýbali súťaže, tombola a tvorivé dielne, kde si mohli návštevníci podujatia vyskúšať vyrobiť vlastný vianočný veniec či ozdobiť perníčky. Príjemnou povinnosťou bol krst kalendára Slovenský deň kroja 2023. Pokrstila ho Mária Reháková spolu s Erikou Karovou tým, čím sa na folklórny kalendár patrí – čečinkou.
V tvorivých dielňach ste mohli stretnúť Andreu Pekárovú – Technika a zdobenie perníkov, Katarínu Struhárovú – Modelované kvety z gumpasty a Kvetinárstvo Rhapis predviedlo ukážky z výroby vianočných venčekov. V stánku VŠZP si mohli dať hostia odmerať všetky dôležité životné funkcie.
Ďakujeme partnerom podujatia: Stanica Nivy, Veronia Coffee, Česká mincovňa, SK, Korunný cukor, Sereď – generálny partner, Tescoma, Ikar, Orava, Dr. Oetker, New Nordic, Royal water, Turčianske teplice, Riso, Zora Ochodnická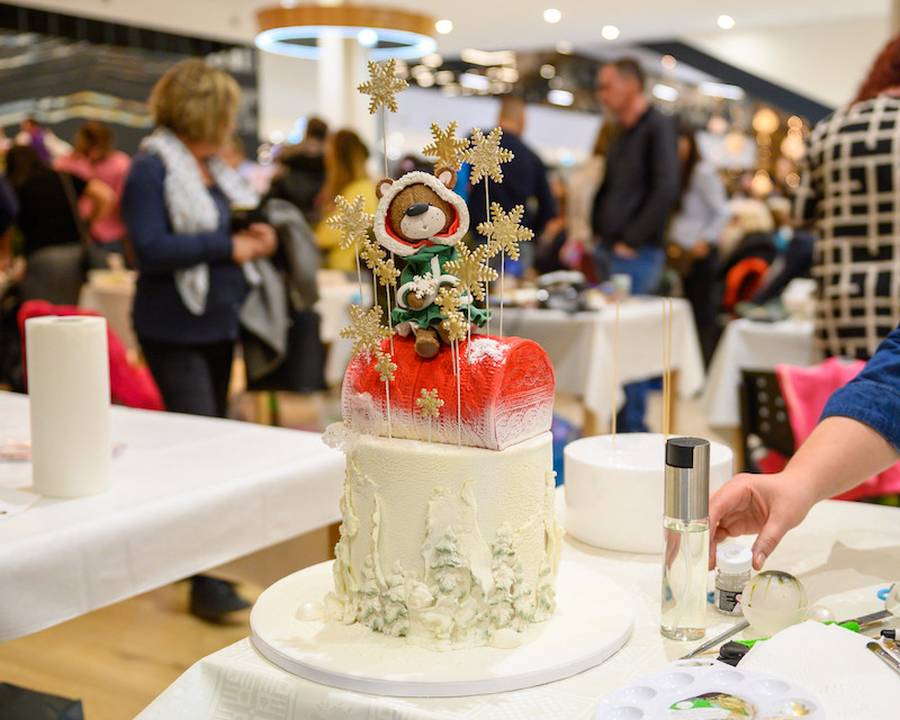 Mamky, starí rodičia, manželia a deti, veríme, že ste s nami zažili krásny predvianočný čas!