O životodarnej sile pokojného a láskyplného rodinného kruhu azda nikto z nás nepochybuje. Práve v tomto čase pociťujeme jeho moc intenzívnejšie ako v iných obdobiach.
Láska umocnená na štvrtú sa udomácnila v rodine mladých manželov Dubeckých, ktorí takmer pod stromček dostali nádherný dar – štvorčatá. O tom, akú radosť priniesli do ich vzťahu sa dočítate na stránkach Slovenky, ktoré sme sa snažili presvietiť touto azda najdôležitejšou emóciou. No láska má skutočne veľa podôb. Okrem tej, ktorú prežívame v intimite svojich súkromných domovov, je tu aj priazeň spojená s úctou a vďakou voči tým, ktorí svojou prácou priniesli krásu a radosť do našej verejnej a kultúrno-spoločenskej sféry. A práve o takú radosť, ktorú sme prežili v spoločnosti Osobností Bratislavy za rok 2022 by sme sa chceli s vami podeliť v našej reportáži. December je mesiac v znamení mrazu a zimy, avšak aj horúcich ľudských sŕdc, ktoré sa práve v tomto čase otvárajú a prijímajú, ale aj rozdávajú to najlepšie, čo v nás ľuďoch je.
Príjemné sviatočné dni a pohodu aj pri čítaní nového čísla Slovenky vám želá redakcia časopisu Slovenka.
Pripravíme si rýchlu a zdravú večeru za pár eur…
Z titulky…
V hlavnej téme si posvietime na britskú kráľovskú rodinu. Vykopali vojnovú sekeru? "Nikto nevie čo sa deje za zatvorenými dverami…" tieto silné slová so značným dramatickým podtónom vyslovil v traileri k novému dokumentu pre Netflix princ Harry a neveštia nič dobrého…
Ďalej sa dočítate…
Gravitácia je neúprosná a vek sa podpisuje nielen na viditeľných vráskach či šedinách, ale aj na pevnosti a pružnosti poprsia, ktoré má tendenciu starnutím klesať. Ochabnuté prsia spôsobujú, že sa cítime menejcenne a strácame sebavedomie. Ako to vyriešiť, sa dočítate na stránkach Slovenky.
Divadlo Nová scéna prichádza s hudobno-poetickým pásmom NEPOVINNE PO VÍNE. Režisérkou, dramaturgičkou aj autorkou hudby je Andrea Bučko. Básne velikánov slovenskej poézie – Miroslava Válka, Maši Haľamovej, Jána Smreka, Mily Haugovej, Jána Kostru, Kristy Bendovej, Milana Rúfusa, Ivana Kraska, ale aj súčasnej mladej poetky Mirky Ábelovej prednesú a zaspievajú obľúbení herci.
V cestopise vás zavedieme do ľadového kráľovstva:
Cencúle, chlad vo vzduchu a pocit, že všetko zamrzlo v čase. Poriadne sa zababušte a preskúmajte s nami skvosty rezbárskeho umenia z ľadu vo svete aj na Slovensku.
Zaujalo nás…
Blíži sa aukcia roka! Našiel sa kufor nebohej ikonickej hviezdy strieborného plátna Elizabeth Taylor – filmovej Kleopatry, plný zachovaných šiat, ktoré herečka prevetrala aj na prestížnych udalostiach, dokonca si v jedných z nich prevzala i Oscara. Ukážeme vám krásne modely a zaspomíname si na Liz.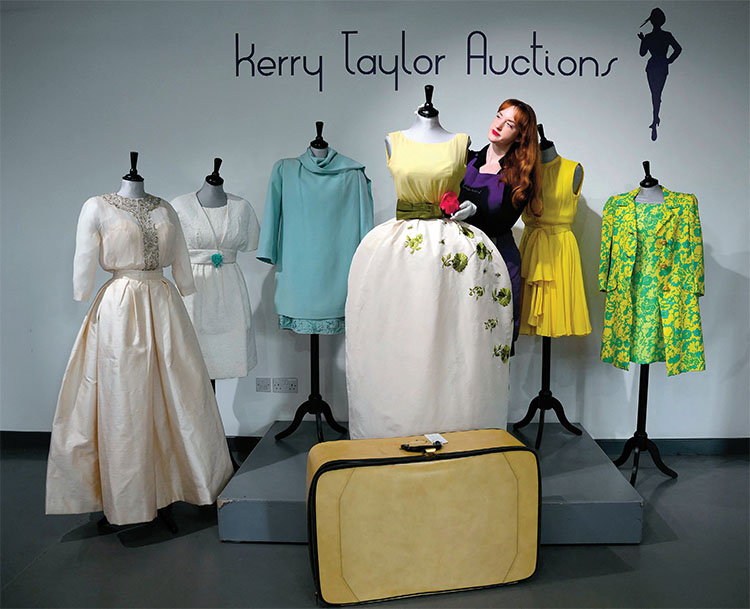 V rozhovoroch sa dozviete…
Z novomanželky Judit Pecháček Bárdos žiari láska a vďaka filmovým projektom, ktoré ju absolútne napĺňajú, aj spokojnosť. Rodáčka zo Senca, ktorá zakotvila v Prahe, je medzinárodne žiadanou tvárou filmu. Čo všetko prezradila v rozhovore si prečítate v hlavnej téme.
Šarmantnú Helenu Krasňanskú, ktorá žije svoj ligotavý sen. Lásku k šperkom získala od mamičky a zo značky SHERON sa jej pomocou húževnatosti, presvedčenia a podpory rodiny podarilo vybudovať klenotníctvo, ktoré očarí každého návštevníka. Nazrime hlbšie, ako sa jej to podarilo a poradí nám aj čo kúpiť pod vianočný stromček.