Dvanásť mesiacov roku 2022 je za nami a mnohí si pri rozlúčke s nimi neodpustia povzdych "chvalabohu". A možno práve o tomto je tá lekcia, ktorú nám tento rok udelil. Vážiť si skutočné hodnoty, ktoré prináša láska v každej svojej podobe, pretože len tá nepodlieha inflácii a nestráca na svojej cene… Veľa krásnych láskyplných chvíľ, zdravia a vnútornej harmónie vám želá redakcia časopisu Slovenka.
Zaujalo nás
V Dúbravke vznikol Sad sakúr a umenia
Zámerom projektu Sad sakúr a umenia bolo priniesť krásu do Bratislavy prostredníctvom národného symbolu Japonska – stromov sakura. Organizátori projektu vysadili 30 sakúr, ktoré v sebe cez QR kód skrývajú kultúrnu vložku (báseň či obraz). Podujatie zároveň poukázalo aj na blížiace sa 30-te výročie slovensko-japonských vzťahov. Viac o ňom sa dočítate v novej Slovenke.
Impozantné priestory, kde sa nadýchate umenia
Pre verejnosť sa otvorila zrekonštruovaná budova SNG s novým architektonickým členením, koncertnou sálou, modernou knižnicou a multifunkčnými kapacitami. Priestory sú nádherne vzdušné a konečne hodné európskeho hlavného mesta. Pozrite si ich na stránkach nového čísla Slovenky.
Z módy
Koniec roka v glamour štýle
Privítajte nový rok 2023 vo veľkom štýle! Či už budete oslavovať v kruhu svojich najbližších alebo na párty, mali by ste byť očarujúcou. Ako napríklad v modeloch značky PRONOVIAS, ktorú nájdete v salóne NICOLE. Malú ukážku si predvedieme aj v našej Slovenke!
Z rozhovorov
Život nemeriame časom, ale mierou radosti
Zuzana Mauréry je žena s pevnými zásadami. Vo svojej hereckej práci rada zdoláva výzvy. Naposledy to bola východniarčina v novom seriáli, s ktorou sa ako rodená Bratislavčanka musela popasovať. Ako to zvládla i to, čo pre ňu znamenajú Vianoce, sa dozviete v rozhovore.
Najrýchlejšia cesta do cieľa je tá najpomalšia
Juraj Bača je všestranný herec, ktorý si svoju prácu váži a vie sa jej naplno oddať. Niekedy až tak, že pri nej zabudne myslieť na seba, preto sa na sviatočné dni veľmi teší. V budúcom roku by rád…dočítate sa v Slovenke…
Teším sa na všetko, čo nás čaká
Mária Čírová si záver roka užila plnými dúškami na pódiu. Po vianočných koncertoch sa teší na chvíle pohody s rodinou. Do nového roka vstupuje s osvedčenou metódou. Akou? To si prečítate v našom rozhovore…
Zo zdravia
Zbohom posviatočné zavodnenie
Prejedanie sa počas sviatkov sa možno nepodpíše zo dňa na deň na našej váhe, avšak nafúknutá a zaliata tvár to ani kontúrovaním neskryje. Od stravy, stresu, zadržiavania vody až po alergie existujú rôzne dôvody, ktoré môžu spôsobiť, že sa nám tvár zavodní. A my vám ich prezradíme!!!
Z receptov
V najnovšom čísle sa spolu naučíme pripraviť ideálne pohostenie na dlhú silvestrovskú noc: krabie koláčiky, mäsovo-syrové tyčinky či avokádovo-lososové mištičky.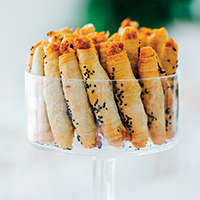 ---