Hovorí sa, že láska je slepá. Mohli by sme dodať, že niekedy dokáže byť aj hluchá, no našťastie však máme tých zmyslov viac, na ktoré sa môžeme spoľahnúť. Počas Valentína všetky naše zmysly dokážu vnímať jediné a to je oslava lásky. Nesmieme však zabúdať, že lásku treba oslavovať každý deň, nie len v ten oficiálny, tak si ju pripomínajme neustále využime na to naše zmysly!
Aj keď sviatok svätého Valentína sa stáva pre mnohých z nás len akýmsi komerčným marketingovým nástrojom, jeho história siaha hlboko do minulosti a je spriadaná množstvom legiend. Najznámejšia vypovedá o biskupovi, ktorého aj proti zákazu sobášov vydaným Cloudiom II. oddával tajne zamilované páry. Cisár však jeho činy odhalil a nechal ho 14. februára 269 popraviť. Našťastie, dnes už nič podobné riešiť nemusíme. Ten, kto má vzťah, by si mal prejavovať lásku čo najčastejšie a nečakať na konkrétny deň. Na druhú stranu, prečo sviatok nevyužiť k výnimočnejšej oslave tak krásneho citu.
Oči síce vidia, no zrak zvykne klamať
Čo nám však navodí pocit prvotný pocit zamilovanosti? Je to oslnivý vzhľad partnera, jeho chovanie alebo niečo celkom úplne iné? Každému zjavne prvé napadne, že nám náš partner musí ,,padnúť do oka". Samozrejme, vzhľad je dôležitý, aj keď určite nestojí na prvom mieste. Vzájomná príťažlivosť pramení z určitého porozumenia – zmysel pre humor, podobné životné hodnoty a záujmy, pocit pohody a bezpečia, ktorý s partnerom pociťujeme a mnohé ďalšie ,,ingrediencie'' sú tým, na čom stoja skutočné pevné vzťahy. Ruku na srdce, koľkokrát sa vám už stalo, že vám partner pripadal podľa vzhľadu bezchybne, ale kúzlo pominulo, keď prehovoril? Preto by mala vnútorná krása vždy stáť nad tou vonkajšou. Fyzický vzhľad je premenlivý a pominuteľný, no vnútorná krása a puto je trvácne.
Nos dokáže odhaliť, čo očiam unikne
Aj keď sa niekedy necháme opantať vzhľadom, je možné, že napriek tomu nám tam niečo nevonia a nemusí to byť parfum. Náš nos podľa mnohých reaguje na partnerove feromóny veľmi výrazne. Preto dokáže odhaliť to, čo oči ,,prehliadnu".
V našom mozgu sa ukladajú najrôznejšie odóry a spájajú sa s určitou emóciou. Ak máme prepojený nejaký intenzívny prežitok s danou vôňou alebo osobou, spomenieme si na to vždy vtedy, kedy danú vôňu zacítime. Určite každý z nás zažil situácie, kedy si toto prepojenie uvedomil.
Dobré jedlo utužuje vzťahy
Každému je dobre známe, že láska prechádza cez žalúdok. Dobré jedlo preukázateľne zvyšuje hladinu rôznych hormónov vrátane tých, ktoré spôsobujú dobrú náladu a pocit šťastia. Ak si tieto pocity spojíme s človekom, s ktorým to jedlo zdieľame alebo kto nám ho pripravil, vzájomné puto sa utužuje. V prípade že, plánujete pripraviť partnerovi Valentínske prekvapenie v podobe spoločnej večere, do ktorej ešte zakomponujete suroviny pôsobiace ako afrodiziakum, o krásne chvíle máte postarané. Kto by tápal, tak afrodiziakálne účinky majú napríklad jahody, granátové jablko, krevety, špargľa, zeler alebo čokoláda. Čo ju napríklad pridať do dezertu, a ešte sa zahaliť do jej vône vďaka parfumovanej vode obsahujúcej jej akordy. Táto cesta zmyselného objavovania vás bude baviť!
Parfumovaná voda Oriflame Love Potion Sensual Ruby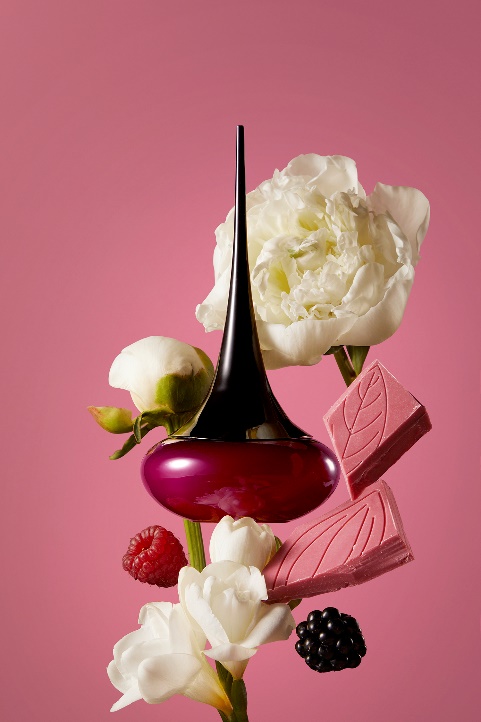 Odhaľte svoju zmyselnosť s omamnou vôňou, vďaka ktorej sa stanete neodolateľnou. V Oriflame Love Potion Sensual Ruby hrajú kvety milostnú serenádu spolu s kondenzovaným červeným ovocím, ktoré korunujú romantické akordy rubínových kakaových bôbov. Nechajte ich naplno rozoznieť, zvýraznite svoje zvodné krivky, ktorými je inšpirovaný aj samotný flakón a podmaňte sa čistej láske. Každá kvapka tejto vône flirtuje s okolím, oživuje vaše túžby a sprevádza zmysly do raja.
Cena: 34€
Dostupné na e-shope: www.oriflame.sk