Vstúpte s nami do sveta ľadových medveďov. Na to, aby sme vám predstavili pravé benefity, riziká či správny postup otužovania sme oslovili povolaných. Téme sa venujeme s dlhoročným otužilcom Vladimírom Paucom z portálu zdraveotuzovanie.sk.
Otužovanie sa stalo v posledných rokoch veľmi populárnym, nielen u športovcov, ale aj širokej verejnosti. Poďme sa pozrieť na základné informácie o tomto blahodarnom zimnom športe.
Manuál pre začiatočníka
Začnite dôslednou lekárskou prehliadkou a spoznajte svoje telo.
Absolvujte predprípravu – je výborné začať studenými sprchami, aj keď pre niektorých ľudí sú nepríjemnejšie ako samotný ponor do studenej vody v prírode. Je to však najčastejšia forma otužovania, ktorou dokážete nabudiť telo každý deň.
Dýchať treba zhlboka a pomaly.
Človek je po otužovaní stuhnutý, svaly a šľachy má stiahnuté. Preto je po otužovaní vhodné zahriať sa miernym cvičením.
TIP: Plávanie sa pri otužovaní považuje za plus, je to síce náročnejšie, avšak pridanie pohybovej aktivity do svojho repertoáru prináša ďalšie benefity v zdravom a aktívnom životnom štýle.
Riziká spojené s otužovaním
Pred otužovaním sa oboznámte so svojím zdravotným stavom. Ľudia, ktorí majú problémy so srdcom by mali túto aktivitu konzultovať s lekárom a pravidelne sa sledovať.
Pri otužovaní je dobré neponárať uši do studenej vody, pričom vzniká riziko vzniku syndrómu surferského ucha – riziko poškodenia sluchu.
Neotužujte sa, ak ste chorý alebo máte už existujúce zdravotné ťažkosti.
Nemálo častým javom je podcenenie situácie. Ľudia precenia svoje sily a následne hrozí podchladenie či kolaps.
TIP: Pri otužovaní dodržujte základné bezpečnostné pravidlá – choďte vždy s niekým, nie sami, aby ste si dokázali navzájom zavolať pomoc v prípade núdze. Nikdy neplávajte pod ľad ani ďaleko od brehu. Keď plávate, vždy používajte plaveckú bójku.
Najčastejšie zlozvyky pri otužovaní
Niektorí ľudia sa na jeseň neponoria do vody celí, ale len po pás alebo po prsia a držia ruky nad vodou. Ak by sa ponorili celí, lepšie by sa pripravili na zimu a viac sa v otužovaní posunuli.
Ľudia chcú často ostať vo vode dlhšie, ako sú pripravení. Skoro každému začiatočníkovi sa naštartuje ego a skúša, koľko vydrží. Mnohí skúsení otužilci si tým tiež prešli, až nakoniec našli svoje optimum.
V snahe vydržať vo vode dlhšie siahnu mnohí po neoprénových pomôckach. Skresľuje to však vnem tela. Človek tak síce vydrží vo vode dlhšie, avšak prináša to riziko nesprávneho odhadnutia situácie – kedy ísť von. Ruky sú náš najlepší senzor.
To, že pred/po či pri otužovaní nie je na mieste žiadny alkohol asi netreba pripomínať, tak ako po žiadnom športe. Neguje sa tým prínos samotnej aktivity.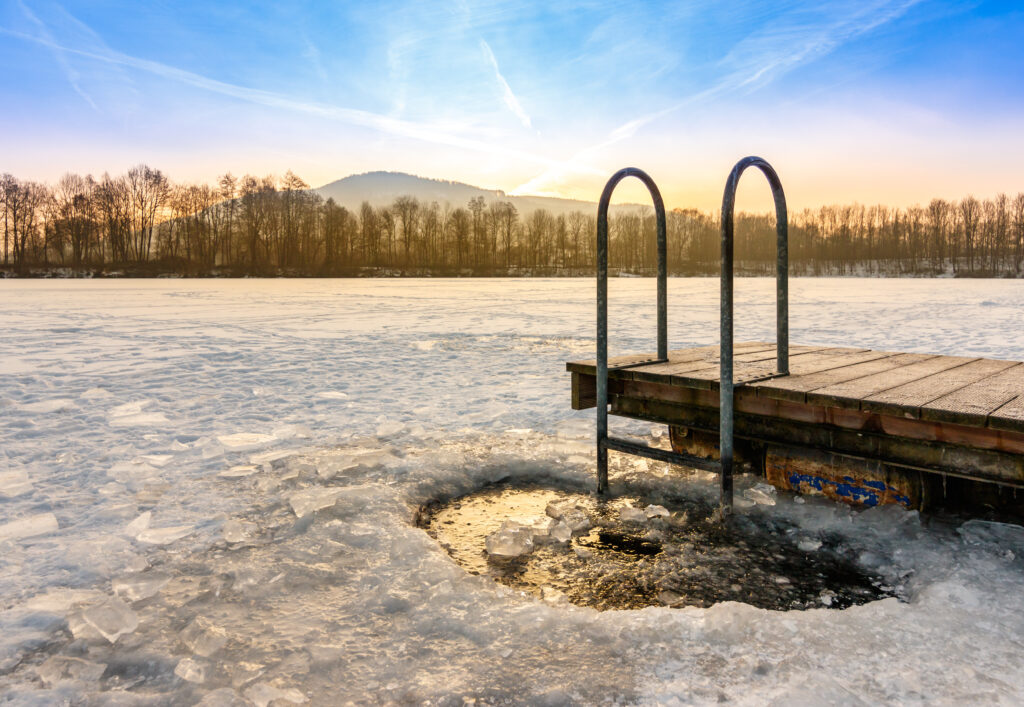 Psychické a fyzické benefity otužovania
Otužovanie je prospešná fyzická aktivita, ktorá človeku prináša celý rad benefitov.
podporuje celkovú imunitu organizmu
posilňuje srdcovo-cievny systém, zvyšuje elasticitu ciev
znižuje náchylnosť k respiračným ochoreniam
zlepšuje telesnú kondíciu, upevňuje zdravie
trénuje termoreguláciu tela – okrem lepšieho znášania chladného počasia vie človek vďaka otužovaniu lepšie znášať aj letné horúčavy, nakoľko jeho termoregulačná schopnosť tela dokáže organizmus lepšie schladiť.
harmonizuje krvný tlak, zlepšuje krvný obeh
pôsobí protizápalovo
podporuje lymfatický systém
znižuje telesný tuk (aktiváciou hnedého tuku), znižuje chuť na jedlo a krvný cukor
pôsobí na kvalitu spánku
zlepšuje pamäť a schopnosť učiť sa
prináša dobrú náladu
TIP: Na dlhodobo priaznivé účinky otužovania je potrebné dodržovať pravidelnosť. Teda neuspokojiť sa po prvom raze s tým, že sme to zvládli, ale nastaviť si pravidelný harmonogram otužovania v intervale aspoň raz týždenne. V ideálnom prípade 2-3 krát do týždňa. Rovnako, ako keď človek pravidelne cvičí niekoľko rokov a vníma výsledky postupne, to isté platí aj pri otužovaní.
Otužovanie a deti
Otužovať môžu začať už aj deti, samozrejme, s mierou a striedmo. Deti do otužovania netreba nútiť, naopak, je potrebné ich priviesť k otužovaniu hravou formou.
Deti sú často otužilejšie ako dospelí. Dospeláci sa totiž nezriedka zakuklia vo svojej komfortnej zóne, kdežto deti tlačí vpred hravosť a zvedavosť. Aj preto sú schopné sa hodiny hrať v studenom potoku alebo behať vonku a guľovať sa bez rukavíc.
Je dôležité spomenúť, že deti do jedného roka nemajú vyvinutú termoreguláciu (respektíve ju majú veľmi slabú), a preto ich neotužujeme. Deti do 3 rokov sú na zmeny teplôt stále citlivé, u nich tiež s otužovaním veľmi obozretne. Všeobecne sa schopnosť termoregulácie tela zlepšuje približne do 15-17 roku života.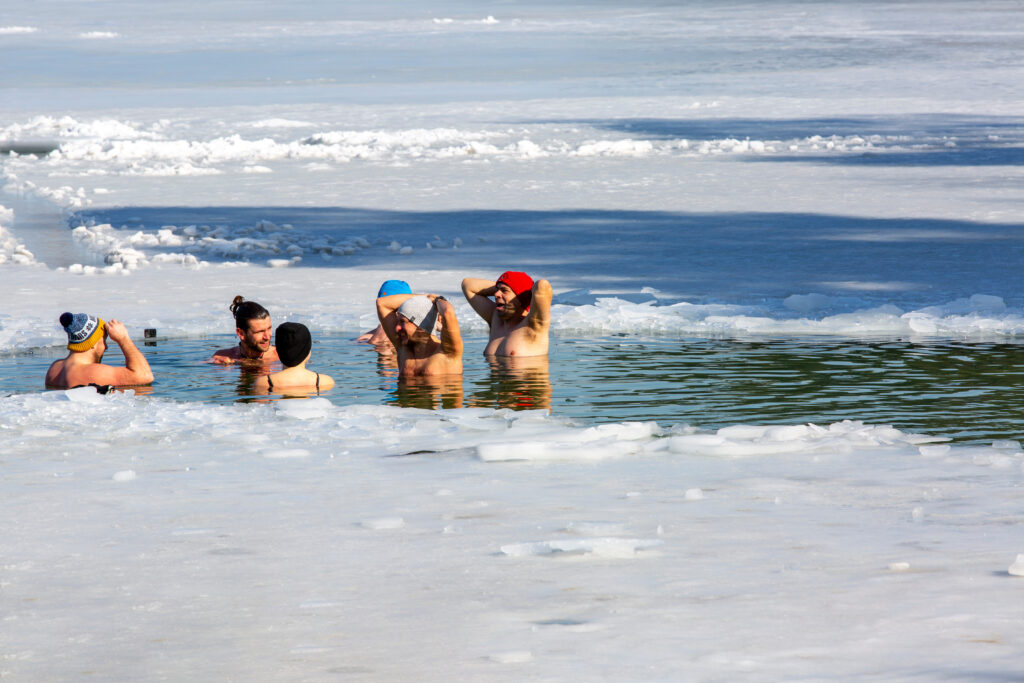 TIP: Otužovanie je tímová aktivita. Na Facebooku existuje skupina otužovanie – otužilci a plavci. Ak chce niekto otužovať a hľadá parťáka, stačí keď sa spýta v skupine a určite sa nájde niekto skúsený z jeho okolia. V konečnom dôsledku je otužovanie nie len o dobrých pocitoch, ale aj o dobrých ľudských vzťahoch, ktoré sa vedia pri tejto aktivite utužiť.
Vladímír Pauco je aktívny otužilec, ktorý posúva povedomie o tomto zdraviu prospešnom zimnom športe na webstránke zdraveotuzovanie.sk, ktorej cieľom je informovať záujemcov o rizikách i benefitoch otužovania, ktoré sme si v skratke predstavili aj v článku. Okrem toho sa ľadové medvede na stránke dozvedia, kde sa na Slovensku oplatí zájsť otužovať a koľko stupňov majú aktuálne vody v našich jazerách.