27. januára si pripomíname Medzinárodný deň pamiatky obetí holokaustu. Najväčším vyhladzovacím táborom bol Auschwitz-Birkenau, blízko mesta Osvienčim v Poľsku. Za čias nacizmu to bola "továreň na smrť".
Červená armáda tábor oslobodila 27. januára 1945 a preto bol symbolicky tento deň bol ustanovený za Medzinárodný deň pamiatky obetí holokaustu. Hitlerovské Nemecko zaútočilo na Poľsko 1. septembra 1939. Plán bol zlikvidovať Poľsko a poľský národ, Poliakov, ktorí bojovali za svoju slobodu. Na uskutočnenie plánov nacisti budovali od začiatku okupácie na poľskom území tábory. Auschwitz zriadili na základe príkazu Heinricha Himmlera v roku 1940 ako tábor pre Poliakov – pre miestnu inteligenciu a odbojárov. V táboroch boli umiestnení Poliaci, ktorí organizovali alebo boli podozriví, že organizujú odboj civilného obyvateľstva voči nemeckému útočníkovi. V lete v roku 1941 sa však nacisti rozhodli, že tu budú realizovať  tzv. konečné riešenie židovskej otázky – holokaust. K realizovaniu rozhodnutia došlo o rok neskôr, v roku 1942.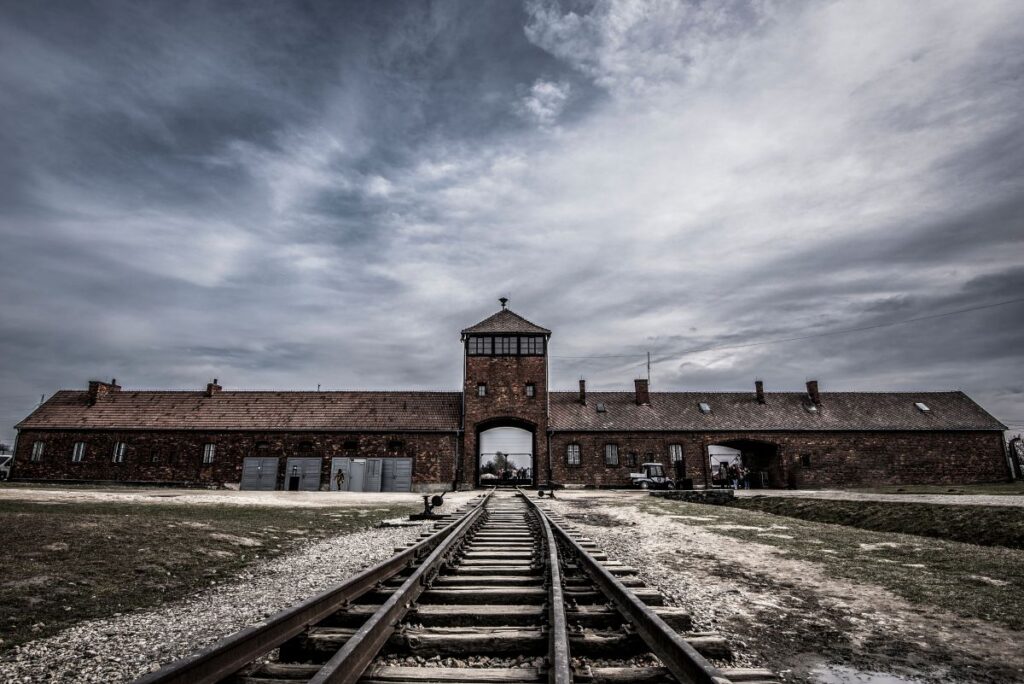 Takmer jeden a pol milióna obetí
Podľa Štátneho múzea Auschwitz-Birkenau v tomto tábore zahynulo 1,4 milióna ľudí. Z nich približne deväťdesiat percent boli Židia pochádzajúci zo všetkých európskych krajín. Väčšinu obetí nacisti usmrtili v plynových komorách cyklónom B. Počas jedného dňa usmrtili plynom a spálili v krematóriách okolo deväťtisíc ľudí. Ostatní skonali pre vyhladovanie, alebo ich popravili a mnohí sa stali obeťami pseudolekárskych pokusov, ktoré robili v tábore nemeckí doktori. Pripomeňme tiež, že s cieľom – konečná likvidácia – boli do Auschwitzu deportovaní aj Rómovia z celej Európy. Vraždili tam aj sovietskych zajatcov. Personál v tábore tvorili funkcionári SS. Nižšie funkcie v táborových dielňach, skladoch a kanceláriách boli obsadené kriminálnikmi z Nemecka. A sem 25. marca 1942 smeroval aj prvý transport žien zo Slovenska, z Popradu, v známych "dobytčákoch" – vagónoch určených na prepravu dobytka, odviezli takmer tisíc mladých Sloveniek.
To je moja mama
Dnes je tam múzeum – pamätník tej najväčšej ľudskej krutosti a zvrhlosti.Prehliadka sa začína v Auschwitzi, kde stojí známa brána s cynickým nápisom Arbeit macht frei – Práca oslobodzuje. Už to nie je originál, ale replika. Ako je známe, pred trinástimi rokmi sa tam niekto vlámal a nápis ukradol. Podľa miestnych informácií zlodejom zaplatil niekto zo zahraničia. Pred vchodom sa stretávame s našou sprievodkyňou, vyštudovanou historičkou. Poľka Sylwia perfektne hovorí po slovensky. "Áno, je to vyčerpávajúce, je to ťažká práca. Jeden z najťažších momentov bol, keď istá návštevníčka ukázala na fotku na vystavenom paneli a povedala – to je moja mama. – Prst zabodla na ubiedenú zničenú ženu v lágerskom mundúre," vraví Sylwia. Hneď na začiatku nás upozorňuje na pre Poliakov citlivú záležitosť – názov. Pre historikov má toto miesto jediný názov – a to Auschwitz-Birkenau, žiadny Osvienčim. Z jej úst ani raz nezaznie toto pomenovanie. Názov Osvienčim, aký sme sa učili na dejepise – práve s označením miesta pre koncentračný tábor, nie je považovaný za korektný. Táto časť Poľska bola súčasťou Nemecka a tábory, v ktorých zahynulo vyše milióna Židov a ďalšie národy, vytvorili nacisti. Na rýdzo nemeckom názve trvajú aj preto, lebo pred pár rokmi sa v médiách objavilo označenie "poľské koncentračné tábory", čo vytváralo nebezpečnú skratku, že tábory vytvorili Poliaci. Voči takémuto označeniu sa však naši severní susedia ohradzujú. Na žiadosť Poľska, v reakcii na zavádzajúce informácie objavujúce sa v zahraničných médiách, ktoré nazývali bývalé nemecké nacistické tábory "poľskými vyhladzovacími tábormi", bolo na 31. zasadnutí výboru svetového dedičstva UNESCO 27. júna 2007 prijaté rozhodnutie o zmene oficiálneho medzinárodného názvu pozostatkov koncentračného tábora Auschwitz na "Auschwitz-Birkenau, nemecký nacistický koncentračný a vyhladzovací tábor 1940 1945".
Hlavičkou o stenu
Postupne prechádzame jednu budovu za druhou – teda baraky, spolu ich je dvadsaťosem. V jednom sa tlačilo osemsto až tisíc ľudí. Ľudia z tábora – väzni robili jedenásť hodín denne, na stavbe, na poli. Z ďalších Sylwiiných slov mrazí. "Priemerná váha väzňa bola 25 až 35 kíl, ženy prežili tak tri mesiace, muži šesť. Deti, ktoré sa narodili, nacisti zabíjali. Hlavičkou o stenu. Bolo tu sedemsto pôrodov, všetky deti sa narodili živé, no ich matky nemali v prsiach mlieko. Novorodencov napádali a zabíjali aj potkany, ktoré boli veľké ako mačky," počujem Sylwiine slová a v hlave sa mi pritom vynárajú hrôzostrašné obrazy. Stojím pred vitrínou plnou topánok, detské, dámske, pánske. Obria kopa ľudských životov – ľudí, ktorí sa ničím neprevinili, len tým, že boli Židia. Do uší mi znie ďalší opis fungovania v tábore smrti. "Nacisti používali zvlášť kruté praktiky – napríklad fyzicky zdatných chlapcov a mužov vybrali bokom a tí museli z pecí vyťahovať zohyzdené telá mŕtvych – často aj príbuzných – mamu, otca, ľudí z transportu..," rozpráva Sylwia. Podľa jej slov, preživší tam nechodia, alebo len zriedka. "No, raz tu bola jedna bývalá väzenkyňa. Zhodou okolností tu boli vtedy mladí ľudia zo Slovenska. Žena im ukázala ruku. Mala na nej tetovanie, ktoré od roku 1943 dávali nacisti ľuďom v koncentračnom tábore. Ihneď ju začali počúvať, bol to pre nich zážitok, stretnúť sa priamo s človekom, ktorý prežil holokaust," hovorí naša sprievodkyňa.
Odtiaľ utiekli Vrba a Wetzler
Vyhladzovací tábor, to však nie je len štatistika. Aj v ňom sa odohrali príbehy – statočné, odvážne. Sformoval sa napríklad odboj, uskutočnili sa úteky. Nám je najbližší ten, ktorý sa týka dvoch mladých – boli to Rudolf Vrba a Alfréd Wetzler. Utiekli, aby o zverstvách, ktoré v tábore páchala Tretia ríša, porozprávali a podali svedectvo. Nikto v Európe totiž neveril, že sa tu dejú takéto hrozné veci, Židia neverili ústnemu podaniu – slovám, že sú zriadené tábory, v ktorých ich likvidujú… Mysleli si, že ide len o presídlenie. Vrbova a Wetzlerova správa je tridsaťdvastranová výpoveď o živote v koncentračnom tábore, ktorú nadiktovali po úspešnom úteku z tábora Auschwitz-Birkenau židovským predstaviteľom v Žiline v apríli 1944. Ojedinelého príbehu sa chopili tvorcovia a vznikol film s názvom Správa. Zápis dvoch Slovákov sa považuje za prvú detailnú informáciu o nacistickom koncentračnom tábore, ktorá sa dostala k spojencom a bola označená za vierohodnú. Informuje o masových vraždách, ktoré nacisti páchali počas holokaustu. Správa obsahovala aj nákresy s plynovými komorami a kremačnými pecami, v ktorých likvidovali väzňov. Aj my vchádzame do smrtiacej miestnosti – je to akási betónová kobka zasypaná zeminou. Do nej nahnali ľudí, ktorí sa tlačili jeden na druhého a zomierali po tisíckach. Cez komín nacisti sypali cyklón B – kyanovodík, päť až sedem kilogramov stačilo na usmrtenie tisícpäťsto ľudí… Návšteva miesta "prebudí" každého… Ani po rokoch nemôže človek zostať ľahostajný k desivým udalostiam, ktoré sa v tábore odohrali.
VIERA MAŠLEJOVÁ
Foto: V.M. , Shutterstock