Adam Kováčik so svojou sučkou Arizona Rot stern sa stali celkovými víťazmi medzinárodného preteku Z Polytanu Cup v Malom Lapáši, počas ktorého sa zároveň konali Majstrovstvá Slovenska belgických ovčiakov s automatickým postupom na majstrovstvá sveta v športovej kynológií v Rumunsku, na ktoré budú nastupovať ako slovenská jednotka.
Osvedčená motivácia – Pes za vysvedčenie
Adam svojmu snu stať sa majstrom Slovenska a kvalifikovať sa na majstrovstvá sveta podriadil celý svoj život už od detstva. Od študentských čias nepretržite brigádoval, aby si mohol sám financovať prípravu a uhradiť všetky náklady. Od jeho 14t-ich rokov neexistoval deň bez tréningu a to za každého počasia. Psy ho sprevádzajú na každej dovolenke, či výlete, ktorých aj tak nie je veľa, nakoľko sa neustále trénuje. "Ako dieťa som bol veľký živel, stále som bol vonku, lietal niekde "za humnami", škola a povinnosti mi veľa nehovorili, tak mi babka sľúbila, že ak prinesiem samé jednotky na vysvedčení, dostanem od nej jazvečíka. Svoje sľuby sme obaja splnili, bývali sme vtedy s maminou v byte, tak som všetky víkendy trávil u babky so psom na dvore. Neskôr postavili dom aj mamina s manželom a už som mohol byť so psom non stop. Najprv som mal boxera a neskôr dobermana s ktorým som začal navštevovať cvičák pravidelne," opisuje Adam svoje začiatky s kynológiou. Na jednom kynologickom seminári sa zoznámil s majiteľmi kynologického klubu, ktorý začal pravidelne navštevovať a naučil sa veľa nových vecí nielen o svojom domácom miláčikovi, ale aj o iných plemenách. Spomína s nostalgiou na to, ako im pomáhal organizovať preteky, kde sa mu po deviatich rokoch spolupráce podarilo tento rok stáť na stupni víťazov. Naskytla sa mu ďalšia príležitosť v podobe sučky Belgického ovčiaka, mamy súčasnej Adamovej šampiónky. Na nej odchoval dva vrhy a z prvého vrhu si nechal šteňa. V súčasnosti je Adam člen cvičáku, ktorú tvoria z polovice policajti, takže ide aj o služobnú kynológiu.
Športová kynológia je na Slovensku veľmi cenená
Máme u nás zopár majstrov sveta v športovej kynológií, spolu s Českom a Nemeckom tvoríme silnú partiu krajín, ktoré si medzi sebou najviac konkurujú. Najbližšie sa budú konať na budúci rok v apríli v Rumunsku a Adam so svojou Arizonou Rot stern sú plní očakávaní. "Majstrovstvá sveta sú moja veľká méta, pretože sa tam sústreďuje celý kynologický svet. Tribúna plná ľudí, ktorí robia to, čo ja tak milujem, je niečo fascinujúce. Ani som nedúfal, že ako slovenská jednotka sa tam dostanem," teší sa Adam. Aj samotní psy sú vrcholoví športovci, pri vysokej záťaži prichádza ku zraneniam a na svoju sučku musí dávať Adam veľký pozor. Veľkou oporou v kynologickom svete je Adamovi priateľka Hanka.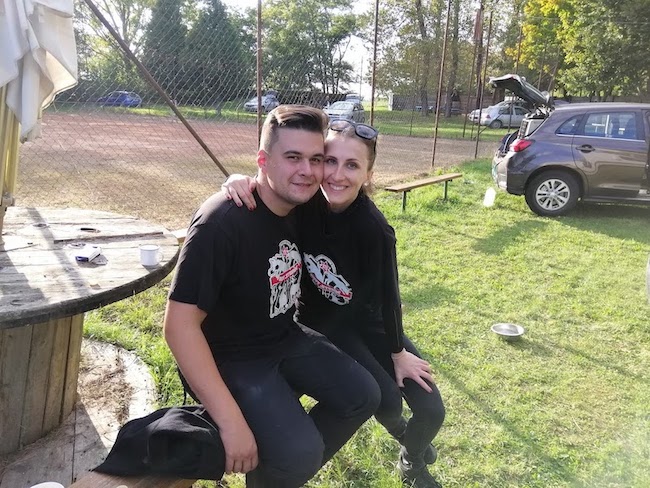 Zastupuje naozaj všestrannú úlohu, od zaobstarania teplého jedla na tréningoch, PR, spravovanie sociálnych sietí, až po plánovačku, tréningovú partnerku a psychologickú oporu na súťažiach. "Adam je ešte aj výcvikár, víkendy teda venujeme klientom, ktorí sa časom stali aj našimi priateľmi. Kamarátstva sa vytvorili nielen medzi štvornohými tvormi, ale aj medzi dvojnohými. Tam zastrešujem stmelovateľa kolektívu," opisuje s úsmevom Hanka. Kynológia je šport ako každý iný a treba sa jej venovať naplno. Svoj život treba prispôsobiť aj životu vášho chlpatého priateľa. Nestaráte sa už len o seba, ale aj o živého tvora, ktorý konzumuje a spaľuje. Kynológia zahŕňa materiál ako sú výcvikové pomôcky, obuv, vozidlo také, aby psík počas prevozu nemal stres, napríklad klietka na mieru, alebo klimatizované či vyhrievané vozíky. Psy všetko nasávajú a zodpovední majitelia by sa mali snažiť nebyť v strese aj za neho. "Som Hanke za všetko veľmi vďačný, až vďaka nej sa mi začalo dariť. Vidím, že plne rozumie tomu, ako treba byť na pretekoch psychicky vyrovnaný a najmä plne sústredený a nebyť v obklopení ľudí, okolitej vravy, hudby a áut. Naozaj sa potrebujeme s mojou sučkou koncentrovať na plný športový výkon," objasňuje Adam. Na súťažiach je úspešné prepojenie so psom základom úspechu, človek si s ním musí vytvoriť bublinu a vedieť komunikovať. Napriek všetkým okolitým rušivým elementom. Hocijaké zlé nastavenie či myšlienka pomimo môže spôsobiť zlyhanie psíka. Kynológia nie je len o excelentne prevedených cvikoch a výkonoch, ale aj o presnej súhre, ktorá je potom veľmi hodnotená. Človek – psovod dopomôže psíkovi k super výkonu práve svojím nastavením.
Šikovný kynológ Adam je motiváciou pre mladých ľudí, keďže nie je len vynikajúcim športovcom, trénerom, chovateľom a figurantom v tomto športe, ale je aj úspešným študentom aktuálne doktorandského stupňa štúdia genetiky na SPU v Nitre a v tomto meste pracuje aj vo výskumnom centre AgroBioTech: "Tým, že ma práve cez kynológiu začala hlbšie zaujímať genetika, chcel som ju objaviť aj na vedeckejšej úrovni. Pričuchol som aj k výuke genetiky, síce vyučujem predmety s nálepkou "ťažké", ale je super vidieť, keď ľudia majú záujem na sebe pracovať. Dokonca som pár z nich motivoval aj ku doktorátu, z čoho sa veľmi teším." Keďže sa blížia najkrajšie sviatky v roku, mladý pár upozorňuje na to, aby ľudia zvážili kúpu živého darčeka a najmä ho nepodcenili. Kto však v sebe cíti túžbu zažiť so psíkom interakciu, nech si vyhľadá mestský cvičák a príde do komunity psíčkarov, je to úžasná psychohygiena. Štvornohý miláčik je s vami doslova v dobrom aj v zlom. Je elementom, ktorý vám vie zmeniť deň a odľahčiť všetku ťažobu, ktorá na vás počas neho dopadla. Ďalšími veľkými výhodami sú fyzická aktivita, čistá hlava a najmä čerstvý vzduch. Lákavé na kynológií je práve výborný nový stimul do života.
Okrem celkového víťazstva Z Polytanu Cup sa Adamovi na tomto preteku podarilo získať nasledujúce ocenenia:
*MAJSTER SLOVENSKA SKBO 2022 IGP 3 Slovenský klub belgických ovčiakov
*Majstrovstvá Slovenska SKBO IGP 3 – 1.miesto
*Majstrovstvá Slovenska Belgických ovčiakov IGP3 – 1.miesto
*Z Polytanu Cup IGP 3 – 1.miesto
*Z Polytanu Cup NAJLEPŠIA OBRANA IGP 3
*Z Polytanu Cup NAJLEPŠIA POSLUŠNOSŤ IGP 3