Slovenská reprezentantka v zjazdovom lyžovaní Petra Vlhová si opäť nepripísala premiérový triumf v rámci Svetového pohára v sezóne 2022/2023. Dvadsaťsedemročná Liptáčka obsadila v nedeľňajšom slalome žien v talianskom Sestriere 3. miesto, a to napriek tomu, že po prvom kole viedla.
Za víťaznou Švajčiarkou Wendy Holdenerovou zaostala Vlhová o 0,7 s. Druhé miesto si na konto pripísala Američanka Mikaela Shiffrinová. "Je to neuveriteľné. Dala som do toho všetko. Je nádherné zvíťaziť v Sestriere pred týmto publikom," povedala Holdenerová v prvej reakcii po pretekoch.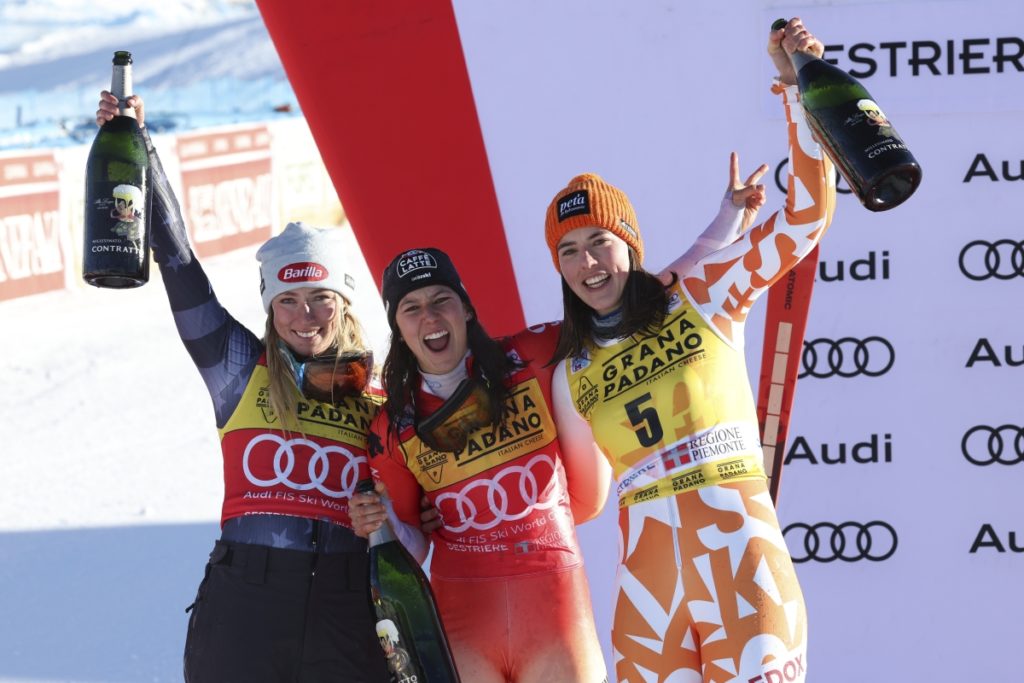 Petra Vlhová
Petra Vlhová bola po pretekoch trošku sklamaná, keďže v druhom kole si pohoršila o dve miesta. "Samozrejme, keď človek vedie, tak chce potvrdiť tú pozíciu. Bohužiaľ, taký je šport. Bolo to náročné. Snažila som sa urobiť všetko, aby som bola rýchla, ale stačilo to na tretie miesto. Musím si to prejsť s mojimi trénermi, ako som išla. Je to opäť 3. miesto. Idem konštantne, tak dúfajme, že sa v ďalších pretekoch budem posúvať vyššie," povedala pri mikrofóne JOJ Šport.
Vlhová zaznamenala v nedeľu 61. pódiové umiestnenie v kariére. V tejto sezóne bola medzi trojicou najlepších už štyrikrát, zakaždým skončila tretia. Nadviazala tým na dve takéto slalomové umiestnenia z fínskeho Levi a sobotňajší obrovský slalom v Sestriere.
Malý krištáľový glóbus
Olympijská víťazka zo ZOH 2022 v Pekingu Vlhová zaznamenala v predchádzajúcich troch slalomoch sezóny dve tretie miesta v spomenutom fínskom Levi a štvrté v Killingtone. Na ceste za obhajobou malého krištáľového glóbusu za slalom bude pokračovať v rakúskom Semmeringu (29.12.), chorvátskom Záhrebe (4. a 5. januára 2023), rakúskom Flachau (10.1.), českom Špindlerovom Mlyne (29.1.), švédskom Aare (11.3.) a vo finále SP v andorrskom Soldeu (18.3.). Sezónu 2022/2023 vo februári preruší svetový šampionát vo Francúzsku.
V celkovom poradí Svetového pohára zostala najvyššie Shiffrinová so ziskom 385 bodov pred Holdenerovou (366) a Vlhovou (340). V hodnotení disciplíny spoločne vedú Holdenerová so Shiffrinovou, obe dosiaľ získali 325 bodov. Vlhová je na 3. priečke s 230 bodmi.