Možno práve teraz, v sobotu poobede, kávičkujete, vdychujete vôňu tmavého moku a len tak ste. Užite si to! Vedeli ste, že kávičkovanie sa od krajiny ku krajine môže podstatne líšiť? Zacestujte si s nami po destináciách, kde sa káva vychutnáva zaujímavými spôsobmi.
So sebou či do porcelánu
Ak cestujete, určite ste si všimli, že v západných krajinách, ako je USA, sa káva často podáva do papierových pohárov s plastovým viečkom a ľudia si ju berú takzvane so sebou. Práve v Amerike existujú vtipy o tom, že ranná dopravná zápcha je vlastne len dlhý rad pred niektorou z reštaurácií s rýchlym občerstvením, kde si vezmete svoju šišku a pollitrový pohár teplého mliečneho nápoja s kvapkou kávy priamo cez okienko vášho auta. Naopak v iných krajinách sa nad šálkou, ale takou naozajstnou, skutočne sedí a vy si vychutnáte svoj nápoj v porceláne alebo skle a pri tom preberáte radosti a strasti života so svojou spoločnosťou. Sem ešte stále patríme aj my na Slovensku, veď "poď na kávu" počúvame denne viackrát, doma aj v práci. Susedné Rakúsko je na tom podobne a jeho hlavné mesto Viedeň sa priam pýši svojou kávovou kultúrou, keď sa celé rodiny v nedeľu vyberú do kaviarne a dajú si povestné Café Mélange. Naopak v Taliansku si ku káve sadnete len na raňajky, vtedy sa podáva obľúbené cappuccino s brioškou, ale po jedenástej hodine doobeda sa už len vzpružíte viacerými espressami, spravidla v "bare" po stojačky. Veď vypiť približne 30 ml kávy ani nestojí za to si sadať- treba fungovať rýchlo a efektívne. V Španielsku, naopak, aj pri káve môžete použiť tradičný spôsob sedenia nad prázdnym stolom "sobremesa", kedy vás nik nenaháňa ani nevyháňa a máte čas. Škandinávia sa zas hrdí svojimi dlhými prestávkami na skutočne objemnú šálku kávy, vďaka ktorej máte možnosť počas družných debát zabudnúť na zimu a tmu, ktorá vás v práci či doma obklopuje.
Kávové nápoje zo sveta
Vedeli ste však, že nie v každej krajine je káva len kávou, ale používajú sa do nej aj, na prvý pohľad, extravagantné ingrediencie? Pozrite sa na to spolu s nami.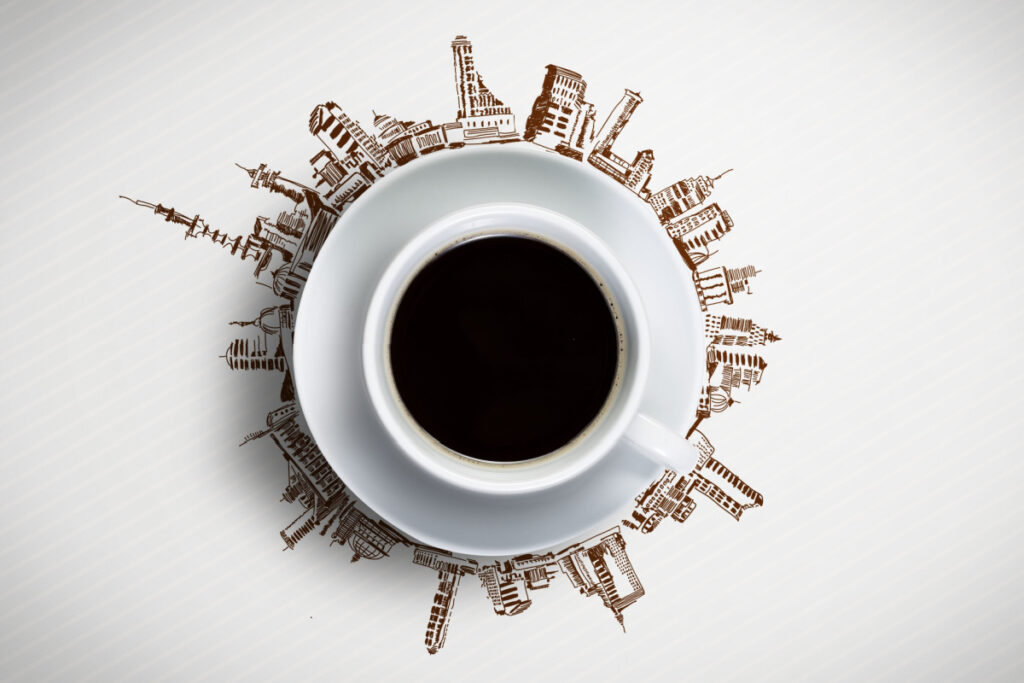 Kaffeost — Fínsko: Horúca káva sa vo Fínsku leje na kúsky juustoleipä (tvarohový syr). Aj keď to môže znieť neatraktívne, Fíni túto zvláštnu kombináciu zbožňujú.
Türk Kahvesi — Turecko: Upražené a jemne pomleté ​​kávové zrná sa varia v špeciálnej medenej alebo mosadznej nádobe zvanej džezva. Turecká káva je špeciálna tým, že sa pripravuje nefiltrovaná, a tak sa usadenina drží na dne. Áno, to znamená, že tento nápoj vypijete aj s usadeninou.
Yuanyang — Malajzia: Lahodne silný nápoj, ktorý sa môže podávať teplý alebo studený, pozostáva z troch častí čiernej kávy a siedmich častí čierneho čaju a mlieka.
Flat White — Austrália: Podobne ako latté, aj keď má menší objem, sa tento obľúbený austrálsky drink vyrába nalievaním mikropeny (sparené, zamatové mlieko) na dávku espressa.
Frappé — Grécko: Frappé, ktoré v roku 1957 vynašiel zástupca Nescafé, je obľúbeným letným nápojom v Grécku a pozostáva z ľadovej instantnej kávy vyšľahanej s mliekom do peny.
Cà phê đá — Vietnam: Veľmi sladká a veľmi silná ľadová káva sa vyrába z nahrubo mletej tmavo praženej kávy, ktorá sa uvarí priamo do šálky kondenzovaného mlieka a ľadu cez francúzsky filter.
Café de Olla — Mexiko: Tradičná mexická káva s tyčinkou škorice využíva piloncillo (nerafinovaný trstinový cukor) a podáva sa v hlinenom hrnčeku, o ktorom sa traduje, že zvýrazňuje chute kávy.
Café Touba — Senegal: Tento nápoj je ochutený guinejským korením a občas aj klinčekmi. Korenie sa zmieša s kávovými zrnami a opraží sa, potom sa pomelie a prefiltruje na kávu.
Cafezinho — Brazília: Zatiaľ čo mnohí považujú caipirinhu za národný nápoj Brazílie, cafezinho je zďaleka najobľúbenejším nápojom miestnych obyvateľov. Podobne ako espresso, cafezinhos sú malé, silné šálky javy. Jediný rozdiel je v tom, že cafezinhos sú predsladené, vo všeobecnosti varené priamo s cukrom.
Cafe Bombon — Španielsko: Tých, ktorí si kávu vychutnávajú na sladko, určite poteší španielsky kaviarenský "bombón". Intenzívne husté a sladké, rovnaké množstvo kondenzovaného mlieka sa vmieša do čiernej kávy.
Írska káva — Írsko: Tento kávovo-koktejlový hybrid pozostáva z horúcej kávy, írskej whisky a cukru a s finišom hustej šľahačky.
Wiener Mélange — Rakúsko: Podobne ako cappuccino, tento nápoj je espresso preliate teplým mliekom a mliečnou penou a často zakončené šľahačkou a kakaovým práškom.
Café au lait — Francúzsko: Francúzi radi pijú svoj ranný nápoj rovnakým dielom teplého mlieka a čerstvo uvarenej kávy. Trik je v tom, že ho podávate vo veľkej šálke, aby sa v nej ľahko namáčal croissant.
Korenená káva — Maroko: Voňavá zmes tmavej kávy spojená s teplým korením ako kardamón, čierne korenie, škorica, klinček a muškátový oriešok.
Café Cubano — Kuba: Môže byť malé, ale za to je silné –Cubano je espresso varené s cukrom.