Prichádza čas rozhýbať kosti. Ako sa pripraviť na svoj prvý beh po zime a základné know-how k technike nám prezradil profesionálny bežecký tréner a výkonnostný bežec Matúš Kovalčík.
Príprava
Ak patríte medzi ľudí, ktorí si doprajú takzvanú zimnú prestávku od behu, viete, že vrátiť sa naspäť do bežeckého režimu nie je prechádzka ružovou záhradou, pokiaľ telo počas zimného obdobia nerobilo nič, len čakalo, kedy sa už konečne oteplí. Ak sa chcete po zime dostať čo najrýchlejšie a najpohodlnejšie do bežeckej formy, odporúča sa aj počas zimných mesiacov rozvíjať silu, koordináciu a ohybnosť, ktoré ovplyvňujú športový, respektíve bežecký výkon, pokojne aj v pohodlí domova. Či už zaradením silového tréningu, strečingu, prípadne jogy. Pomôžu jednoduchšie a bezpečnejšie nabehnúť do kolotoča bežeckých tréningov. V neposlednom rade si vďaka ostatným aktivitám mimo sezóny zachováte dôležitú súčasť úspechu – pravidelnosť a konzistenciu v tréningu. Toto všetko vám neskôr pomôže v tréningu vytrvať, bude vás to viac baviť a s veľkou pravdepodobnosťou vydržíte behať pravidelne a dlhodobo.
Základné pravidlá techniky behu
Držanie tela – bežec by mal byť vzpriamený, pohľad smeruje dopredu a nie do zeme.
Ruky sa hýbu v predo-zadnom smere. Lakte máme ideálne v pravom uhle.
Čo sa týka dýchania, je dôležité nechať tento mechanizmus prirodzene na naše telo. Vypýta si toľko kyslíka a v takej dychovej frekvencii, aby bol bežec schopný pokračovať v činnosti. Odporúčam dýchať nosom a ústami zároveň. Čo sa týka frekvencie dýchania, je dobré dýchať na doby – dvakrát nádych a dvakrát výdych, pričom vždy druhý spomenutý je hlbší.
Sklon panvy by mal byť ideálne v neutrálnom postavení, prípadne v miernom podsadení, aby sme si zbytočne neskracovali krok a neskôr nenastal problém v oblasti driekovej časti chrbtice.
Je dôležité počas behu "nesedieť", ale byť vzpriamený, s miernym náklonom tela vpred.
Snažíme sa došľapovať na stred chodidla. Vykonávame radšej kratší a frekvenčnejší krok, je to efektívnejšie aj vzhľadom na nižšie riziko zranenia.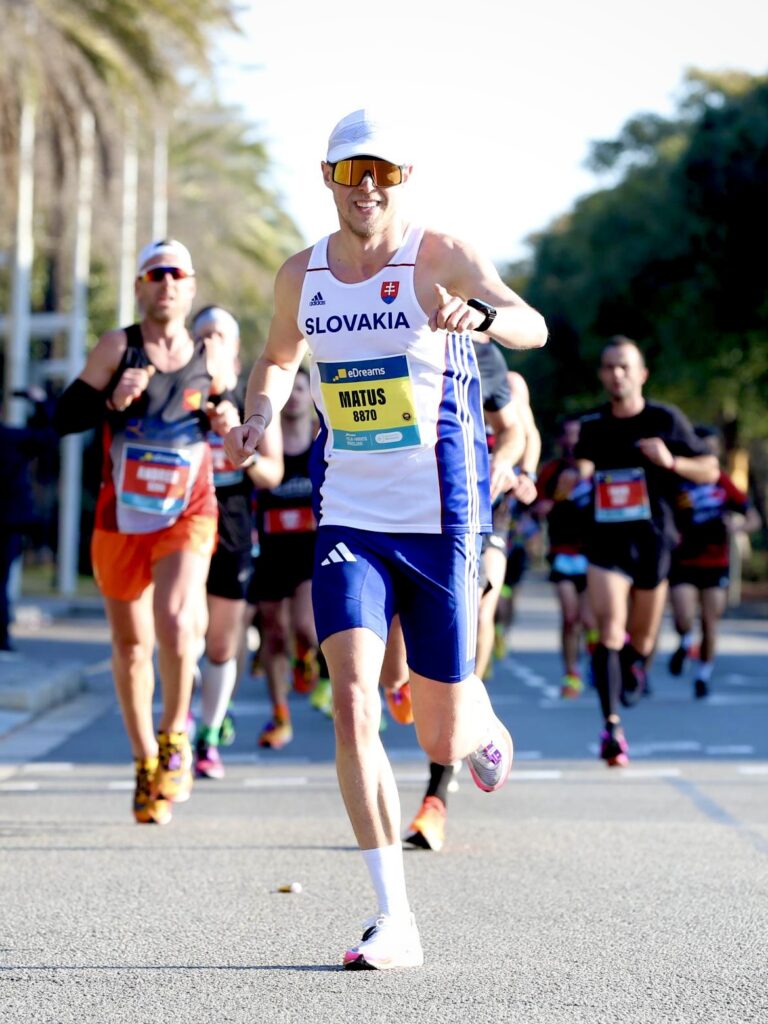 Plán tréningov
Najdôležitejšie je určiť si, čo je dôvod, prečo chceme behať a čo behom plánujeme dosiahnuť. Stanoviť si hlavný cieľ a následne aj čiastkové ciele. Je to viac motivujúce a zábavnejšie. Bez cieľa nám to nebude fungovať a ak áno, cesta bude podstatne náročnejšia. Podľa vytýčeného cieľa následne pristúpime k tvorbe plánu, ako trénovať, kedy trénovať, koľko trénovať a taktiež, ako a kedy regenerovať. Pri tvorbe plánu je tiež dôležité prihliadať na zásady primeranosti a postupnosti.
Pitný režim bežca
Príjem tekutín záleží od dĺžky behu, typu behu, od počasia a kondície bežca. Piť počas behu je vhodné častejšie, pravidelnejšie, avšak len po malých dúškoch, aby nebol zaťažený tráviaci systém. Ak beháme v teplejšom počasí, keď strácame viac tekutín z tela, dodržiavanie pitného režimu je o to dôležitejšie. Aj v chladnejšom období, keď máme pocit, že sa potíme veľmi málo, je však voda takisto veľmi dôležitá. Potíme sa aj vtedy, len sa rýchlejšie ochladzujeme a nie je to také citeľné. Osobne odporúčam piť iontové nápoje, ktoré nám dodávajú nie len vodu ako takú, ale aj elektrolyty, soli a rýchlu energiu v podobe glukózy.
Najčastejšie chyby amatérskych bežcov
Začnú behať veľmi rýchlo a veľa. Bez adekvátnej prípravy, rozcvičenia. Stanovujú si nereálne ciele, ktoré sú už na pohľad nedosiahnuteľne. Najhorší je model uvažovania → "Začnem behať a budem behať každý deň. Predtým som síce nebehal a nešportoval, no zvyknem si a nevynechám ani jeden deň". Nereálne! Stanoviť si reálne a dosiahnuteľné ciele, takzvané SMART ciele, znamená nemať vysoké ego a nebáť sa k zostaveniu plánu osloviť odborníka.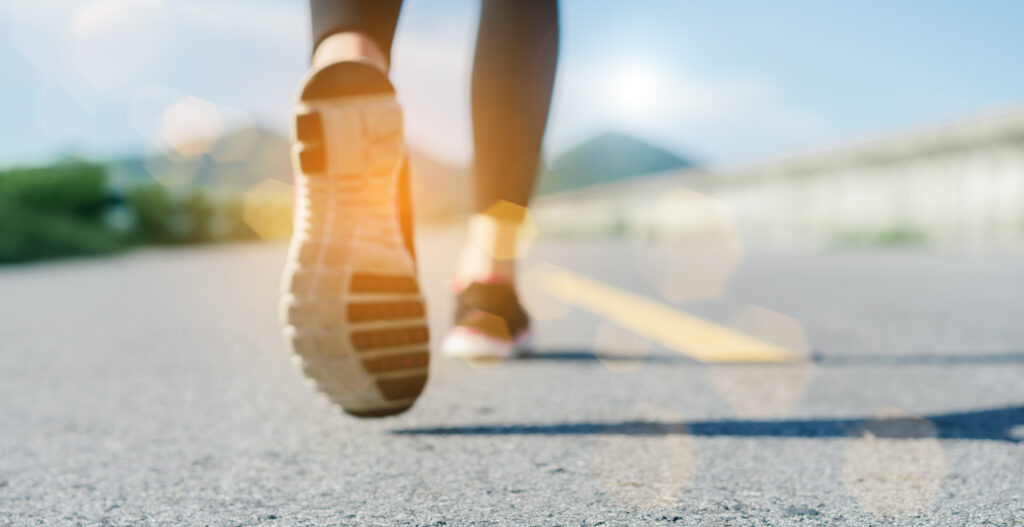 Výbava bežca
V prvom rade sú to kvalitné bežecké tenisky. Ostatné závisí od možností každého jednotlivca. Netreba ani hodinky s GPS, pokiaľ je naším cieľom iba behať a cítiť sa dobre. Pokiaľ sú tam už iné, vyššie ciele ako napríklad preteky, vtedy je dobré mať výkony zmapované – koľko sme odbehali, ako rýchlo, atď.
Hudba je dobrá, keď sme v prostredí, kde je minimum ľudí a nie hromadná doprava, prípadne preteky. Dokáže nám udať tempo behu a beh je príjemnejší a pocitovo kratší.
Oblečenie treba voliť vždy do počasia, ak je chladno, odporúča sa vrstviť – radšej viac tenších vrstiev ako jedna hrubá páperová bunda. Obliekame sa vždy tak, akoby bolo vonku o 10 stupňov viac. Zo začiatku nám môže byť trošku chladno, no počas behu nám bude príjemne.
Benefity
Lepšia kvalita života, jednoduchšie fungovanie pri bežných denných činnostiach. Zvýšená obranyschopnosť organizmu, redukcia hmotnosti, kvalitnejší spánok a apetít. Zlepšenie kognitívnych schopností, psychohygiena a mnoho ďalšieho.
Ako nepoľaviť v motivácii a nevzdať sa hneď po prvých týždňoch?
Je to o SMART stanovenom cieli, ideálne v konzultácii s bežeckým trénerom (SMART →Specific – špecifický,  Measurable – merateľný, Achievable – dosiahnuteľňý, Relevant – relevantný, Time Bound – časovo ohraničený poz. red.)
Treba sa nastaviť tak, že cesta je cieľ a nie cieľ je cesta. Vtedy bežca baví samotný proces a všetko ide prirodzene.
TIP: Je motivujúce behať s parťákom. Ak sa nechce jednému, druhý ho z tej postele vytiahne a opačne. Bežci začiatočníci behajú na začiatku veľmi rýchlo a pri behu existuje tzv. TALK TEST. Ak sa dvaja bežci, respektíve skupina bežcov, počas behu bez problémov rozprávajú, dostávajú sa do ideálnej a zároveň ľahkej tréningovej zóny, v ktorej je dobré tráviť čo najviac nabehaného času. V skupine je to príjemné a kilometre rýchlo ubiehajú.
Mgr. Matúš Kovalčík: absolvent Fakulty telesnej výchovy a športu v Bratislave, bežecký tréner a výkonnostný bežec, zakladateľ bežeckej skupiny Kovalcuk Team