V nádherných priestoroch Pálffyho paláca na Zámockej ulici v Bratislave predstavili dnes nominantky na prestížnu anketu Slovenka roka. Organizátor ankety – týždenník Slovenka tak oficiálne otvorili v poradí už 15. jubilejný ročník, obľúbenej akcie, ktorá vyvrcholí priamym prenosom v RTVS.
Autorkou projektu Slovenka roka je riaditeľka vydavateľstva STAR production Mária Reháková. O ankete okrem iného povedala: "Všetkých 27 nominovaných dám sú pre mňa víťazky. To čo dokázali vo svojej profesii, je neuveriteľné a ešte skĺbiť to s rodinou, to je úžasné. Mnohé nás reprezentujú aj v zahraničí." Anketa je založená na hlasovaní, pričom jednotlivé nominantky spoznáte aj cez medailóny, ktoré prinesie RTVS. Aj televízni diváci, nielen čitateľky Slovenky, si tak budú môcť vybrať svoju favoritku. Novými partnermi ankety Slovenka roka je denník Nový čas a denník Pravda. Už tradične organizátor spolupracuje s TA3. Finálový galavečer sa uskutoční v Slovenskej filharmónii – v Redute v Bratislave 23. júna a už teraz sa môžu diváci tešiť na pekný program.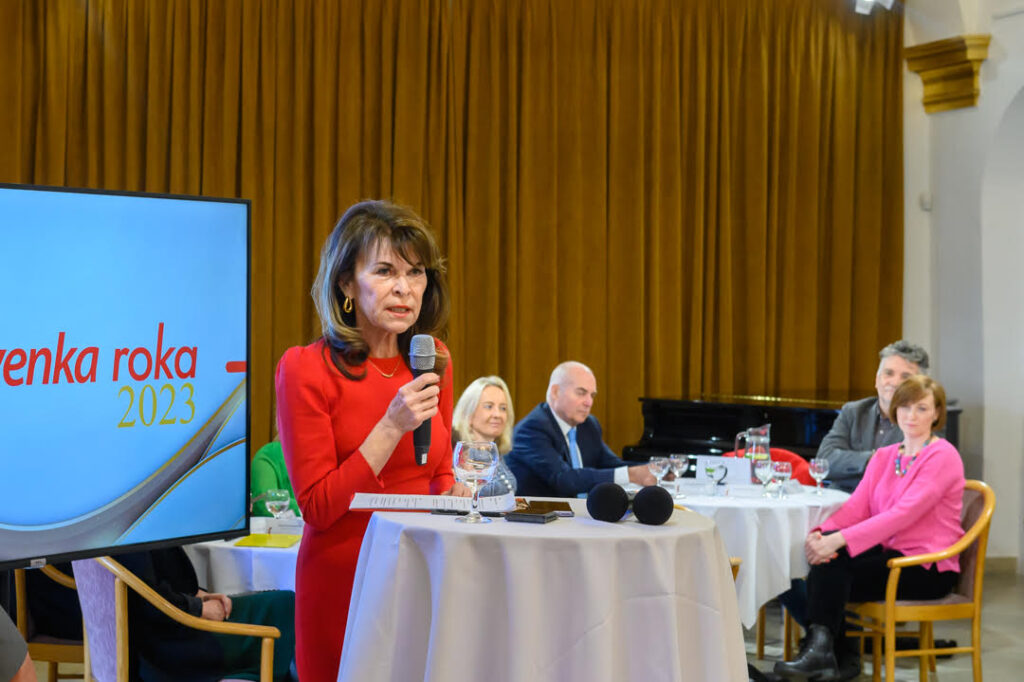 Dozvedia sa o nás aj v EÚ
"Anketa má už 15 rokov, za ten čas sme predstavili vyše päťsto žien. Ten potenciál na Slovensku je, je v našich ženách. Slovensko nemá len krásu prírodu, ale aj šikovných ľudí," doplnila ešte Mária Reháková. Anketu Slovenka roka vyhlasuje týždenník Slovenka zároveň aj s RTVS, čo vyzdvihol aj generálny riaditeľ RTVS Ľuboš Machaj. A prestížnu anketu ocenil aj europoslanec Ivan Štefanec. "Anketa má aj európsky rozmer, teraz sa v EÚ presadzujú jednotlivé krajine a robí sa to cez ľudí. Som rad, že na Slovensku je anketa, ktorá prezentuje ženy. Ženy zjemňujú spoločnosť. Veľmi rád spopularizujem túto anketu aj na pôde Európskeho parlamentu."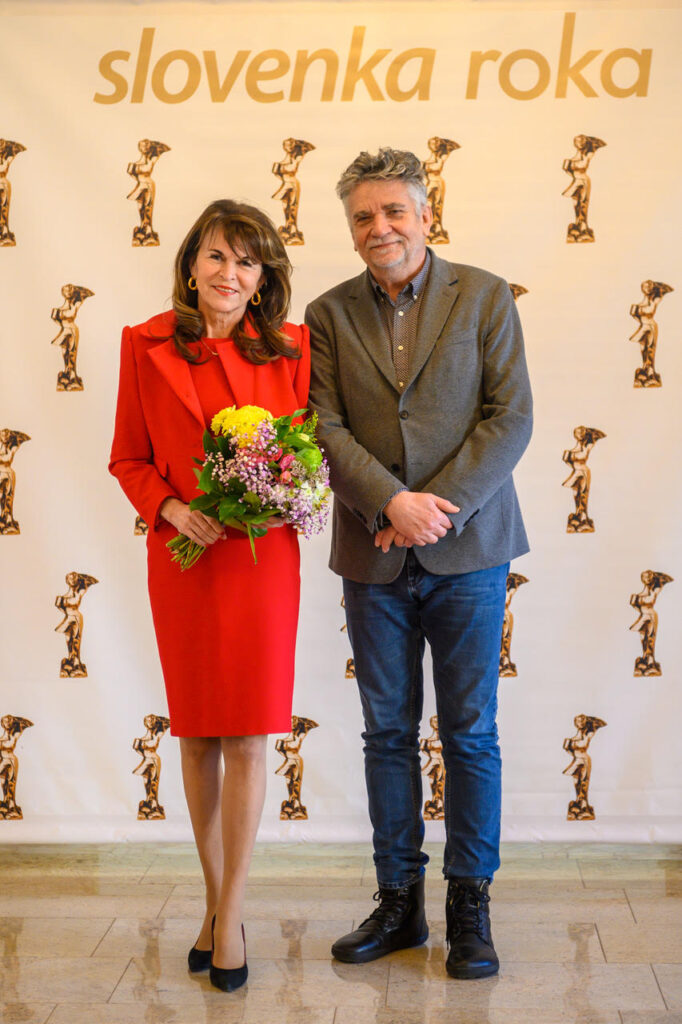 Inšpirácia aj pre mužov
"Ja si dodnes pamätám na ten rok 2015. Dodnes sa s mnohými nominovanými dámami stretávam, sme priateľky. A musím povedať, že má tie priateľstvá posunuli dopredu. Vďaka za takúto jedinečnú anketu, ľudia si z nominovaných berú inšpiráciu a mnohokrát sa ženami inšpirujú aj muži," povedala Elena Kohutíková, absolútna Slovenska roka 2015, ktorá okrem iného pôsobila ako viceguvernérka Národnej banky Slovenska.
Ako hlasovať v ankete Slovenska roka 2023:
Cez sms, prostredníctvom kupónov uverejnených v časopise Slovenka, cez internet na stránke www.slovenkaroka.sk
Hlasovať môžete až do 20. júna 2023. Pre jedného z hlasujúcich je pripravený exkluzívny zájazd pre 2 osoby od CK Hydrotour.
Slovenka roka má týchto 9 kategórií:
BIZNIS A MANAŽMENT
UMENIE A KULTÚRA
MÉDIÁ A KOMUNIKÁCIA
VEDA A VÝSKUM
PODPORA MLADÝCH TALENTOV
ŠPORT
CHARITA
ZDRAVOTNÍCTVO
VZDELÁVANIE
O výbere rozhodovala aj tento rok nominačná komisia v zložení: Ing. Vladimír Bakeš, PhD., generálny riaditeľ a predseda predstavenstva Kooperativa poisťovňa, a.s. Vienna Insurance Group, Ľuboš Machaj, generálny riaditeľ RTVS, Marián Turner, generálny riaditeľ Slovenskej filharmónie v Bratislave, RNDr. Tomislav Jurik,CSc., predseda predstavenstva ZDRAVÝ ŽIVOT, a.s., Andrea Gontkovičová, predsedníčka predstavenstva spoločnosti Philip Morris ČR a generálna riaditeľka pre Českú, Slovenskú republiku a Maďarsko, Tatiana Nátna,prezidentka TOP centra podnikateliek Slovenska, Dr. h. c. prof. Rudolf Sivák, emeritný rektor Ekonomickej univerzity v Bratislave, prof. RNDr. Jaromír Pastorek, emeritný rektor Slovenskej zdravotníckej univerzity v Bratislave, doc. JUDr. Eduard Burda, PhD., dekan Právnickej fakulty Univerzity Komenského v Bratislave, doc.doc MUDr. Eliška Kubíková, PhD, MPH, z Lekárskej fakulty Univerzity Komenského v Bratislave, Ing. Vladislav STANKO, MBA, LL.M., majiteľ EUROPEAN INSTITUTE Prague, Ing. Vladimír Grežo, predseda predstavenstva Bratislava Tourist Board, Ing. Mikuláš Milko, generálny riaditeľ CK Hydrotour a Katarína Hanzelová, šéfredaktorka týždenníka Slovenka.
Partnermi projektu sú:
Generálny partner:
Kooperativa poisťovňa, a.s. Vienna Insurance Group
Exkluzívni partneri:
Zdravý život, a.s.
Philip Morris . s.r.o.
NU CLINIC, klinika dermatológie a estetickej medicíny
Hlavní partneri:
Slovenská filharmónia
Volvo
Poštová banka
Slovenské liečebné kúpele Turčianske Teplice
Piere Fabre
Slovenská pošta, a.s.
European Institute of Business and Public Education, s.r.o
Česká mincovňa SK
Phyris kozmetika
Hyza, akciová spoločnosť
Klenotníctvo Sheron
Kávoholik
Cestovná kancelária Hydrotour
Toto je 27 nominovaných žien na ocenenie Slovenka roka 2023
BIZNIS A MANAŽMENT
Lucia Lednárová Dítětová, PaedDr., MBA, spolumajiteľka spoločnosti Trexima Bratislava, manažérka úseku trhu práce a ľudských zdrojov
Ing. Daniela Maťuchová, zakladateľka centra ProVitalis v Banskej Bystrici
Ing. Denisa Kanásová , majiteľka strojárskej firmy TechnoNova
MÉDIÁ A KOMUNIKÁCIA
Zuzana Martináková, riaditeľka Centra spravodajstva a publicistiky a konateľka Televízie TA3
Mgr. art. Iveta Malachovská, PhD., moderátorka.
Soňa Gyarfašová, novinárka, venuje sa vyrovnávaniu s dvoma totalitami, témam slobody a spravodlivosti.
UMENIE A KULTÚRA
Slávka Zámečníková, operná speváčka
Jana Brisudová, výtvarníčka a sochárka
Dara Rolins, speváčka
VEDA A VÝSKUM
prof. JUDr. Gabriela Dobrovičová, CSc., profesorka teórie štátu a práva na Právnickej fakulte UPJŠ v Košiciach
Mgr. Barbara Lášticová, PhD., sociálna psychologička, samostatná vedecká pracovníčka v Ústave výskumu sociálnej komunikácie SAV
doc. Mgr. Bronislava Brejová, PhD., docentka na Katedre informatiky, Fakulty matematiky, fyziky a informatiky Univerzity Komenského v Bratislave
PODPORA MLADÝCH TALENTOV
PaedDr. Silvia Manduľáková, PhD., zakladateľka neziskovej organizácie Eductech
Ivana Sujová, umelecká vedúca Folklórneho súboru Hriňovčan
Iveta Lederer, akademická maliarka a dizajnérka
VZDELÁVANIE
PaedDr. Monika Kolková, riaditeľka Gymnázia Alberta Einsteina v Bratislave
PaedDr. Stanislava Opátová, učiteľka Základnej školy s materskou školou s v Nižnej
Ing. Zuzana Tkáčová, Ing. Paed. IGIP, učiteľka predmetov informatika a programovanie v Škole umeleckého priemyslu v Košiciach
doc. Ing. Viera Peterková, PhD., dekanka Pedagogickej fakulty Trnavskej univerzity v Trnave
ŠPORT
Ivana Horná, najúspešnejšia reprezentantka Slovenska v silovom trojboji
Mgr. Mária Potočná, trénerka, členka Klubu dunajských vodákov Slávia UK Bratislava
CHARITA
Mgr. Andrea Madunová, predsedníčka Organizácie muskulárnych dystrofikov v SR
Ing. Jana Pifflová Španková, prezidentka a spoluzakladateľka pacientskej aliancie NIE RAKOVINE
Mgr. Katarína Novotová, členka občianskeho združenia Dobré srdiečka
ZDRAVOTNÍCTVO
MUDr. Dagmar Kutnárová, PhD., MPH, prednostka Očnej kliniky vo Fakultnej nemocnici Nitra
PhDr. Gabriela Šuttová, námestníčka pre ošetrovateľstvo v Národnom ústave srdcových a cievnych chorôb, a.s.
MUDr. Mária Katuščáková, primárka Kliniky liečebnej rehabilitácie v súkromnej nemocnici AGEL Košice-Šaca
Viera Mašlejová
Foto: Viačeslav Šambazov