Zlaté glóbusy v 25 televíznych a filmových kategóriách každoročne udeľuje Hollywoodska asociácia zahraničných novinárov (HFPA). Minuloročné oceňovanie poznačil škandál, keď HFPA čelila rozsiahlej kritike a obvineniam z rasizmu, sexizmu, zastrašovania, korupcie a nedostatočnej diverzity.  Tohtoročné odovzdávanie cien sa však predsa len konalo v hoteli Beverly Hilton v Los Angeles a moderoval ho stand-up komik Jerrod Carmichael. 
Glóbus za najlepšiu filmovú drámu získal film Fabelmanovci od režiséra Stevena Spielberga, ktorý zároveň zvíťazil aj v kategórii najlepší režisér. Najlepšou filmovou komédiou sa stal film Víly z Inisherinu. Obľúbený írsky herec Colin Farrell, ktorý v ňom stvárnil hlavnú postavu, získal ocenenie za najlepšiu mužskú úlohu v komediálnej snímke. Táto komédia zvíťazila aj v kategórii najlepší filmový scenár. Ocenenie za najlepšiu herečku v dráme si odniesla Cate Blanchettová, získala ho za  hlavnú úlohu v snímke Tár o živote fiktívnej skladateľky a dirigentky Lydie Tár. Austin Butler, ktorý si zahral v snímke Elvis vyhral cenu za najlepšieho herca v dráme. Víťazkou kategórie najlepšia herečka v komédii sa stala Michelle Yeohová za film Všetko, všade, naraz.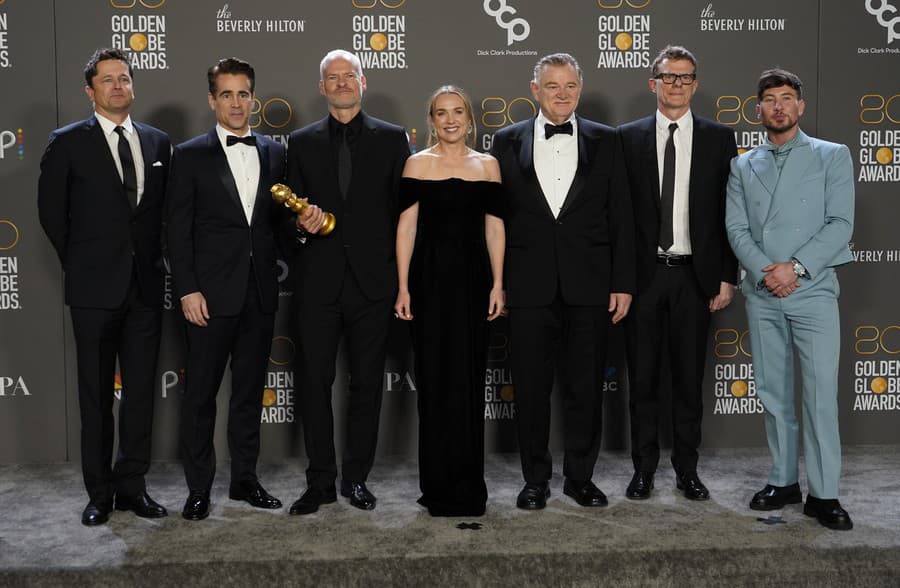 Zlatý glóbus za najlepší televízny seriál v kategórii dráma si odniesolHouse of Dragon (Rod draka); v kategórii komédia a muzikál ocenenie získal sitkom Abbott Elementary (Základná škola Willarda Abbotta). Najlepšou minisériou sa stal The White Lotus (Biely lotos). Slávnostný večer bol opäť plný nadšených tvárí z filmového sveta, ktorí si zaslúžene odniesli žiarivé ocenenia. 
Zlaté glóbusy 2023: Zoznam víťazov
Najlepší celovečerný film (dráma)
Fablemanovci
Najlepšia herečka v celovečernom filme (dráma)
Cate Blanchett, Tár
Najlepší herec v celovečernom filme (dráma)
Austin Butler, Elvis
Najlepší celovečerný film (muzikál alebo komédia)
Duchovia Inisherinu
Najlepšia herečka v celovečernom filme (muzikál alebo komédia)
Michelle Yeoh, Všetko, všade, naraz
Najlepší herec v celovečernom filme (muzikál alebo komédia)
Colin Farrell, Duchovia Inisherinu
Najlepší animovaný film
Pinocchio Guillerma del Tora
Najlepší cudzojazyčný film
Argentina, 1985 (Argentína)
Najlepšia herečka vo filmovej vedľajšej úlohe
Angela Bassett, Čierny Panter: Navždy Wakanda
Najlepší herec vo filmovej vedľajšej úlohe
Ke Huy Quan, Všetko, všade, naraz
Najlepšia réžia celovečerného filmu
Steven Spielberg, Fabelmanovci
Najlepší scenár
Martin McDonagh, Duchovia Inisherinu
Najlepší originálny soundtrack
Justin Hurwitz, Babylon
Najlepšia originálna skladba
"Naatu Naatu," Kala Bhairava, M.M. Keeravani, Kala Bhairava, Rahul Sipligunj (RRR)
Najlepší televízny seriál (dráma)
Rod draka
Najlepšia herečka v televíznom seriáli (dráma)
Zendaya, Euphoria
Najlepší herec v televíznom seriáli (dráma)
Kevin Costner, Yellowstone
Najlepší televízny seriál (muzikál alebo komédia)
Základná škola Willarda Abbotta
Najlepšia herečka v televíznom seriáli (muzikál alebo komédia)
Quinta Brunson, Základná škola Willarda Abbotta
Najlepšia herečka vo vedľajšej úlohe v miniseriáli alebo televíznom filme
Jennifer Coolidge, The White Lotus
Najlepší herec vo vedľajšej úlohe v miniseriáli alebo televíznom filme
Paul Walter Hauser, Volavka
Najlepšia herečka vo vedľajšej úlohe v televíznom seriáli (muzikál, komédia alebo dráma)
Julia Garner, Ozark
Najlepší herec vo vedľajšej úlohe v televíznom seriáli (muzikál, komédia alebo dráma)
Tyler James Williams, Základná škola Willarda Abbotta