Sviatky kľudu sa neúprosne blížia a vy si vravíte, že by sa s tým neporiadkom všade okolo malo niečo urobiť? Práve teraz je tu čas na dôkladné predvianočné upratovanie! Prinášame tipy, ako upratať tak, aby ste mali na dlhšiu dobu pokoj a užili si pravú sviatočnú pohodu.
Čím dlhodobejší plán, tým menej zhonu
Obecne platí, že na najväčšie množstvo práce potrebujeme prísnejší plán. A to platí dvojnásobne v prípade vianočného upratovania. Zvládnuť pred sviatkami upratať celú domácnosť za jeden víkend – to nie je výzva, ale masochizmus. Preto je dobré dať si menšie sústa už pár týždňov pred sviatkami. Začnite napríklad od vstupných dverí. Z predsiene odstráňte letnú a jesennú obuv, pretrieďte skrine a vymeňte oblečenie za teplejšie kúsky, ktoré budete nosiť v zime.
Nezabudnite zapojiť celú rodinu
Veľa gazdiniek berie upratovanie ako osobnú misiu. Skúste však nechať priložiť ruku k dielu aj ostatných členov rodiny. Každé dieťa predsa zvládne vyniesť smeti či zabehnúť na menší nákup. Mužská sila sa vám zase môže hodiť pri presúvaní nábytku, v rámci vysávania ale aj pri umývaní podláh. S parným mopom Steam XXL od Viledy zvládne umyť všetky typy tvrdých podláh, ale aj koberce aj ten najpohodlnejší priateľ či manžel. Metóda upratovania horúcou parou pritom zabije až 99,9 % baktérií, a to bez použitia chemického čistiaceho prostriedku.
Umyte okná, aby vás Ježiško našiel
Zveste záclony a závesy, vyperte ich, omeťte prach z parapetov a pusťte sa do práce, pretože okná sa samé neumyjú. Najprv sa vrhnite na okenné rámy a parapety, potom vymeňte vodu a zamerajte sa na sklá. Ak by ste postupovali v opačnom poradí, hrozí, že sklá pri umývaní rámov opäť zašpiníte a prirobíte si tak zbytočne prácu. Dôležitý je taktiež smer, ktorým budete okná umývať a leštiť. Jednu stranu by ste mali umývať odhora dole a druhú zľava doprava, jedine tak odhalíte, kde máte šmuhy.
Zbavte sa nepozvaných návštevníkov rýchle a efektívne
Vianoce sú síce sviatky, kedy by sme mali pohostiť každého nezvaného hosťa, roztoče medzi nich ale rozhodne nepatria. Títo návštevníci ktorí naviac nie sú viditeľní voľným okom, žijú v každej domácnosti – majú najradšej matrace, vankúše a lôžkoviny. A ako si s nimi poradiť? Najefektívnejšou zbraňou je suchý ľad. "Suchý ľad stačí nasypať na matrac a nechať pôsobiť. Veľkou výhodou je, že čistenie prebieha v suchu, pretože suchý ľad sublimuje. To znamená, že sa netopí, ale vyparuje sa," vysvetľuje Dita Punčochářová zo spoločnosti SIAD, ktorá suchý ľad vyrába. Ide o veľmi jednoduchý a účinný spôsob, ako domácnosť nepríjemných roztočov, ktorí môžu spôsobovať alergie, zbaviť.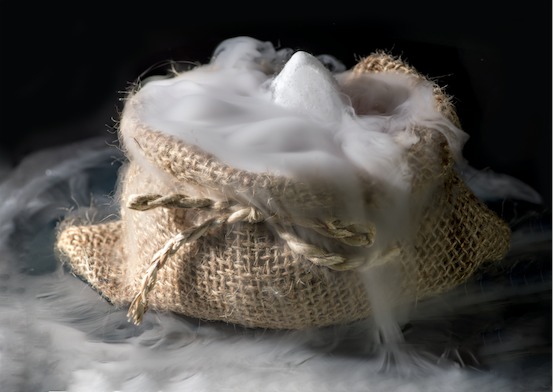 Spravte si poriadok v potravinových skrinkách
Činnosť, ktorú nemá rád asi nikto. Mali by ste ale vedieť, že čím viac si na nej dáte záležať, tým menej často ju budete musieť robiť. Dôkladným upratovaním všetkých skriniek a poličiek na potraviny získate lepší prehľad o tom, čo kde máte, čo výrazne uľahčí vianočné pečenie a varenie. Vďaka tomu môžete aj ušetriť, nebudete totiž kupovať veci, ktoré doma už máte. Čo nepotrebujete, vyhoďte, a všetky regály poriadne vytrieďte.
Zanedbávaná položka na zozname – spotrebiče
Práve spotrebiče sú na upratovacom zozname položkou, na ktorú veľa ľudí zabúda. Všetky spotrebiče by sa mali aspoň raz za rok poriadne vyčistiť – tak prečo k tomu nevyužiť predvianočné upratovanie. Pri čistení chladničky pračky, sušičky, mikrovlnnej trúby aj umývačky skúste využiť prírodných pomocníkov, ktorým dôverovali už naše babičky, teda vodu s octom, sódou, citrónom a soľou. V kombinácii s mikrohandričkami dokážu to, čo chemické čistiace prostriedky, a naviac sú šetrné k životnému prostrediu.
Vytrieďte si šatník!
Vianoce sú o rozdávaní radosti. Prejdite si svoj šatník, či tam nie sú kúsky, ktoré ste už roky nikam nevzali a ktoré by spravili napríklad radosť niekomu inému. Najlepšie je si u každého kusu oblečenia spomenúť, či ste ho mali na sebe aspoň raz za posledný rok. Ak je odpoveď záporná, najskôr je načase sa s ním rozlúčiť. Oblečenie môžete ponúknuť na internete, a to viac obnosené odniesť do kontajneru na textil, a keď máte doma oblečenie, z ktorého deti vyrástli , darujte ho do detského domova. Vy budete mať v šatníku miesto na nové oblečenie a naviac tak spravíte aj dobrý skutok.