Predchádzajúce dve časti sa v kinách stali fenoménom. Komediálnu sériu o striptérovi s prezývkou Magic Mike sa tvorcovia rozhodli uzatvoriť treťou časťou, v ktorej mu do života vstúpi osudová žena. Dokáže s jej pomocou oživiť zašlé časy najväčšej slávy? Práve teraz sa v kinách môžete dozvedieť odpoveď vo filme Magic Mike: Posledný tanec.
"Magický" Mike Lane (Channing Tatum) má za sebou neúspešný biznis a aby sa uživil, berie v súčasnosti malé kšefty ako barman. Nemôže sa však vzdať pocitu, že na pódiu ešte má čo ukázať a rozhodne sa prijať ponuku charizmatickej Maxandry (Salma Hayek Pinault) a vydať sa s ňou do Londýna. Veľkolepým vystúpením chcú v publiku prebudiť vlnu vášne, aké ešte nezažilo.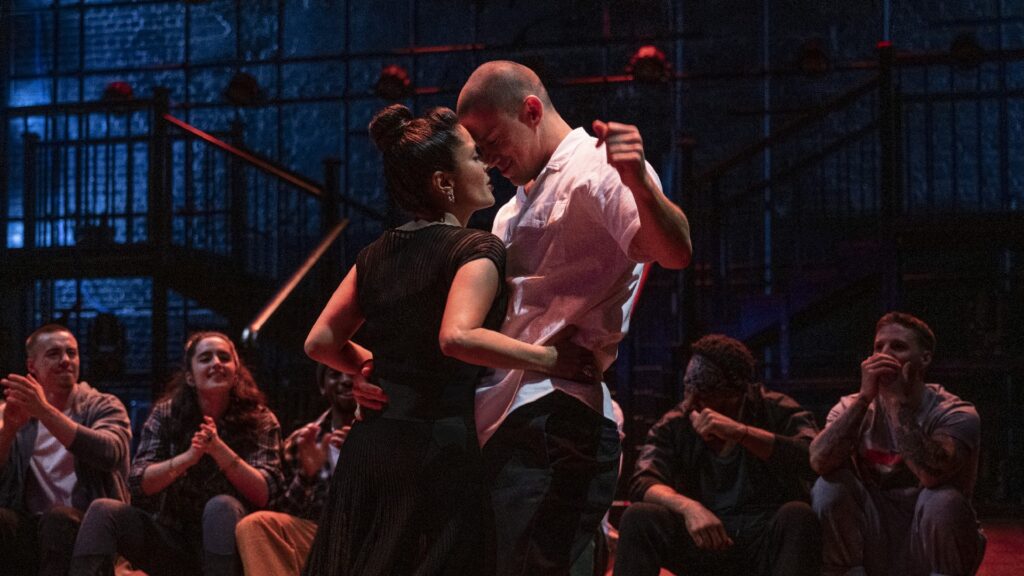 Channing Tatum stvárňuje hlavného hrdinu od prvej časti série a práve jeho životné skúsenosti, ktoré nazbieral pred hollywoodskou kariérou, pomohli vystavať Mikeov príbeh. K réžii sa vracia Steven Soderbergh, ktorý je režisérom pôvodného filmu. Herecké obsadenie posilnila Salma Hayek Pinault, ktorá na nakrúcanie spomína s radosťou.
"Spolupracovať s Channingom sa mi páči," chváli legendárna herečka svojho kolegu. "Je profesionálny a extrémne milý a hrať s ním je zábava, naozaj hotové potešenie. Jeho genialita spočíva v tom, aký je vyrovnaný a prirodzený, nič nerobí nasilu. Je aj veľmi ohľaduplný, je to ohromný partner a obidvom sa nám páčilo odhaľovať naše postavy spoločne. Tento film má ozajstnú, solídnu love story. Myslím, že diváčkam sa nebude páčiť len tá sexuálna zmyselnosť, ale aj romantika a komplexné aspekty vzťahu."
Vynachváliť si nevie ani Channing Tatum. Medzi ním a Salmou Hayek Pinaultovou rýchlo vzniklo na pľaci priateľstvo. "Salma je sila, s akou treba počítať. Každú jednu scénu vylepšila a je viac než len výnimočná. Vôbec ma neprekvapuje, že je to taká ikona. Každý deň prišla do práce s ohromným entuziazmom."
Režisér Soderbergh hovorí, že chémia medzi dvomi hlavnými hercami je vo filme priam hmatateľná: "V scéne, keď sa Mike a Max po prvýkrát stretnú, stále sú oblečení, ale vďaka Channingovi a Salme je to veľmi zmyselné. V americkej kinematografii nie je práve bežné mať vo filme takú úroveň zmyselnosti a erotiky bez toho, aby to bolo explicitné, ale oni dvaja to podali krásne.
Overiť si, nakoľko sa skvelé vzťahy pri nakrúcaní premietli do výsledného filmu, môžu slovenské diváčky a diváci práve teraz v kinách. Komediálnu snímku Magic Mike: Posledný tanec sme si nemohli nechať ujsť a odporúčame ju všetkým sestrám, mamám, babkám a kamarátkam. Partnerov radšej nechajte doma, nemuseli by vašu nadšenú radosť zdielať 🙂