Jesenná edícia najprestížnejšej módnej udalosti Slovenska – Bratislavské módne dni by Mercedes-Benz – sa koná v nádherných priestoroch historickej budovy Národnej rady SR. Počas dvoch dní majú diváci možnosť vidieť viac ako 200 modelov od mladých, ale i etablovaných návrhárov zo Slovenska, Česka aj Ukrajiny. V prvý deň bola atmosféra umocnená faktom, že hostia sa oboznámili s talentom mladých módnych návrhárov a aj Patriziou Gucci, prapravnučkou Guccia Gucciho, zakladateľa svetového módneho impéria
"Stretávame sa na 17-tom ročníku Bratislavských módnych dní a prvý deň venujeme projektu NOVÉ TVÁRE MÓDNEJ SCÉNY 2022. Je to výnimočný projekt tým, že nadaným mladým ľuďom venujeme priestor, komunikáciu, finančnú pomoc a najmä možnosť sa odprezentovať. Človek môže byť nadaný, ale keď o ňom nevieme, nevie sa pohnúť ďalej," prezradila nám svoje úvodné pocity generálna riaditeľka agentúry Promotion pani Mária Reháková.
Nezabudla však na prítomnosť a vysvetlila, čo ďalšie je tento rok iné, ako v minulosti: "Máme pre vás všetkých veľké prekvapenie, nakoľko pozvanie na Bratislavské módne dni prijala aj prapravnučka Guccia Gucciho, zakladateľa svetového módneho impéria Gucci, Patriziou Gucci." Je jedinou dcérou Alda Gucciho a vnučkou Guccia Gucciho, ktorý založil spoločnosť Gucci v roku 1921.
Patrizia Gucci: "Som veľmi šťastná, že som tu. Móda je súčasťou našich životov, ale tiež je to biznis. Páči sa mi kreativita s akou títo mladí ľudia prišli, teším sa na to, čo dnes uvidím."
Veľkolepú šou otvoril svojim príhovorom Predseda národnej rady Slovenskej republiky Boris Kollár, ktorý zobral záštitu nad týmto projektom: "Na Slovensku máme množstvo šikovných ľudí a ja som naozaj rád, že môžem byť ich súčasťou práve v týchto krásnych priestoroch historickej budovy NRSR. Som veľmi rád aj za to, že môžem prevziať záštitu nad dnešným podujatím. Je veľmi dôležité, aby každá generácia mohla uplatniť svoj talent a šikovnosť. Kreatívne umenie si vyžaduje aj cit pre detail a dôkladnosť. Ďakujem Márii Rehákovej, že podporuje študentov a mladých ľudí v ich ceste životom. Teší ma aj to, že módne návrhárstvo nie je už len doménou žien, ale dnes sú medzi nami aj šikovní návrhári. Móda je univerzálna pre každého z nás, obliekame sa podľa nálady, svojho štýlu, je to prejav našej osobnosti. Móda môže byť taktiež aj komunikačným prostriedkom, ktorý mnoho krát simuluje to, čo chceme vyjadriť. U mňa je to jednoduché- striedam štyri farby obleku (úsmev). Nezabúdajme však ani na ekológiu, konajme tak, aby vznikalo minimálne množstvo odpadu. Verím tomu, že dnešní súťažiaci zanechajú významnú stopu nielen na Slovensku, ale aj za hranicami."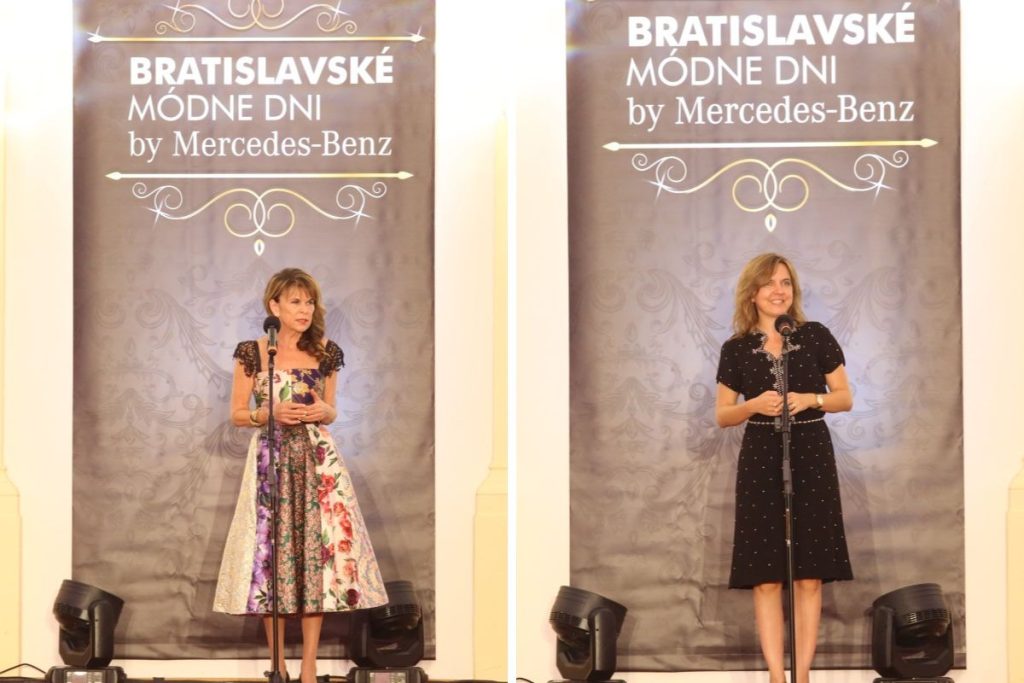 Záštitu nad projektom zobrala aj Starostka Starého mesta, Zuzana Aufrichtová. Modeli budúcich profesionálnych návrhárov opísala takto: "Mám veľkú radosť, keď vidím toľko talentov pokope. Bratislava je aj vďaka tomuto projektu mestom módy. Ďakujem za pozvanie v jej samom srdci."
Prvý deň prehliadok Bratislavské módne dni by Mercedes-Benz patril najmä finále súťaže NOVÉ TVÁRE MÓDNEJ SCÉNY 2022, kde o prestížny titul a atraktívne ceny zabojovalo 7 finalistov: Nikola Brxova, Laura Lazarová, Olena Minikova, Adam Ondrejka, Sofia Plaskonisova, Ida Rapaičová a SPŠ Kežmarok. Témou na tento rok bol "SVET BEZ DYMU".
Finalisti projektu Bratislavské módne dni by Mercedes-Benz – Hľadáme nové tváre módnej scény 2022
Téma: Svet bez dymu
Nikola Brxová
Laura Lazarová
Olena Miniková
Adam Ondrejka
Sofia Plaskonisová
Ida Rapaičová
SPŠ Kežmarok
O svojich kolekciách mladí tvorcovia povedali:
Nikola Brxová – Téma bola svet bez dymu. Pre to moja kolekcia je čiernobiela – čo znamená že som chcela ukázať rovnováhu (jin jang) a jemnosť.
Laura Lazarová – Svojou kolekciou som opäť chcela vrátiť do "tohto sveta " farebnosť, živosť.
Olena Minkova – Za osnovu som mala – slnko, oblaky, trávu. Moja kolekcia je živá. Kvapky vody z oblaku sú, perly pre slnko.
Adam Ondrejka – Začiatok niečoho nového. Ak by zanikol svet a prežilo by pár ľudí tak takéto oblečenie ako je moja kolekcia by nosili.
Sofia Plaskonisova – Inšpirovala som sa videohrou a sci-fi. Moja kolekcia je jemná ale aj napriek tomu surová.
Ida Rapaičová – Inšpirovala som sa prírodou, morom, morskými živočíchmi. Pri výrobe svojich veci som bola čo najšetrnejšia. Nevznikol skoro žiaden odpad, tým pádom ani "dym".
Súkromná spojená škola, Kežmarok – Detičky žijú v osadách nemajú tam kvety – žijú v šere. Pre to chceli niečo iné- živé. A hlavne niečo veľké, nablýskané, kvetinové, pretože doma také nemajú.
Odborná porota rozhodovala o víťazovi súťaže v zložení: predsedníčka poroty Iveta Lederer, podpredsedníčka Simona Vachálková, Slávka Kállayová, Richard Rozbora, Andrej Taraba, Petra Ficová, Beáta Kujanová a Jana Lalová. Ako potvrdila predsedníčka poroty Iveta Lederer " bolo to veľmi ťažké, nakoľko sú finalisti rok čo rok kvalitnejší"!
Prvé miesto: Adam Ondrejka
Druhé miesto: Ida Rapaičová
Tretie miesto: SSŠ Kežmarok
Víťazi získali úžasné hodnotné ceny, medzi nimi aj darček od Mercedes – Benz či tvorivé štipendium v hodnote 500, 1000 a 2000 Eur od Philip Morris Slovakia, 32 hodinový kurz od francúzskej školy MOD 'SPE PARIS Central Europe v Bratislave.
Okrem súťažiacich sa divákom predstavili stálice módnej scény ako Zuzana Haková a Renáta Kliska so značkou La Rena. Svoje miesto v rámci tohto večera má aj vlaňajšia víťazka súťaže Juliána Brňáková.
La Rena
Zuzana Haková a Major Optic
Juliana Brnáková
Vo svojich príhovorch sa generálna riaditeľka agentúry Promotion Mária Reháková, Zuzana Aurichtová aj Boris Kollár zhodli, že sa na túto udalosť neskutočne tešili. Prítomným zapriali, aby si tiež vychutnali krásu na móle, ako aj tú – jedinečného priestoru udalosti. Mária Reháková vyzdvihla aj spoluprácu s Petrou Krištufkovou, vďaka ktorej spoznala aj ukrajinskú návrhárku účastnú v súťaži.
"Som veľmi hrdá na slovenských návrhárov, ktorí sa skutočne posunuli dopredu a chcem sa poďakovať všetkým zúčastneným. Myslím si, že každý si tu dnes našiel to svoje," povedala na záver Mária Reháková.
Po predstavení modelov všetkých návrhárov z prvého dňa nastal čas na voľnejšiu zábavu, kde si hostia okrem skvelej kávy značky Veronia caffee, mohli pochutiť aj na bublinkách značky Hubert, videli sme príbeh kúzelného prsteňa pod palcom Siloe Design, ďalej partnerov Kliniku zdravia a krásy- Interklinik, kozmetickú značku Mary Kay, Soloom, mestskej časti Bratislava – Staré mesto, Imeprial vitamins a veľká vďaka patrí generálnemu partnerovi projektu, značke Mercedes-Benz Slovakia.
Ďakujeme všetkým zúčastneným partnerom projektu a tešíme sa na vás opäť o rok!