Patrí medzi prvé barberky na Slovensku – teda ženy, ktoré holia, upravujú brady a strihajú vlasy mužom. Ako sa Radka Štefániková dostala do tohto mužského sveta? A o čom vlastne klebetí s mužmi, keď o kabelkách to určite nie je? Prezradila tiež, z ktorého barberského úkonu majú muži strach.
Barberstvo nevyštudovala, nevyučila sa tejto profesii. V čase, keď chodila do školy, sa tento odbor u nás ešte nevyučoval. Radka sa vyučila klasickému kaderníctvu – teda úprave vlasov u žien, najprv v Žiline a potom v Púchove. No, keď už nastúpila ako vyučená kaderníčka, okrem žien strihala aj mužov. A pánske holičstvo sa jej zapáčilo. Začala si na internete, na yuotube pozerať postupy, návody, ako sa robia jednotlivé mužské strihy, ako sa holia a zastrihávajú brady. "Našla som sa v tom pánskom smere, oslovilo ma najmä skrášľovanie brady. A oslovila ma práca s britvou. Rozhodla som sa, že chcem robiť jednu vec a na sto percent. A rozhodla som sa pre pre pánske holičstvo," vysvetľuje Radka, ako sa k tejto profesii dostala. "Začala som si všetko googliť a na základe toho som sa naučila barberskému remeslu. Skúšala som si doma strihy aj na skutočných hlavách – hľadala som si modelov. Takisto som si skúšala doma holenie brady. Mojím prvým klientom bol môj otec, jemu ako prvému som holila bradu," prezrádza šikovná mladá žena. Nuž, čo rodič neurobí pre svoje dieťa!
Ostrihajte ma podľa futbalistu
A potom prišiel zlomový bod, v roku 2017 si v Považskej Bystrici založila svoj vlastný barbershop. Dnes je už ostrieľanou barberkou a na konte má aj niekoľko ocenení z holičských súťaží. "Dnes je už veľa mužov, ktorí chcú byť upravení a myslím si, že aj muži ocenili, že vznikli barbeshopy," uvádza Radka. Ale, aký je vlastne ten mužský kadernícky svet? Po čom vlastne muži túžia? Prídu aj oni s vystrihnutým obrázkom – chcem takýto účes, takto vyholenú bradu, ako má ten známy futbalista? "Áno, veľa z nich si donesie aj nejaký obrázok. Ale väčšinou to nechávajú na mňa. Ja ako barberka im viem poradiť, aký typ účesu sa hodí pre daný typ hlavy. A musím povedať, že v tomto si odo mňa nechávajú muži poradiť," prezrádza šikovná holička.
Teraz je vraj novým módnym trendom mužský strih s názvom mullet. Je to strih, kde sú vlasy vpredu zostrihané a postupne prechádzajú dozadu do dlhého zostrihu. Dôležitá je zostrihaná ofina, ktorá pridáva na efekte. Je to v podstate stará klasika "na Jágra" a nosil ho aj Paul McCartney. Opäť sa vracia, čo bolo kedysi moderné, s tým, že účes prešiel modernizáciou.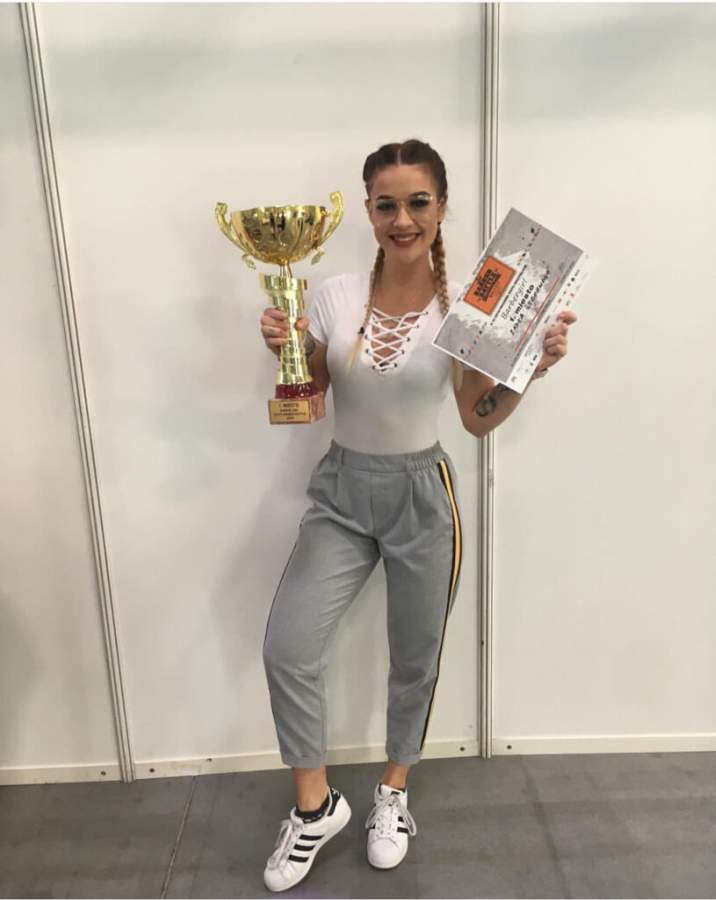 S britvou si verila od začiatku
"Aj keď je to najnovší hit, nepreferuje ho veľa klientov. Skôr po ňom siahnu extravagantnejšie typy mužov. A ja osobne tiež preferujem klasiku, a to konkrétne strihy – pompadour, strih crop, ktorý je momentálne môj obľúbený klasický pánsky strih," vraví. Radka išla do barberstva naplno, so všetkým, čo k tejto profesii patrí. Svojim klientom holí bradu britvou a poskytuje im aj servis v podobe vytrhávania chĺpkov z nosa! "Keď som holila britvou svojho prvého zákazníka, bola som v pohode, vôbec sa mi netriasli ruky. Holila som ho s vedomím, že to viem robiť. Od začiatku som si verila," opisuje mladá žena. A ako je to s vytrhávaním chĺpkov z nosa? "Trháme ich pomocou vosku. Muži sú podľa mňa však viac precitlivení, majú z toho strach. Prežívajú to, ale na konci zistia, že to nebolí," prezrádza Radka na mužov.
Miesto kávy whisky
Keď my ženy prídeme ku kaderníčke, tak nás na stolíku čakajú ženské časopisy, prípadne nám kaderníčka ponúkne kávičku. V mužskom svete sú namiesto časopisov hry a úlohu kávy nahrádza whisky. "U nás sa hrá na playstation zápasnícka hra UFC. Hrajú to zákazníci medzi sebou, keď čakajú na strihanie, alebo aj ja, keď mám čas, tak si pred začiatkom strihania s nimi dám tento zápas. A máme dohodu, že kto nado mnou vyhrá, tak má zadarmo strih, kto prehrá platí dvojnásobok. Zákazníkov tiež ponúknem pohárikom whisky, samozrejme, len tých, čo nie sú autom. A preberáme aj mužské témy – hokej, futbal. Oni nebudú so mnou debatovať, akú kabelku si pôjdem kúpiť. Ale aj mnohí muži sa u nás radi vyrozprávajú, porozprávajú o svojich starostiach, čo ich trápi. A my sme bútľavé vŕby, ktoré si všetko vypočujú, ale ďalej to už nešírime. Všetko, čo sa povie v barbershope, tam aj ostane," vraví Radka.
Majsterka Česko-Slovenska
Šikovné Radkine ruky si vedia poradiť s hocijakou hipsterskou bradou, spraviť cool účes na mužskej hlave. Táto dievčina z Považskej Bystrice je držiteľkou ocenenia Barber girl a zároveň v roku 2018 vyhrala prvé miesto na Majstrovstvách Československa. "Pocity pri výhre boli skvelé. Každá súťaž vám pomôže, či už v tom, že sa dostanete viac do povedomia ľudí alebo si zvykáte na publikum, ktoré vás pri práci sleduje. Samozrejme, diplom a trofej visia v barbershope," dodáva Radka. Spomínané majstrovstvá sa nekonali len na malom slovenskom "piesočku", ale Slovenky súťažili spolu so svojimi kolegyňami z Česka. Konkurencia teda bola väčšia. "Na československej súťaži nás bolo okolo dvadsať, spolu Češky i Slovenky, a Sloveniek mohla byť tak polovica. Neviem však odhadnúť, koľko barberiek je nás v súčasnosti na Slovensku, pretože všetky nechodia na súťaže. Keď som však ja začínala v roku 2017, tak som bola jediná na Slovensku. A združené nie sme, s niektorými barberkami som v kontakte, ale samozrejme, všetky nepoznám," uvádza Radka. A ako prežívala nepopulárny lockdown? "Celkom fajn, venujem sa veciam, na ktoré nemám pri práci čas a posielam klientom cez email strihy, ktoré by sa im hodili."
VIERA MAŠLEJOVÁ
Foto: archív R.Š.