Novinku od producentov megahitov Denník Bridget Jonesovej či Láska nebeská si slovenskí diváci môžu vychutnať ešte pred oficiálnou premiérou vo Veľkej Británii, ktorá bude 24. februára 2023. Do našich kín príde snímka 26. januára. Prví Slováci ju mali možnosť vidieť v rámci bratislavskej slávnostnej premiéry už v pondelok 23. 1. 2023. Ktoré známe tváre zo slovenského šoubiznisu boli pri tom?
Romantický filmový večer si v pondelok urobili viaceré celebritné dámy. Komédiu s netradičným názvom Čo s tým má láska? si prišla medzi prvými divákmi pozrieť herečka Zuzana Vačková, bývalá moderátorka televízie TA3 a súčasná hovorkyňa Bratislavského samosprávneho kraja Lucia Forman Habancová, moderátorka TV Markíza Lenka Debnárová, blogerka a vzťahová poradkyňa Nika Macinská, ako aj influencerky Saša Holecová (Operenecholec), Nina Starzyková (Nibuška), Naty Žúreková Štefková (Chuť od Naty), Jana Šimkovičová, Ivana Bartošová (Nemehlo v kuchyni) či Jana Matúšová.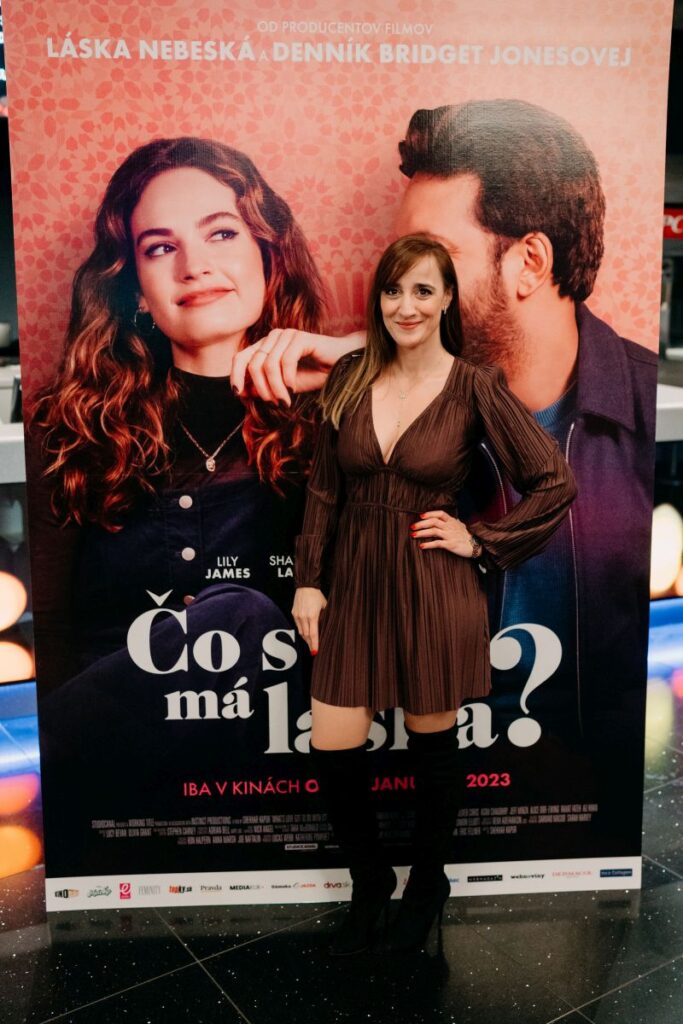 Ak sa vám páčila dnes už kultová trilógia o večnej smoliarke Bridget Jonesovej či romantická klasika Láska Nebeská a máte radi nezameniteľný anglický humor, film Čo s tým má láska? bude pre vás to "pravé orechové". Hlavná hrdinka Zoe (Lily James) žije v Londýne, hľadá námet na svoj film a rieši rovnakú otázku ako väčšina z nás: Ako nájsť v dnešnom svete niekoho na trvalý vzťah? Zoznamovacie aplikácie jej zatiaľ nepriniesli nič iné než niekoľko trápnych historiek a nepodarených rande, čo jej svojrázna a sarkastická mama Cath (Emma Thompson) nikdy nezabudla vtipne okomentovať. Ako každý správny rodič chce pre svoju dcéru to najlepšie a neštíti sa pri tom ani jej tak trochu zasahovať do života. Cathine nešikovné pokusy o dohadzovanie sa však nestretávajú s veľkým úspechom.
Zoein kamarát z detstva Kazim (Shazad Latif) na rozdiel od nej dá v milostných záležitostiach na radu svojich príbuzných, a to doslova. Rozhodne sa totiž pre takzvané dohodnuté manželstvo so ženou, ktorú mu vybrali jeho rodičia. Zoe je voči tejto metóde skeptická. Zároveň je to však skvelý námet na nový dokumentárny film. Hlavná hrdinka teda zapína kameru a rozhodne sa celý proces tejto zvláštnej cesty za láskou zdokumentovať. Od stretnutia s dohadzovačom cez online hovory budúcich mladomanželov a rodinné zoznamovanie cez internet až po veľkolepú exotickú svadbu s dohodnutou nevestou v pakistanskom Láhaure. Pre Zoe je tento stret s odlišnou kultúrou na jednej strane obohacujúci, na druhej strane v nej však vyvoláva čoraz väčší citový zmätok. Možno bol "ten pravý" celý čas bližšie, ako si dokázala predstaviť…
Romantickú komédiu Čo s tým má láska? režíroval oscarový režisér Shekhar Kapur, ktorý má na konte napríklad historické eposy Alžbeta a Kráľovná Alžbeta: Zlatý vek. Hlavnú úlohu, anglickú kráľovnú Alžbetu I., v nich stvárnila skvelá Cate Blanchett. "Je to famózny filmový režisér a majster v režírovaní silných, emocionálne zložitých a nedokonalých ženských postáv. To z neho urobilo zaujímavú a možno až neintuitívnu voľbu na natáčanie romantickej komédie. Myslím si, že to filmu dodalo hĺbku, ktorú by inak nemal," zložila svojmu kolegovi poklonu scenáristka Jemima Khan, ktorá je autorkou scenára k snímke Čo s tým má láska?
Doprajte si v týchto chladných zimných dňoch romantický večer s dobrým filmom aj vy. Komédia Čo s tým má láska? príde do slovenských kín už 26. januára 2023.