Je nežná, romantická, ženská, evokuje záhradu plnú rozkvitnutých kvetov, lásku, niekedy až detskú nevinnosť a čistotu. Reč je samozrejme o ružovej farbe. V móde by sme to s ňou ale nemali preháňať. Skvelý spôsob, ako ju začleniť do garderóby, je zaobstarať si ružový doplnok, napríklad šperk s ružovým drahokamom. S akými kúskami v tejto sladkej farbe sa môžete najčastejšie stretnúť a podľa čoho si vybrať ten svoj?
Rozprávkový prsteň s morganitom
Tento očarujúci drahokam sa v posledných rokoch teší veľkej popularite. Vyznačuje sa jemnými odtieňmi pastelovej ružovej až ružovo-oranžovej, lososovej farby. Morganit patrí do rodiny berylu, podobne ako smaragd alebo akvamarín. Objavený bol až v roku 1910 na Madagaskare a pomenovaný po J. P. Morganovi, významnom bankárovi a zberateľovi drahých kameňov.
V súčasnosti sa presadzujú najmä zásnubné prstene s morganitom. Nežné ružové tóny morganit predurčujú k tomu, aby sa stal zaujímavou alternatívou diamantu. Z hľadiska tvrdosti sa pohybuje v rozmedzí 7,5 až 8, čo mu zaručuje vysokú odolnosť. Hlavnou výhodou morganitu je jeho cena, ktorá je oproti diamantu násobne nižšia, čo umožňuje budúcej neveste splniť si sen o prsteni s veľkým kameňom. Morganit si dobre rozumie s bielym, žltým aj ružovým zlatom. Obzvlášť posledný variant je jednoducho neodolateľný.
Morganit bude tým pravým kameňom pre vás, ak chcete ľahko zvýrazniť ženskosť a hľadáte šperk, ktorý s vami skôr splynie, než že by pútal všetku pozornosť na seba. Morganit vyniká svojim leskom, ale farebne nie je tak výrazný. Šperk s morganitom preto pôsobí veľmi decentne a elegantne.
Šperk s ružovým zafírom vám pomôže zažiariť
Ďalším menej obvyklým drahokamom, ktorý sa pýši rôznymi tónmi ružovej, je ružový zafír. Ešte nedávno bol na trhu tento druh zafíru veľmi raritný, čo sa zmenilo s objavením náleziska na Madagaskare. Farba ružového zafíru sa pohybuje na škále od svetlo ružovej až po žiarivú tmavo ružovú. Jeho hodnota je určená podľa jeho čistoty; intenzita farby až tak zásadnú rolu nehrá. Najväčší dopyt je po svetlejších zafíroch, ktoré sa približujú podobe ružového diamantu.
Ružový zafír je skvelou voľbou pre tých, ktorí hľadajú vzácny a jedinečný kameň, ktorý upúta na prvý pohľad. Oproti diamantu je cenovo dostupnejší.
Svetovým rekordérom je ružový diamant!
Okolo jedného ružového drahokamu sa točí aj dej slávneho filmu Ružový panter s Peterom Sellersom a Claudiou Cardinaleovou v hlavných úlohách. Ružový diamant z tohto filmu je fiktívny, avšak podobní ružoví panteri sa vyskytujú aj v reálnom svete dnešnej doby. Jedným z nich je diamant pomenovaný The Winston Pink Legacy. Je to aktuálny držiteľ aukčného rekordu v cene za karát. Konkrétne sa jedná o sumu 2,6 milióna za karát, teda celkom 50 miliónov dolárov za kameň (viac ako 1 miliarda korún).
Ružový diamant je luxusný drahokam vhodný pre tých najnáročnejších. Šperk s ním možno rozhodne vnímať aj ako investíciu.
Turmalín má mnoho tvárí
Turmalín je širokej verejnosti nie príliš známy šperkový kameň. V prírode sa vyskytuje takmer vo všetkých farbách. Jeho ružová až ružovo-fialová verzia sa nazýva rubelit. Turmalín je výnimočný pre svoj pleochroizmus, čo znamená, že sa kameň javí ako viacfarebný pri pohľade z rôznych uhlov.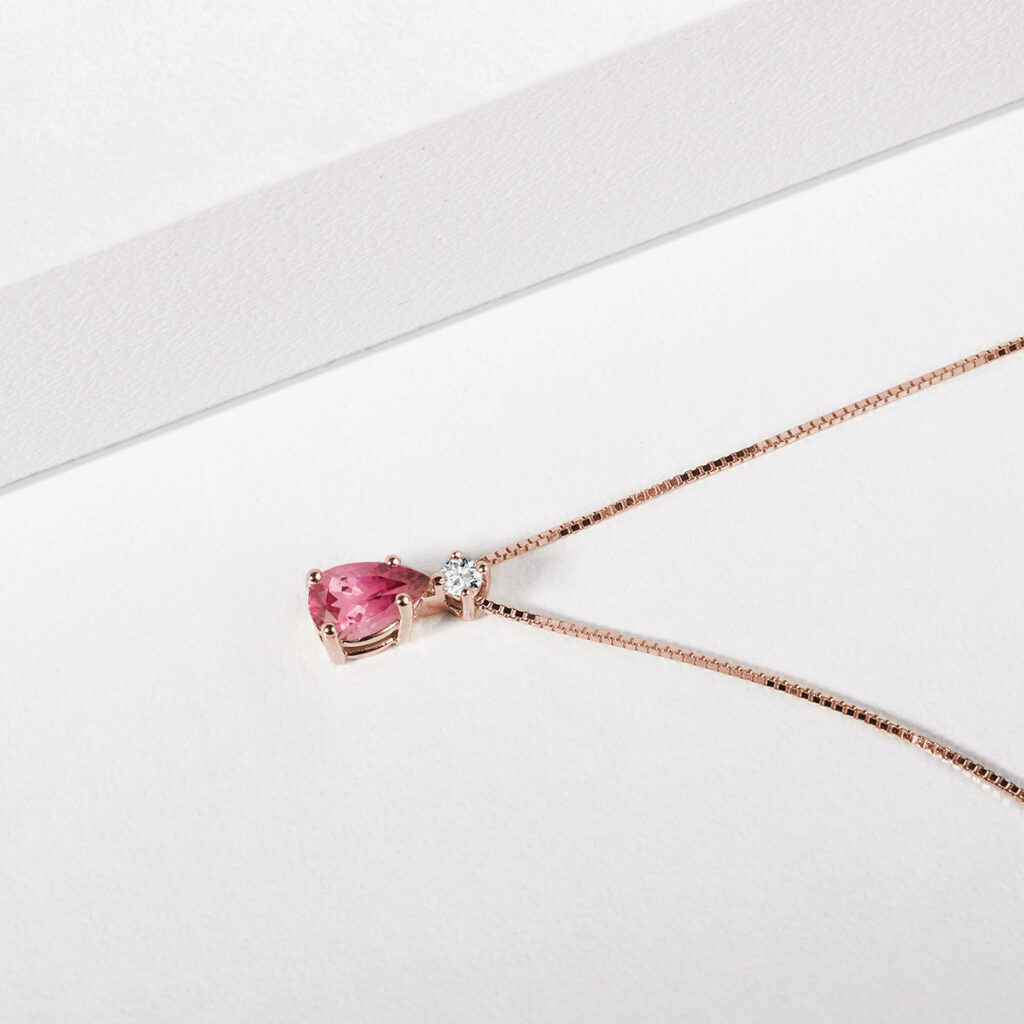 Šperk s turmalínom si obľúbite, pokiaľ dávate prednosť sýtejším farbám v tlmenejších tónoch. Získa si vás aj jeho schopnosť opticky meniť farbu. To zaručí, že vás len tak neomrzí.