K najčastejším chronickým chorobám, ktoré sužujúcim ľudí už od detského veku patria ochorenia dýchacích ciest. Na Liptove sa v Kúpeľoch Lúčky zameriavajú aj na liečbu chorôb dýchacieho ústrojenstva. Viac o tejto téme nám prezradil primár kúpeľov MUDr. Igor Dobrík.
Aj my laici vieme, že do skupiny chorôb dýchacieho ústrojenstva patrí veľa ochorení. Na ktoré konkrétne diagnózy sa teda zameriavate v Kúpeľoch Lúčky?
Z chronických ochorení ide o prieduškovú astmu – bronchiálnu astmu, chronický zápal priedušiek – chronickú bronchitídu a chronickú obštrukčnú zužujúcu chorobu priedušiek. Pri prieduškovej astme ide o ochorenie dolných dýchacích ciest, teda priedušiek a priedušničiek, s ich opakujúcim sa zužovaním, takzvaným bronchospazmom. Podstatou zúžení priedušiek je ich zvýšená činnosť podmienená buď zápalom alebo nejakým alergénom, často je to kombinované. V priebehu času dôjde k trvalému zúženiu priedušiek. Prejavuje sa to kašľom, dýchavičnosťou a piskotmi a chrapotmi v prieduškách pri dýchaní. Na prieduškovú astmu trpí u nás viac ako 5 percent obyvateľstva. Pri chronickej bronchitíde pretrváva zápal sliznice priedušiek so zvýšenou tvorbou hlienu. V prieduškách sa riasinky, ktorých úlohou je vypudzovať nečistoty, poškodzujú a steny priedušiek sa stenčujú a zužujú. Príčinou chronickej bronchitídy sú najčastejšie opakované prechladnutia a infekcie, fajčenie, pretrvávajúce zápaly prínosných dutín a škodliviny v životnom prostredí. K hlavným príznakom patrí kašeľ s tvorbou hlienu a neskôr sa pripája aj dušnosť.
Veľmi závažným ochorením je chronická obštrukčná choroba pľúc, pretože trvalo poškodzuje priedušky…
Áno, pri chronickej obštrukčnej chorobe pľúc dochádza k trvalému obmedzeniu prúdenia vzduchu dýchacími cestami, a to je spojené so zápalom v prieduškách a pľúcach. Z príznakov prevažuje dýchavičnosť, pretrvávajúci kašeľ a nadmerná tvorba a vykašliavanie hlienu. Najčastejšími príčinami vzniku tohto závažného ochorenia, pri ktorom dochádza k trvalému a postupujúcemu zužovaniu priesvitu priedušiek, je fajčenie, pobyt v znečistenom životnom prostredí, a ako vyplýva aj z predchádzajúceho, taktiež postupujúca a nedostatočne liečená bronchiálna astma a chronická bronchitída. Pokiaľ ide o fajčenie, treba zdôrazniť, že to nemusí byť len v prípadoch, keď človek sám fajčí. Chorobu vyvolá aj pasívne fajčenie.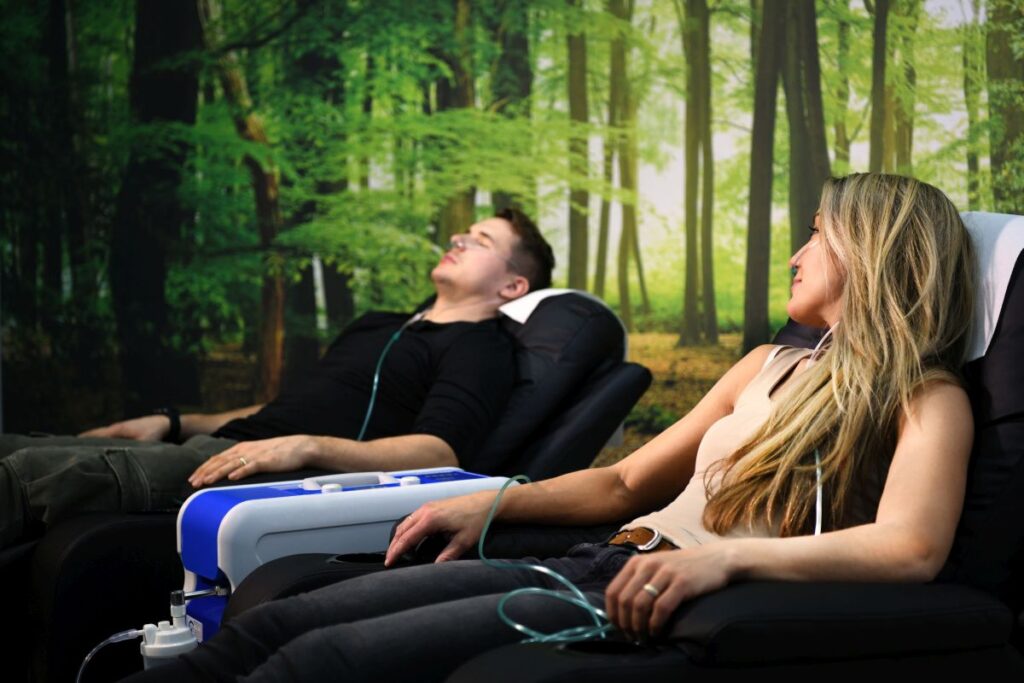 Čo ponúkate v rámci liečby a kúpeľného pobytu pacientom s týmito diagnózami u vás v Kúpeľoch Lúčky?
Využívame kombináciu klimatickej liečby, balneoterapie a tiež pohybovú liečbu v telocvični a na čerstvom vzduchu. Liečivé pôsobenie horskej klímy s dostatkom slnečných dní umocňuje prostredie s ihličnanmi s prevahou borovíc. Naši klienti sa môžu poprechádzať po lesných chodníčkoch plných vône liečivých borovicových silíc a pobudnúť v ozónovom prostredí pod vodopádom. Pri balneoterapii využívame liečivé účinky minerálnej vody, ktorá pri pití rozširuje stiahnuté priedušky, znižuje pohotovosť k ich stiahnutiu a uvoľňuje z nich hlieny. Jej imunomodulačný účinok potláča chronický zápal a zmierňuje alergiu. Pri balneoterapii využívame aj inhalačnú liečbu, oxygenoterapiu a pobyt v soľnej jaskyni. A s úspechom využívame aj MLS laseroterapiu. Veľmi dôležitou súčasťou kúpeľnej liečby je aj dýchacia gymnastika v telocvični, ku ktorej pridávame aj pobyt na čerstvom vzduchu.
Viera Mašlejová
FOTO: Kúpele Lúčky