Vianočné sviatky sa nesú v duchu osláv v rodinách či po známych. V slovenských obciach si aj spevom obyvatelia uchovávajú autentickú ľudovú kultúru pre nasledujúce generácie. Nás ich spev zavial až do malebnej doliny, ležiacej pod najvyšším vrcholom pohoria Braniska, Smrekovica, aby nás zoznámil s jedinečnými tradíciami našich predkov.
Naši hostitelia, Helena a Miroslav Špinerovci, vedúci dedinskej folklórnej skupiny Smrekovica nás aj s členmi skupiny privítali v malebnej dedinke Vyšný Slavkov, v útrobách obecného úradu. Členovia dedinskej folklórnej skupiny Smrekovica sa začali aktívne stretávať okolo roku 2005, udialo sa tak pri príležitosti stretnutia rodákov. Aktívni speváci a speváčky pochádzajú iba z obce Vyšný Slavkov a pravidelne si zaspievajú pri významných príležitostiach, výročiach a oslavách, či len tak, pre potešenie.
Venujú sa najmä scénickému folklóru z ich obce. Ich prvé CD dokonca prišiel pokrstiť aj vtedajší minister kultúry SR František Tóth. "Veľmi radi prídeme vystupovať tam, kde majú záujem o naše tradičné piesne a chcú sa ľudia potešiť spevom a dobrou náladou. Festivaly, slávnosti obce.. Po dvoch pandemických rokoch sme v októbri vystúpili na podujatí pre vzdanie úcty seniorom, potom vo vedľajšej obci Brezovička. Naposledy sme si pred pár dňami zaspievali v našom kostole na tzv. Jasličkovej pobožnosti, kde sa aktívne pridala aj Slavkovská mládež spolu s deťmi a kostolným zborom," vysvetľuje Helena Špinerová, vedúca FS Smrekovica. 
Spevy aké inde nenájdete
Tradície spojené s Vianocami sú tu dodnes živé a skutočne originálne. Skutočne platí, že čo dedina, to nové prekvapenie a hoci sa folklóru intenzívne venujeme ani zďaleka nevieme o ňom všetko. To, že naša zem skutočne znie piesňami nám pripomenuli aj krojované devy. Helene Špinerovej je ľúto, že niektoré texty piesní a melódie je už ťažšie zohnať, nakoľko pôvodní obyvatelia postupne odchádzajú a piesne tak pomaly upadajú do zabudnutia: "Texty, ktoré sa nám podarilo dať dokopy vyšli na CD s názvom A f Slafkove dobre žic a môžeme sa pochváliť aj obradovým pásmom Varenie lekváru, ktoré nám prinieslo víťazstvo na folklórnej súťaži Gajdica v obci Lúčka. Doba však spôsobuje aj prirodzené starnutie obyvateľstva, mnoho ľudí sa zo Slavkova odsťahovalo, tak sme veľmi radi, keď k nám zavítajú aj deti či mládež a spoločne môžeme posúvať naše unikátne piesne ďalej. Je super, keď vidíte malé detičky, ktoré majú odvahu a najmä radosť zo spevu."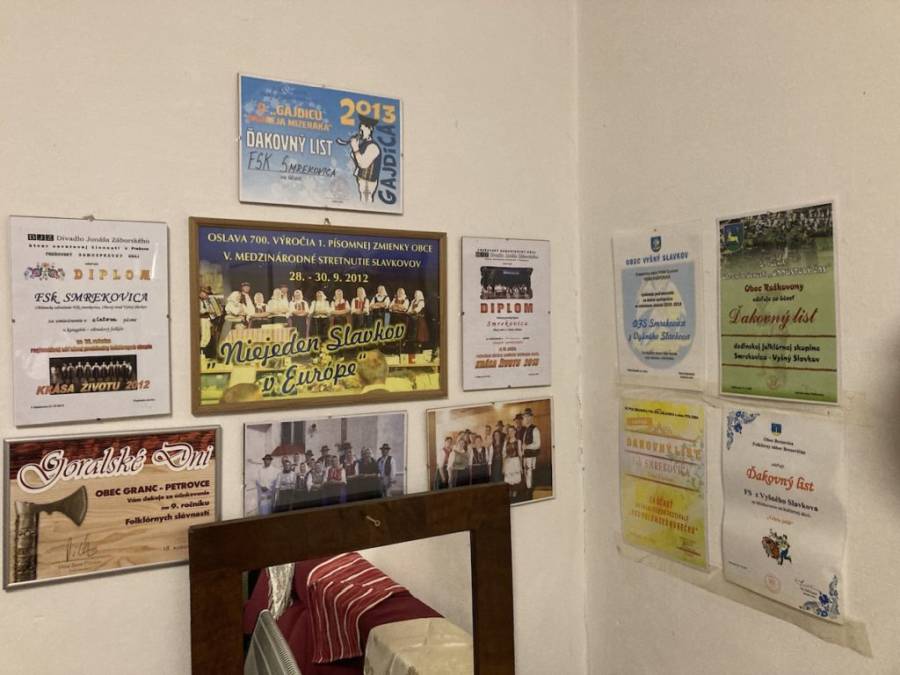 Spev zakorenený hlboko v srdciach
A to ako sa dokázali vo Vyšnom Slavkove veseliť a zabávať, sme videli a počuli aj my počas našej návštevy v tejto rázovitej obci, v tesnej blízkosti pohoria Smrekovica. To, ako hlboko je v členoch FS Smrekovica zakorenený rodný kraj sa prejaví v momente, keď zaznejú ich nádherné piesne, rozoznejú sa hudobné nástroje a na ich tvárach sa ukáže spokojný úsmev.