Rodiny s pacientmi, ktorým ochorenie hlboko zasahuje a poškodzuje mozog, sú nám príkladom bezpodmienečnej lásky a energie. Sila a zdroje však zďaleka nie sú nekonečné. Bez podpory 2 % z daní by účinná pomoc neexistovala.
Je množstvo pacientov, ktorí po vyliečení akútnej fázy potrebujú rehabilitáciu. A práve na to putujú vyzbierané peniaze. Príspevky na finančne náročné rehabilitácie sa skladajú obrazne povedané, po centoch – teda skôr po malých ako väčších sumách.Aj takáto "kvapka ku kvapke"má však zmysel. Pacienti vďaka nej na sebe pracujú, žijú svoj život, aj keď nie v úplnom zdraví.
Alica:
Rehabilitácia mi skutočne pomáha
"Keď má človek zdravé deti, ani netuší, že existuje svet hendikepovaných," prezrádza sympatická mama troch detí Ľubka. Alicka bola zdravé dieťa, kým sa jej ako 6-mesačnej neobjavili kŕče a výpadky dýchania. Diagnóza znela vážne –leukoencefalopatia s úbytkom bielej mozgovej hmoty. Prognóza sa javila ešte ťažšie – že nebude vedieť chodiť, ani sama zájsť na toaletu, a ani rozprávať. Mnohé z toho vďaka úmornej snahe rodičov a samotnej Alici, toto dievča dnes napokon dokáže a darcovia 2 % môžu mať príjemný pocit, že jej pomohli aspoň k čiastočnej samostatnosti. Nevládneho pacienta stavia na nohy niekoľko párov rúk a 2 % predstavujú obrovskú výhodu, ako zaplatiť rehabilitačné pobyty, ktoré sa cenou vyrovnajú luxusnej dovolenke. Práve rehabilitácia zameraná na neurologické poruchy postavila Alicu postupne na nohy. Dvadsaťštyri opakovaní rehabilitačných pobytov v ADELI Medical Centre, ktoré absolvovala, sa nepodobali na rekreáciu. V ADELI sa od pondelka do soboty cvičí niekoľko hodín denne so závažím a s celým tímom terapeutov. Po zvyšok dňa pacient absolvuje množstvo podporných terapií. Návrat do života po ťažkom zásahu osudu v oblasti zdravia stojí obrovské úsilie, stovky rehabilitačných hodín, náročné procedúry a zapojenie pokročilých technológií. "Obnova nervov je tak náročná, akoby ste mali skladať kilometer po milimetroch," vysvetľuje Alicina mama. Pre celkový obraz vám ponúkame vyjadrenie aj z druhej strany – od lekárov. "Ako neurologička som roky strávila záchranou života pacientov po porážke. Ak sme aj boj o život vybojovali, priznám sa, pred mojím pôsobením v ADELI Medical Centre som bola skeptická v prognózach, do akej miery a či vôbec sa dá stav pacienta zlepšiť. Pozitívne ma šokuje, aký pokrok dokáže urobiť pacient počas 2-3 týždňov intenzívnej rehabilitácie. Po týchto skúsenostiach tvrdím, a stojím si za tým, že šanca na zlepšenie zdravotného stavu je vždy," hovorí MUDr. Kristína Saienko Šugárová, medicínska riaditeľka ADELI Medical Center.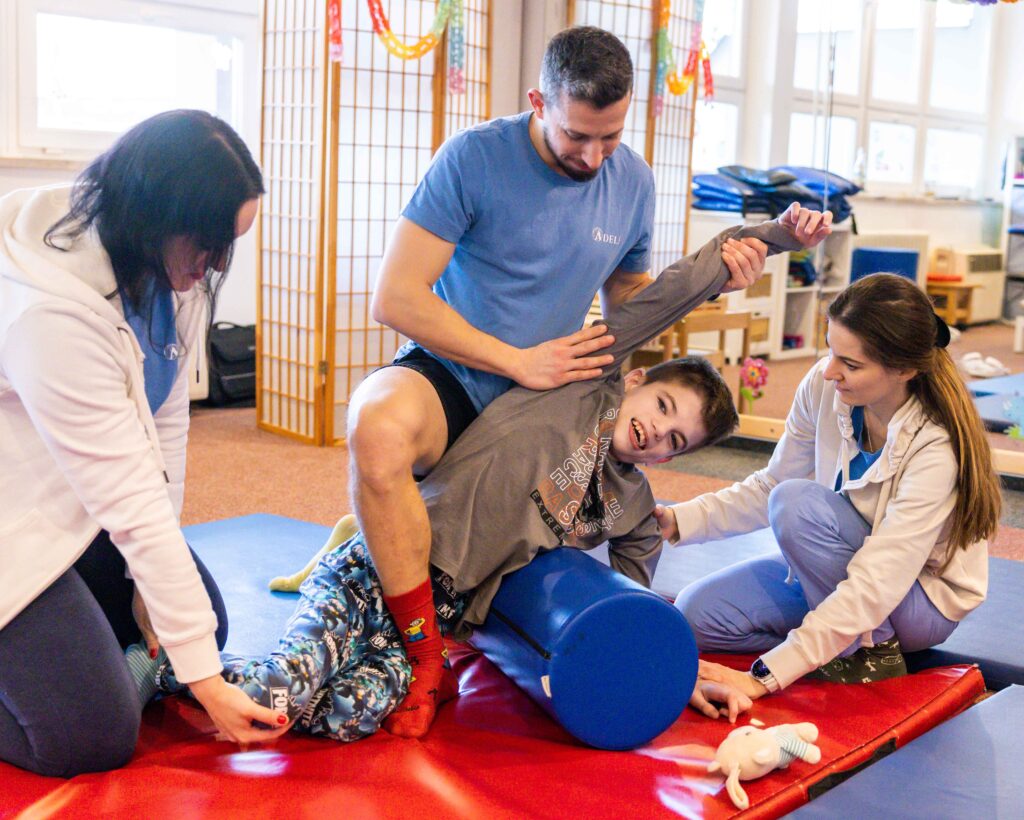 Andrej:
Predčasne narodený
"Dnes sme nekonečne vďační každému, kto na nás myslí a poukáže nám 2 % z daní. Keď sme však prvýkrát vybavovali agendu okolo toho, mala som chuť všetky tie papiere hodiť do koša," popisuje pobavene pocity spred trinástich rokov Marika, mama devätnásťročného Andreja. "Papierovačky nás stáli kopec síl, kým sme si zvykli, čo na daňovom úrade máme vybaviť a potvrdiť," dodáva. Pre Andreja sú rehabilitácie jedinou možnosťou držať sa nad hladinou bolesti, a ako zastaviť úpadok telesnej schránky. Predčasné narodenie uňho zanechalo trvalé následky – detskú mozgovú obrnu, epilepsiu, poškodenie zraku a luxáciu bedrového kĺbu. CT potvrdilo Dandy-Walkerov syndróm, ochorenie centrálneho nervového systému, charakterizované nevyvinutím časti mozočku a cystickým zväčšením štvrtej komory. Andrej má napriek ortopedickým operáciám úplne nefunkčný bedrový kĺb a k diagnózam sa pridal aj autizmus. Nechodí a nerozpráva. Starostlivosť oňho vyžaduje 24-hodinovú pozornosť a vytvorenie bezpečného prostredia, aby si neublížil. "Našou snahou je tieto symptómy čo najviac zmierniť a podľa možností napredovať. V tom nám najviac a profesionálne pomáhajú v ADELI medical centre," hovoria rodičia Marika a Števo jednohlasne. "Za 23 pobytov, ktoré sme strávili s Andrejom za posledných desať rokov v ADELI Medical Center sa našej rodine tiež otvorila možnosť stretávať sa s inými rodinami a vymieňať si odborné aj rodičovské skúsenosti. Je to pre nás prínosné aj po psychickej stránk,e na dva týždne zmeniť prostredie. Vždy sa do ADELI neuveriteľne tešíme, a preto robíme všetko preto, aby sme sa tam dostali. Pokiaľ budú ľudia ochotní pomáhať 2 % z daní, Budeme do ADELI chodiť naďalej, " uzatvára mama Marika.
Karolínka:
Bojujem s leukémiou
"Kto nezažil detskú onkológiu, nevie čo je peklo," hovorí s obdivuhodným nadhľadom štrnásťročná Karolína, výborná žiačka 8. ročníka základnej školy a bojovníčka na pohľadanie. Leukémia ju zastihla ešte ako veselú škôlkarku. Prvá liečba bola náročná, no úspešná. Až pri rutinnej lumbálnej punkcii sa stalo čosi mimoriadne zriedkavé. Karolínka ochrnula v spodnej časti tela. Podľa lekárov šlo o toxické poškodenie miechy chemoterapiou. Obnoviť funkčnosť nervov môže trvať niekoľko rokov a Karolínka začala usilovne rehabilitovať v ADELI Medical Centre v Piešťanoch. Všetko by bolo na najlepšej ceste, keby sa v škole nenakazila ovčími kiahňami. Leukémia sa vrátila a Karolína bojovala o život opäť. "Ocitnúť sa na tom istom oddelení dvakrát, to už je niečo. Všetci sa na vás dívajú ako na mimozemšťana. Nikto už neriešil, že neviem chodiť. Len sme dúfali, že prežijem. Podarilo sa," hovorí sebavedomé inteligentné dievčatko. "Verím, že raz budem chodiť, nech to trvá akokoľvek dlho. Mám svoj cieľ a robím preto všetko, čo viem – cvičím, cvičím, cvičím, rehabilitujem a rehabilitujem."
Rodičia Karolínky:
2 % nás zachránili
"Žijeme tu a teraz. Nič neplánujeme," hovorí so širokým úsmevom Karolínkina mama Blanka, otvorene hrdá na svoju dcéru a dodáva: "Ja som optimista, manžel pesimista, Karolína realista. Po mentálnej stránke to má Karolína "upratané", je samostatná, nezávislá. Som rada, že problém je "len" v tom, že nechodí." Na možnosť zbierať 2% z daní od darcov a financovať tak rehabilitácie pre Karolínku nedá dopustiť: "Zachránili nás 2 % percentá, ktorými Karolínku podporujú dobrí ľudia a prirodzene naša viera," tvrdí mama Blanka a hrdo dodáva: "Žijeme šťastný život!"
Ako poukázať 2 % pre ADELI
"Vážime si, že aj v dnešnej uponáhľanej a ťažkej dobe mnohí z vás nezabúdajú na tých, ktorí nemajú to šťastie byť zdravými a prispievajú na ich liečbu v ADELI Medical Centre. Toto centrum výrazne zefektívňuje kvalitu života. Aj takýmto spôsobom môžete dať najavo, že osud telesne či duševne postihnutých ľudí vám nie je ľahostajný," obracia sa k prispievateľom medicínska riaditeľka Dr. K. Saienko Šugárová. Podporiť pacientov ADELI Medical Centra môžete cez Nadáciu ADELI.
Údaje potrebné na poukázanie 2 %
Obchodné meno (názov): Nadácia ADELI
Právna forma: nadácia
IČO/SID: 42400970
Sídlo: 92101 Piešťany, Hlboká 45
Spracovala Viera Mašlejová
Foto: ADELI