Slávnostnej premiéry unikátnej slovenskej komédie Superžena sa v stredu 23. novembra 2022 zúčastnilo množstvo známych tvárí zo sveta slovenského i českého šoubiznisu. Celovečerný filmový debut známeho divadelného režiséra Karola Vosátka si okrem početného hereckého ansámblu prišlo do bratislavského kina CINEMAX Bory pozrieť aj viacero hviezdnych hostí a hostiek.
Spomedzi herečiek, ktoré v poviedkovom filme Superžena stvárňujú titulné ženské postavy, prišli film osobne uviesť Mirka Gális Partlová, Zuzana Kubovčík Šebová, Tatiana Dyková či Renáta Ryníková. Z ich mužských náprotivkov sa na premiére objavili Marko Igonda alebo Jaroslav Plesl. Nechýbali ani Katarína Brychtová a Maťo Ďurinda, ktorí si vo filme zahrali samých seba.
V publiku slávnostnej premiéry tlieskali prvému slovenskému uvedeniu napríklad aj herečky Gabriela Škrabáková, Michaela Čobejová, herci Marcel Nemec, Peter Sklár, Peter Batthyány či moderátor Andrej Bičan. Svoje manželky, ktoré si dokonca zahrali v spoločnej poviedke, prišli podporiť herci Michal Kubovčík a Vojta Dyk.
Film Superžena príde do kín 1. decembra a na plátna prinesie viacero príbehov, ktoré spája spoločná téma a zadanie. Šiesti scenáristi dostali za úlohu napísať filmovú poviedku o superžene, ako ju vidia vo svojej fantázii. Režisérsky potom všetky vízie zastrešil Karol Vosátko (divadlo La Komika, seriál Mafstory) a jeho dielo vďaka takémuto tvorivému prístupu kombinuje rôznorodé pohľady na zadanú tému, režijné štýly i prístupy k humoru.
"Na poviedkach milujem prekvapivé záverečné pointy, ktoré nám odhalia celok v inom vyznení. Poviedka dáva možnosť prerozprávať minipríbeh s pointou, ktorú nečakáte. A na krátkom úseku sa hráte s formou. Aj preto má pre mňa filmová poviedka svoje kúzlo," vysvetľuje Vosátko, prečo sa rozhodol zvoliť pre svoj celovečerný debut taký svojský formát.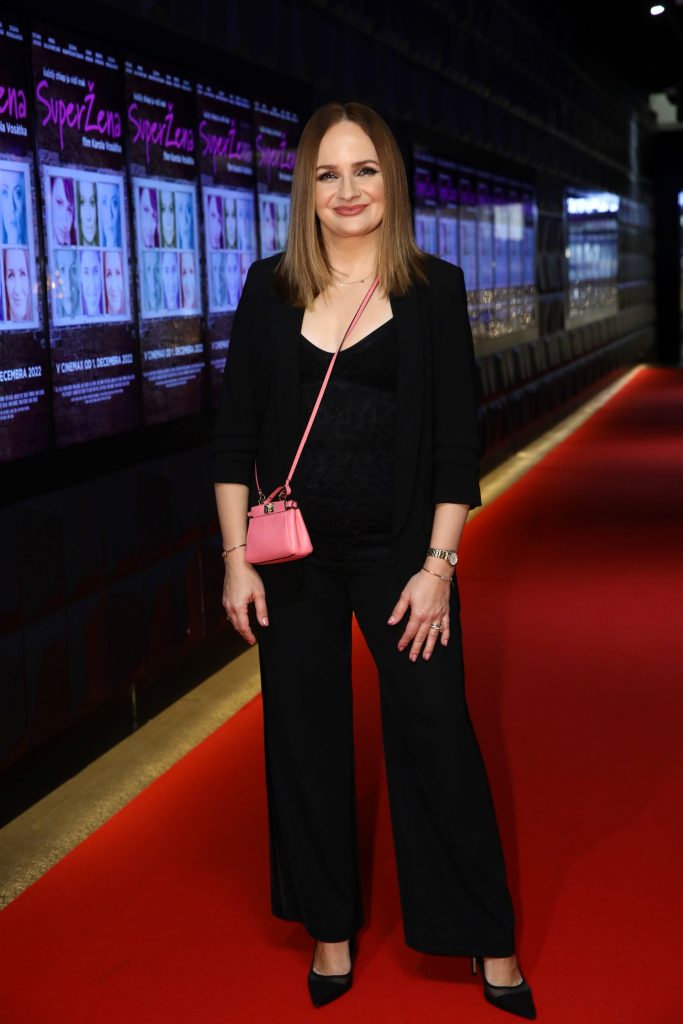 "Oslovil som viacerých skúsených autorov, ktorí sa mi zdali svojou tvorbou zaujímaví pre tento žáner. Každý z nich je úplne iný, a to sa mi zdalo zaujímavé pre vytvorenie čo najrôznejších poviedok. Viacerí sa navzájom ani nepoznajú a nikto z nich nevedel, ako vyzerajú iné poviedky. Bola to pre mňa skvelá scenáristicky – dramaturgická alchýmia," dodáva režisér. Sám sa scenáristicky podieľal na dvoch poviedkach, ostatné si rozdelili Viliam Klimáček, Stano Guštafík, Jozef Koleják, Miro Šifra a ich český kolega Petr Kolečko. Komédiu Superžena do slovenských prinesie distribučná spoločnosť Continental film.