Zima na Orave nestratila nič zo svojho mrazivého, bieleho pôvabu. Konáre smrekov sa prehýbajú pod nádielkou snehu, ktorý vrždí pod nohami a vytvára jedinečnú atmosféru.
So Slovenským dňom kroja sme zavítali do goralskej obce Suchá hora, kde nielen príroda, ale aj tunajší ľudia nielenže udržiavajú svoje dedičstvo, ale oni ním žijú a odovzdávajú ďalším generáciám.
Suchá Hora sa nachádza priamo na hranici s Poľskom. Je to tvrdá zem, kde sa vždy urodilo viac skál ako chleba. No napriek tomu tu Gorali majú svoje stáročné korene a svoju drsnú krajinu dokázali zjemniť nesmierne krásnymi tradíciami, ktoré sa zrodili v ich srdciach a dušiach.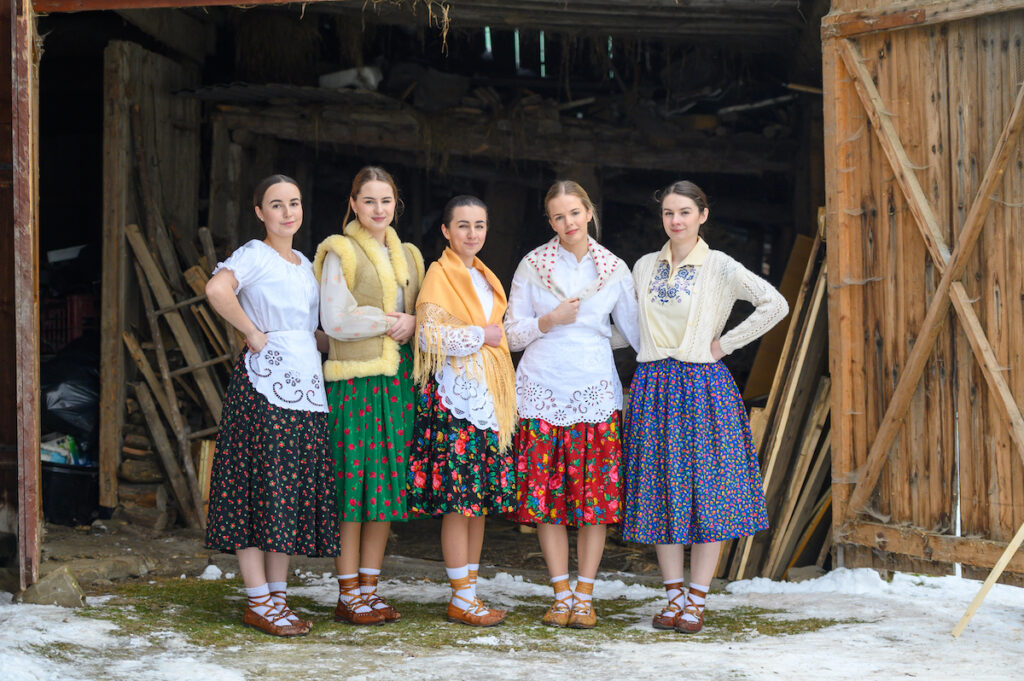 Krása ukrytá v kroji
Gorali sú nesmierne hrdí na svoj kroj a všetko čo stým súvisí. Uchovávajú ho aj prostredníctvom folklórnej skupiny Goral, ktorú dnes vedie Zuzana Šikyňová.
"Tancujeme a spievame výlučne len naše domáce piesne, tak ako ich poznáme od svojich mám a starých mám a tie to zas prevzali od svojich. Tak to už ide dlhé generácie. Záleží nám na zachovaní autentickosti nášho ľudového umenia. Rovnako vzácne je pre nás aj naše jedinečné goralské nárečie, ktoré tiež nezanikne. V každej rodine rodičia učia svoje deti hovoriť tak po našom – po goralsky. V tejto reči vyslovujú svoje prvé slová, učia sa prvé piesne. Slovensky začínajú hovoriť až v materskej škôlke a samozrejme v škole."
A podobne je to aj s krojom. Ten prvý, ušije stará mama svojej vnučke, či vnukovi, už v útlom detstve a potom nasleduje ďalší a ďalší, až do dospelosti. Rovnako je to aj s tradičnými zručnosťami. Nám okrem spevu a tanca predstavili aj pečenie tradičného chleba – moskaľ, a domáceho spracovania vlny.
Viac o jedinečnej kultúre a tradíciách Goralov aj to ako prežívajú zimu v tomto krásnom, no drsnom kraji sa dočítate v najbližšom vydaní týždenníka Slovenka.