Mgr. Katarína Novotová, členka občianskeho združenia Dobré srdiečka, Finalistka prvej série súťaže Pečie celé Slovensko, vášnivá hobby cukrárka, je autorkou bábovkovej výzvy "láskavosť cez sladkosť", v ktorej počas pandémie covidu spojila ženy z celého Slovenska a piekli pre domovy dôchodcov, policajtov, hasičov, zdravotníkov či ľudí v núdzi bábovky a iné koláče. Podieľa sa aj na ďalších charitatívnych aktivitách, napríklad na zabezpečení sponzorských darov pre rôzne nadácie, najmä pre detskú onkológiu v Bratislave, s ktorou spolupracuje aj formou tvorivých cukrárskych dielničiek pre deti, alebo pečení pre zdravotnícky personál.
V ťažkých časoch strávila niekoľko dní na slovensko-ukrajinskej hranici, kde spolu dobrovoľnými "kuchármi bez hraníc" varila a vydávala stravu pre ľudí utekajúcimi pred vojnou.
Čo pre Vás znamená ženskosť?
Ženskosť vnímam ako fluidum, vyžarovanie, ktoré neustále nosíme so sebou. Vychádza z nášho vnútra, kde sa snúbi srdce s dušou a vzájomne sa prepletá jemnosť, zraniteľnosť, úprimnosť, či autentickosť. Ženskosť už dávno neudávajú atribúty ako dokonalé miery, vysoké opätky alebo červený rúž. Je to harmonický priestor, v ktorom dokážeme ponúknuť svoju náruč, naslúchať, smiať sa, či plakať a vždy po každom zakopnutí sa zodvihnúť a ísť ďalej. Je to už od pradávna pudová moc, unikátna, odolná a vytrvalá.
Čo podľa Vás zahŕňa pojem slovenská žena?
Slovenská žena je pre mňa stelesnením jednoduchosti a zároveň veľkoleposti. Žena, ktorá z ničoho urobí niečo, žena, ktorá dokáže doniesť teplo domova hoc aj na severný pól (úsmev). Žena – matka, ktorej jedinečnosť a sila pulzuje celým jej telom. Dokáže byť jemná i ostrá zároveň. Znesie veľa, odpustí ešte viac. A vždy si zachová dôstojnosť.
S čím sa podľa Vás musíme ako ženy vysporiadať?
Všetko záleží o vnútornom nastavení. Ak v sebe živíme pozitívny mód, nehľadáme problém, tam kde nie je. No dobre, možno občas sa musíme popasovať so závisťou, s ľudskou hlúposťou a gravitáciou po dojčení J. No a potom sú tu ešte vrásky, ale tu sa treba podržať a povedať si: Mám len jednu! … a na tej si sedím (úsmev)
Na čo ste na seba najviac hrdé?
Veľa žien si v dnešnej dobe neverí. Žijeme dobu, kedy je na nás vyvíjaný enormný tlak spoločnosti, čo často krát spôsobuje neistotu a stres. Tu však stačí neprahnúť po dokonalosti a mať sa rada.
Bojíme sa byť hrdé aby to nevyzeralo sebecky. No po dlhých rokoch som zistila aj ja, že byť na seba hrdá je v poriadku. Nemusí to byť veľká hrdosť.. stačia malé "hrdôstky". Som napr. hrdou mamou troch detí, som hrdá na to, že po udupanom egu ako nič nezvládnem, som dokázala popri deťoch dovzdelávať sa. Že ak niečo veľmi chcem, idem si za tým a nikdy sa nevzdávam.. že dokážem nezištne pomáhať a stmeľovať ľudí, že si dokážem vážiť priateľstvo a aj to, že som sa dostala až sem – medzi nominované ženy.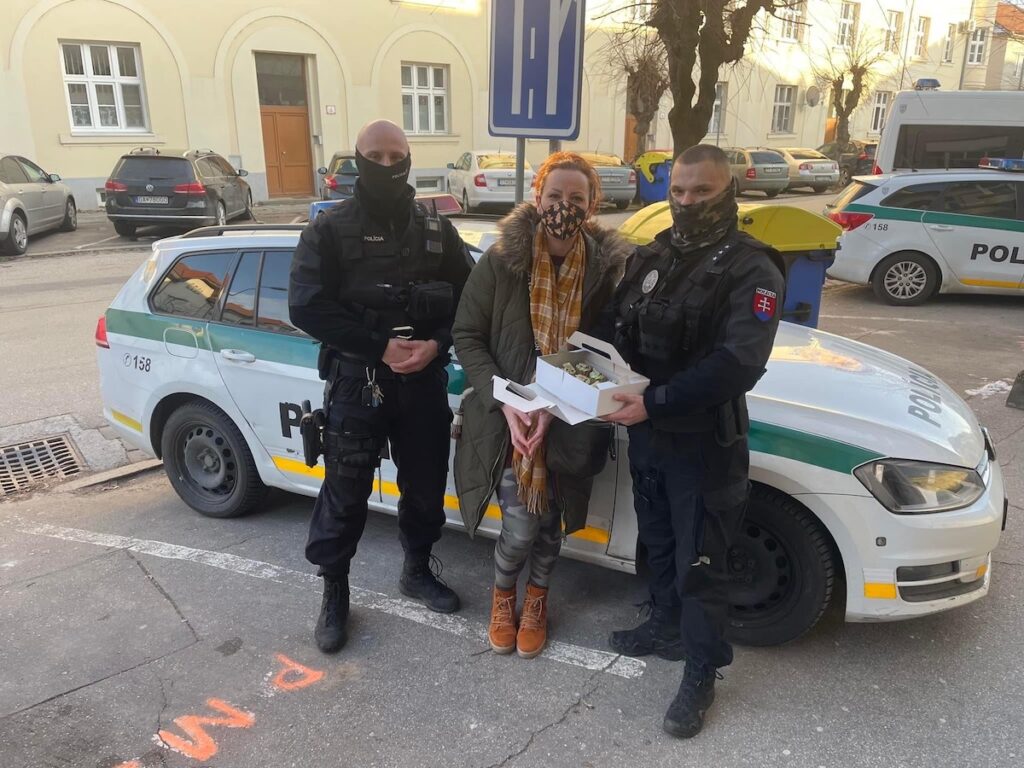 Kto je pre Vás osobne, vo Vašom živote Slovenka roka?
Mohla by to byť žena, ktorá stále stojí za mnou, vždy ochotne pomôže a pýši sa tým, čo zo mňa vyformovala. Každý deň mi zavolá, len preto aby zistila ako sa mám, alebo ma dokáže dokonale znervózniť. Tiež si hovorí mama… Moja mama. No a ešte by to mohla byt napr. naša pani prezidentka.
Hlasovať môžete tu: https://www.slovenkaroka.sk/hlasovanie/
Hlasujte cez SMS a vyhrajte pre seba a svoju rodinu týždenný pobyt v karavane od spoločnosti Turčan Auto

Redakcia týždenníka Slovenka
Hlasovať môžete od 07. februára 2023 10:00 do 20. júna 2023 – 12:00 prostredníctvom SMS na číslo 7400 v tvare SR 1 – 27. Cena SMS je 1 eur s DPH., službu zabezpečuje spoločnosť goodgames, s.r.o. Zároveň ste v hre aj o exkluzívny dovolenkový pobyt pre 2 osoby v Ománe od CK Hydrotour.
Ďakujeme vám, milé naše Slovenky, za inšpiratívne a príjemné prežité spoločné momenty s Vami. Redakcia týždenníka Slovenka

Redakcia týždenníka Slovenka
Veľká vďaka patrí partnerom podujatia ankety Slovenka roka 2023