Mladí ľudia menia svet. Vďaka nim z neho môže byť krajšie a pokojnejšie miesto. Národná agentúra programu Erasmus+ pre vzdelávanie a odbornú prípravu vybrala maturanta Dominika Gondu ako zástupcu žiakov stredných odborných škôl z celého Slovenska. Reprezentoval slovenské odborné vzdelávanie na záverečnej konferencii, ktorá sa uskutočnila 6. decembra v Bruseli pri príležitosti Európskeho roku mládeže. Pri výbere účastníkov stáží rozhodujú do veľkej miery aj mimoškolské aktivity a výsledky súťaží. Prihláste sa aj vy do vynikajúceho projektu Veľvyslanectvo mladých, ktorý vám môže obrátiť život o 180 stupňov.
Mládež rozumie potrebe udržiavania tradícií aj nutnosti ekológie
Dominik Gonda spolu so svojím tímom pre potreby projektu Veľvyslanectvo mladých vypracovali prácu Formálne a neformálne vzdelávanie o Podpoľaní. "Pochádzame z jedného z najrázovitejších regiónov Slovenska. K Podpoľaniu sa viaže vznik fujary, pýšime sa originálnym krojom a je tiež rodiskom Štefana Nosáľa, zakladateľa najznámejšieho slovenského folklórneho súboru Lúčnica. Ak chceme byť na náš región a tradície pyšní, musíme ich predovšetkým dobre poznať. Považujeme za dôležité, aby sa zvyky a tradície uchovávali aj medzi mladými ľuďmi. Preto sme sa rozhodli, že ich budeme v tejto oblasti vzdelávať." V práci vytvorili analýzu kultúrnych pamiatok z tradícií regiónu Podpoľanie. V rámci projektu spracovali viaceré zaujímavé učebné pomôcky, pripravili stránku online múzea o regióne a v osadili kešky na zaujímavých miestach spojených s históriou a kultúrou Podpoľania.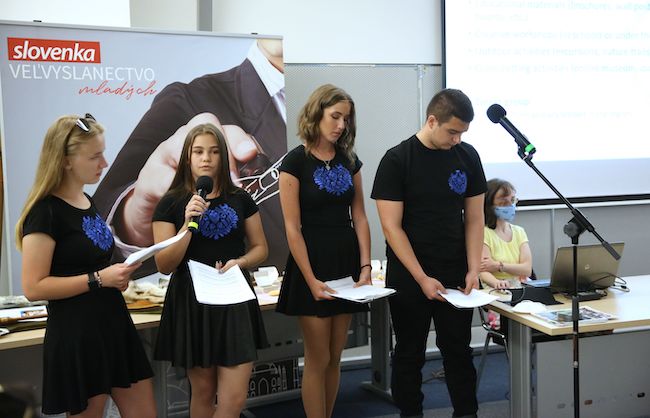 Tiež sa zamerali na prieskum informovanosti mladých ľudí o kultúre regiónu. Navrhli komplex aktivít, ktoré sa môžu využiť na vzdelávanie mladej generácie. Viaceré z nich sa im podarilo aj zrealizovať. Tento školský rok sa zameral na ekologické aktivity s projektom Komunitný podnik Zdieľané zelené Podpoľanie. Najdôležitejším motívom ich činnosti je zdieľať – nápady, myšlienky, veci, vzájomnú pomoc. Zdieľaním chceli dosiahnuť redukciu odpadu, a to jeho nevytváraním, predchádzaním alebo opätovným použitím. Sústredil sa na obehovú a zdieľanú ekonomiku s cieľom propagovať a priamo implementovať myšlienku udržateľného hospodárstva s dôrazom na tri piliere: udržateľná výroba, udržateľná spotreba, udržateľná výchova. "Stáž v Nemecku bola výborná, spoznal som ľudí z viacerých krajín a aj to mi ešte viac otvorilo myslenie. Vždy som bol vnímavý a stále som mal dojem, že nášmu mestu niečo chýbalo, akoby nebolo kompletné. Časom som prišiel na to, že sám toho veľa nenarobím, tak som sa v rámci predmetu cestovný ruch spojil s viacerými ľuďmi a myslím, že to dopadlo veľmi dobre (úsmev). Momentálne sa zameriavam na štúdium, teším sa do Bruselu a už mám aj nový koncept v hlave, ktorý snáď čoskoro uzrie svetlo sveta," hovorí Dominik.
Za všetkým stojí podpora od učiteľov
Žiaci môžu byť šikovní, ale pomocnú ruku na ceste im podáva práve pedagóg. Za Dominikom stojí oddaná Valéria Čiamporová z Obchodnej akadémie z Detvy: "Keď som sa v čase najtvrdšieho lockdownu rozprávala s Dominikovou mamou, ktorá vlastní bezobalovú ekologickú drogériu, hlavným dôvodom, prečo išiel na našu školu, bolo množstvo cestovateľských príležitostí, ktoré naša škola ponúka. Prešli však dva školské roky a kvôli pandémii Dominik žiadnu šancu nedostal. V čase online vyučovania boli dokonca rána, keď nestihol včas presvedčiť svoje ambiciózne ja a pripojiť sa na prvé hodiny. Mesiace strávené doma bez možnosti napĺňať svoje sny a ukazovať schopnosti a záujmy, mohli zničiť nejeden talent. Našťastie v Dominikovom prípade sa tak nestalo." Uvoľnené opatrenia znamenali pre Dominika konečne možnosť splniť si svoje ambície zapojiť sa školských medzinárodných projektov. Ako tretiak sa zúčastnil trojtýždňovej odbornej stáže na Malte. Nasledovala dvojtýždňová prax v Poľsku, po návrate z ktorej len vybalil kufor a zbalil ďalšie veci do Nórska. Hneď na úvod tohto školského roka absolvoval dvojtýždňovú stáž v nemeckej Jene. Všetky Dominikove úspechy dokazujú, že aj malá škola z malého mesta vychováva kreatívnych mladých ľudí, ktorí sa neboja prezentovať svoju šikovnosť a vyrovnajú sa akejkoľvek konkurencii.
Pozorný mladý gentleman
"Dominik to je proste charakter! To vám povie každý, kto sa s ním stretol. Je to mladý, sympatický, inteligentný a komunikatívny chalan, ktorý pomôže, poradí, vypočuje, vybaví, vysvetlí, je priateľský, tolerantný, ľudský. Veľmi rád spoznáva život ľudí v iných krajinách, ich zvyky, jedlá, mentalitu. Pre mňa topka, aký vie byť trpezlivý k mladším súrodencom a pozorný ku všetkým členom rodiny. Študenti si často vytvárajú v školách cvičné firmy. Domino je súčasťou, síce malej, ale skutočnej rodinnej firmy a myslím, že si tak vie v praxi veľa vecí zažiť, vyskúšať, overiť a presadiť dobré a inovatívne myšlienky nielen o ekológii vo svojom okolí. Často sa mi stáva, že ma zastúpi v obchode a potom príde pozitívne hodnotenie na jeho vystupovanie, správanie a to sa mi ako mame veľmi dobre počúva alebo číta. Vážim si ho pre to, aký je a som na neho veľmi hrdá," opisuje s láskou v očiach svojho syna pyšná mama. Svojím prirodzene príjemným, inteligentným vystupovaním a správaním Dominik vyvracia nevhodné mýty o mladých ľuďoch. "Myslím, že ma ženú vpred možnosti, ktoré mám. Žijem v dobe kedy môžem slobodne cestovať a zapájať sa do rôznych projektov kde môže môj hlas byť počuť a veci z papiera môžem pretransformovať na reálne výstupy. Samozrejme ma tiež poháňať vpred podpora zo strany mojej rodiny, ktorá má vždy podporuje v mojich aktivitách a spolu so mnou sa vždy teší z mojich úspechov, ďakujem, že vás mám," vyznáva sa Dominik.