Nároky vašej pokožky sa menia spolu s ročnými obdobiami. To, čo vám vyhovovalo v lete, už v zime nemusí, a to sa potom nepekne odrazí na stave pleti a pokožky. Suchá koža, ktorá je popraskaná a svrbí, nie je príjemná na pocit, ani na pohľad. Možno práve i vy robíte týchto päť chýb v starostlivosti o ňu. Ak áno, mali by ste to rýchlo napraviť.
Chyba č. 1: Ochladilo sa, no vy sa stále staráte o pleť rovnako ako v lete.
Zmena teploty, tlaku vzduchu i množstva denného svetla si vyžaduje úpravu vašej čistiacej rutiny.
Riešenie: Pleť by ste mali čistiť v dvoch krokoch. Ako prvý na tvár naneste prípravok na báze oleja alebo micelárnu vodu. Opláchnite ju však potom vodou. V druhom kroku použite jemný čistič, ktorý z pleti neodstráni spolu s nečistotami aj vlhkosť. V zimnom období určite vynechajte prípravky s vysokým obsahom alkoholu, kyselín a penidiel.
Chyba č. 2: Z domu odchádzate bez vrstvy opaľovacieho krému či denného krému s SPF faktorom.
Nezabúdajte, že slnečné lúče sú rovnako silné a škodlivé bez ohľadu na to, čo hovorí váš teplomer. UVA a UVB lúče spôsobujú starnutie pokožky, vrásky, akné, hyperpigmentáciu a v najhoršom prípade i rakovinu kože.
Riešenie: UV lúče dopadajú na zemský povrch aj keď nesvieti slnko a je pod mrakom. Nedajte sa oklamať – používajte SPF 30 až 50 celoročne, nielen v lete. Ak idete v zime na hory, siahnite radšej po faktore 50+.
Chyba č. 3: Sprchujete sa príliš dlho mimoriadne horúcou vodou.
Počas zimných mesiacov vám sprchovanie veľmi teplou vodou môže len uškodiť. Z pokožky sa tak odstraňujú prirodzené oleje a zanechávajú ju dehydratovanú a suchú.
Riešenie: Nepreháňajte to s teplotou vody. Hneď po sprche sa natrite hydratačným krémom alebo olejčekom.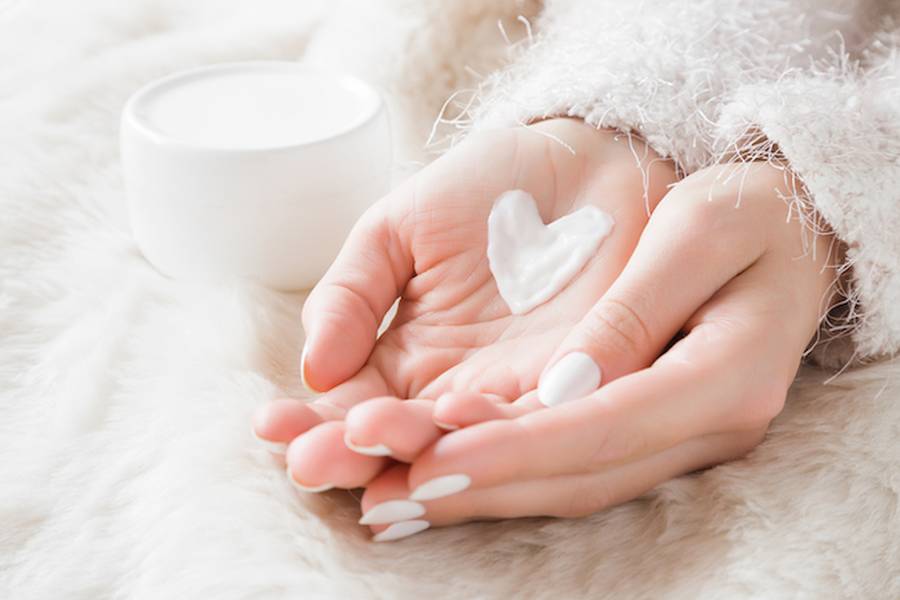 Chyba č. 4: Zabúdate na dôkladnú hydratáciu a výživu pokožky.
Počas leta to väčšinou nebýva taký problém, no v zime sa zvykne všetko zmeniť. Vaša pokožka vám pri nedostatku pozornosti a správnej starostlivosti začne spôsobovať problémy – býva suchá, popraskaná, bez života a svrbiaca.
Riešenie: Hutnejšia konzistencia krémov vám v zime opäť padne vhod. Vyskúšajte sa napríklad natierať hydratačnými krémami s obsahom ceramidov, ktoré pomáhajú pri obnove ochrannej funkcie pokožky. Zároveň ju udržiavajú vyživenú, vláčnu a plne hydratovanú.
Chyba č. 5: Nedali ste si pauzu od exfoliácie pleti.
Pleť je v zime citlivejšia, suchšia a náchylnejšia na rôzne zápaly. Ak používate peelingy z ovocných kyselín, retinol či séra s vitamínom C, mali by ste si počas zimy dávať pozor. S ich aplikáciou to v tomto ročnom odbobí netreba preháňať, aby ste si nepoškodili kožnú bariéru.
Riešenie: Nemusíte sa peelingov a exfoliácie vzdať úplne. V zime odporúčame najmä "jemnejšie" kyseliny ako AHA (kyselina mliečna) alebo PHA (kyselina laktobionová, glukonolakton). Najdôležitejšie však je, aby ste ich nepoužívali tak často. Pamätajte, že po ich aplikácie je SPF nutnosť, preto choďte vonku vždy iba s naneseným ochranným faktorom.