V rodine Pokorných cítiť veľa lásky a súdržnosti, aj keď cena je privysoká. Spojila ich choroba prvorodeného syna Jakuba. Ten sa narodil v nesprávnom čase na nesprávnom mieste a pri pôrode sa pridusil, dnes je na úrovni malého bábätka s diagnózou detská mozgová obrna. Jakubov brat Matúš nelenil a začal staršiemu bratovi vlastnoručne pomáhať výrobou špeciálnych mydielok a to už vo veku osem rokov.
Nechceli sme iba sedieť a nariekať
Jakub má 22 rokov, je o 6 rokov starší od Matúša, ale dnes je na úrovni malého bábätka. Jakub sa pridusil pri pôrode, vdýchol mekónium z plodovej vody a to mu upchalo pľúca. Nerozpráva, nesedí, nechodí, je úplne ležiaci. Rodičia sa oňho celodenne starajú už viac ako 22 rokov. Jeho stav je síce stabilizovaný, ibaže rastom a žiadnou aktivitou sa žiaľ zhoršuje. Aby sa neustále nezhoršoval, potrebuje finančne náročné rehabilitácie, ktoré nie sú hradené zdravotnou poisťovňou. "Celý projekt Vymydli si začal úplne základnou zdravotnou pomôckou, ktorá bola pri Jakubovej diagnóze hradená počtom 2 kusy na deň. Boli to plienky. Kubko ich potrebuje 5-8 na deň, a tak sme niekoľko rokov kupovali ročne tony plienok," spomína si na začiatky svojho projektu Matúš. "Nechceli sme sedieť doma so založenými rukami, dali sme s rodičmi hlavy dokopy a vznikol nový projekt."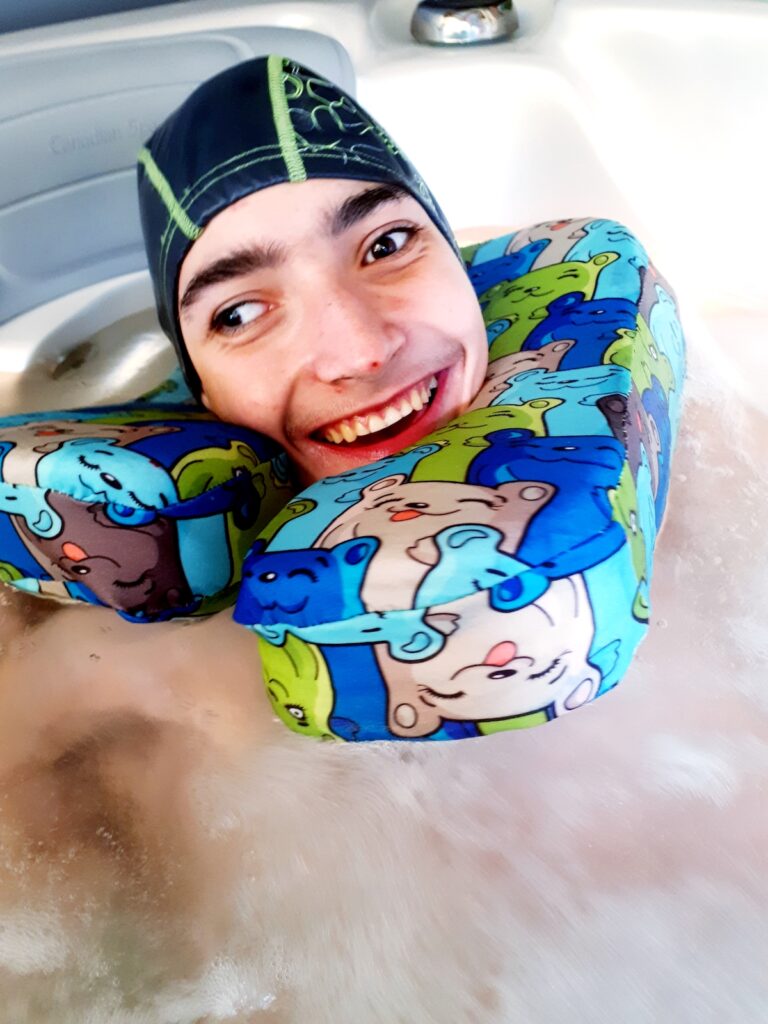 Vymydli si hračku
Rodičia malých detí vedia, ako náročné je primäť ich k pravidelnému umývaniu rúk. Matúš dostal obdivuhodný nápad spojiť príjemné s užitočným a vymyslel nový spôsob umývania rúk. "Mal som približne osem rokov a rozmýšľal som, ako by som mu pomohol. Vlastné mydielka som si začal vyrábať už keď som mal približne štyri roky. Ukázala mi to mama. Spočiatku som vyrábal jednoduché mydielka, no jedného dňa mi do formy spadol panáčik z lega. Tak som si na sebe odskúšal, akou veľkou motiváciou vie byť odmena. Je to úžasný kreatívny koníček, pri ktorom zároveň relaxujem, keďže myslím len na farebné kombinácie, dávam výrobku vôňu, tvar a hračku. Zároveň je to môj vlastný charitatívny projekt, kde sa realizujem a pomáham Kubkovi." Mydielko, ktoré v sebe skrýva hračku dieťa motivuje umývať sa dovtedy, pokým nenarazí na vytúžené prekvapenie. Deti si môžu z mydielok vymydliť rôzne hračky: autíčka, dinosaurov, motýľov, princezné, či poníkov. Motivácia je teda naozaj veľká. Časom začal Matúš vyrábať aj mydlá pre dospelých a mydelničky. Môžete ho stretnúť aj na jarmokoch, na Trnavskom rínku, Dobrom trhu, Vianočných trhoch či v bratislavskej Starej tržnici. Matúš nie je len obdivuhodný brat, ale aj šikovný mladý chlapec študujúci na osemročnom gymnáziu v Bratislave. Rád chodí na súťaže v šifrovaní a posúva sa tak ďalej v matematike, ktorá ho veľmi baví. Jeho čas je striktne delený na pomoc bratovi v podobe výroby mydielok a štúdiu. Angažuje sa aj v občianskom združení Čarovný prútik, kde pomáha pri tvorivých dielňach, vo voľnom čase programuje, skladá lego či športuje.
Nádej v podobe hyperbarickej komory
Ťažko chorému ležiacemu chlapcovi s detskou mozgovou obrnou pomáha pobyt v hyperbarickej komore. Tam pod veľmi vysokým tlakom, ako keď ste 12 metrov pod morom, dýcha Jakub veľmi vysoko koncentrovanú zmes kyslíka. Zatiaľ má za sebou 49 ponorov a táto liečba je mu nápomocná najmä psychicky. Počas Kubkovho života rodina vyskúšala už všetky dostupné aj menej dostupné formy liečby. Žiaľ poškodenie Kubkovho mozgu, ktoré vzniklo nedostatkom kyslíka pri pôrode, je tak veľké, že hoci sa najskôr naučil pretáčať, prehĺtať a podobne, to všetko časom vymizlo. Rehabilitácia v hyperbarickej komore je možno to, čo mu pomôže posunúť sa vpred. Jeden ponor v tomto zariadení trvá 75 minút a stojí 88 €. Rodina si pomáha najviac, ako vie a je vďačná všetkým dobrým ľuďom. Zaujímavosťou je, že pätnásťročný Matúš komunikuje so zákazníkmi na sociálnych sieťach sám a to s najväčšou profesionalitou. 
Jakubovi môžete pomôcť nákupom v e-shope www.vymydlisi.sk a darovaním 2% zo zaplatenej dane priamo pre Jakuba cez občianske združenie Čarovný prútik , IČO : 42287481