Stratosféra v Las Vegas
Stratosféra je so svojou výškou 356 metrov vyhlásená za najvyššiu voľne stojacu vežu v Amerike a druhú najvyššiu na západnej pologuli. Spája v sebe hotel a kasíno. Z rotujúcej reštaurácie Top of the World si môžete vychutnať fantastický výhľad na celé Las Vegas. Okrem vyhliadky tu na vás čakajú aj bláznivejšie adrenalínové atrakcie, napríklad takzvaný Veľký výstrel, pri ktorom sú odvážlivci vystrelení do vzdialenosti 48 metrov pomocou 4G metódy. Pre milovníkov adrenalínu sú na výber aj futuristický reťazový kolotoč alebo hojdačka na okraji vyhliadkovej plošiny. Vežu si všimnete takmer v každom veľkofilme, ktorého dej sa odohráva v meste hazardu. Stojí len kúsok od slávnej oblasti Strip. Je teda vynikajúcim orientačným bodom a zároveň hranicou medzi ňou a starým centrom.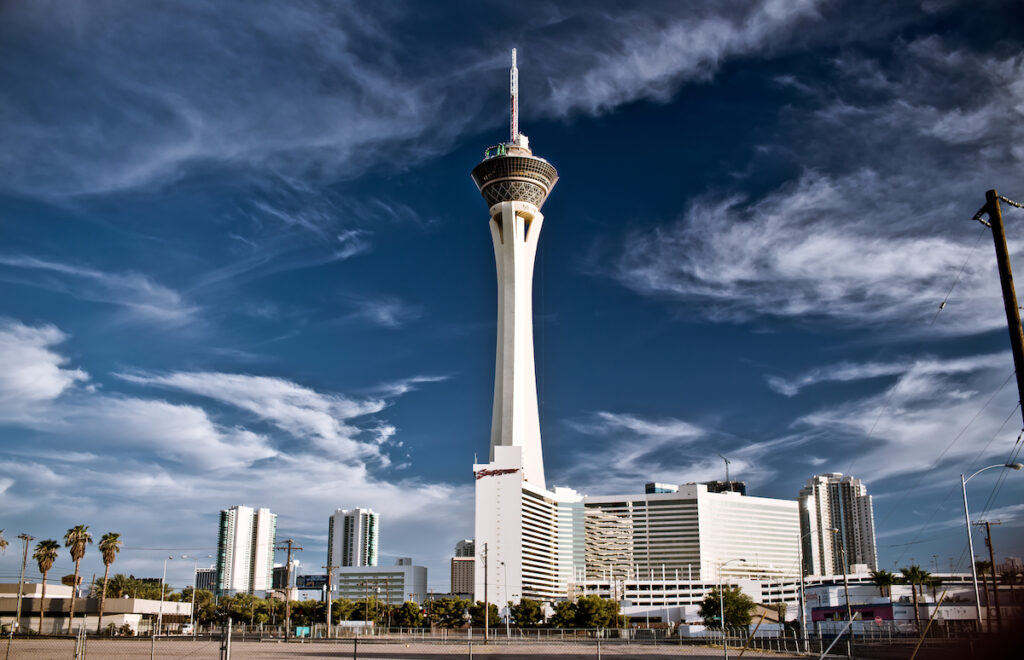 Burj Khalifa v Dubaji
Burj Khalifa je aktuálne najvyššou budovou sveta. Týči sa vo výške neuveriteľných 828 m. Z vyhliadkovej plošiny poskytuje jedinečný výhľad na celý Dubaj, okolité púšte, ako aj na Perský záliv. Bola dokončená v roku 2010. Predstavuje technologický pokrok, symbol prosperity a rozvoja Dubaja a zdroj hrdosti pre arabský svet. Je to nielen nádherná budova, ale aj dôkaz toho, čo je dnes možné dosiahnuť v architektúre. Je jedným z najnavštevovanejších turistických miest v Dubaji, kde priťahuje turistov z celého sveta. Budova má 163 poschodí, pričom vyhliadková veža sa nachádza na 124. z nich, známom ako At The Top. Celý objekt slúži ako kombinácia rezidenčných, komerčných a hotelových priestorov. V okolí sa nachádza veľký park s populárnymi spievajúcimi a tancujúcimi fontánami, ktoré sa spúšťajú v pravidelných intervaloch a rozsiahle nákupné centrum Dubai Mall, v ktorom si príde na svoje každá nákupná maniačka.
CN veža v Toronte
Je jednou z najznámejších vyhliadkových veží na svete. S výškou 553 metrov poskytuje nezabudnuteľný výhľad na mesto a okolité oblasti. Návštevníci si môžu vychutnať výhľad z vyhliadkovej plošiny alebo z jedinečnej rotujúcej reštaurácie, ktorá sa otáča v priebehu hodiny. Veža bola dokončená v roku 1976. Okrem výhľadu ponúka aj adrenalínové zážitky. Podobne ako v Bratislave, aj tu sa môžu návštevníci prejsť po okraji budovy – prostredníctvom lanovej konštrukcie v bezpečnej sieti. Veža tiež slúži ako komunikačný štandard pre rádiové a televízne signály. Je považovaná za dominantu Toronta. V roku 1995 bola zapísaná do Zoznamu svetového dedičstva UNESCO ako symbol kanadského technologického pokroku a architektúry.