Vyhliadkové veže sú architektonickým skvostom, dominantou miest i lákadlom turistov. Zažijete na nich neopísateľný adrenalínový zážitok z dychberúcej výšky a uvidíte ten najkrajší výhľad na celý kraj navôkol. Poďte sa s nami pozrieť na tie najzaujímavejšie z nich. 
A nemusíte ísť ani ďaleko! Jednu unikátnu, hoci najnižšiu z nich máme aj doma na Slovensku…
Vyhliadka UFO na Moste SNP v Bratislave
Reštaurácia v tvare UFA na Moste SNP v Bratislave je najmenšia z najväčších vyhliadkových veží na svete. Most patrí do asociácie World Federation of Great Towers. Je pritom jedinou vyhliadkou, ktorá slúži ako pylón mosta. Týči sa vo výške 85 metrov a vyhliadková plošina je situovaná na streche reštaurácie. Na vrchol sa dostanete výťahom za 45 sekúnd. Zhora uvidíte až do diaľky 100 kilometrov. Okrem hlavných dominánt Bratislavy, ako sú Dunaj, hrad, historické centrum, Sad Janka Kráľa a mnoho ďalších, z nej dovidíte aj do susedného Rakúska. Pre tých, ktorým sa nestačí dívať z poza zábradlia či okna reštaurácie, si v sezóne môžu vyskúšať aj prechádzku v oblakoch. A to doslova. Z vonkajšej strany reštaurácie nad parapetnou doskou vedie natiahnuté istiace lano, vďaka ktorému sa môžete bezpečne prejsť dookola. Vyhliadka patrí medzi najobľúbenejšie atrakcie hlavného mesta. Ročne ju navštívi až 250-tisíc turistov, prevažne zo zahraničia. Most SNP spája dva brehy Dunaja – petržalskú stranu s centrom mesta. Napriek všetkým benefitom je stále tŕňom v oku mnohých Bratislavčanov a historikov. Nazývajú ju tiež jazvou Bratislavy. Most postavili počas bývalého režimu v rokoch 1967 až 1972. Hneď po svojom otvorení obsadil štvrté miesto na svete v kategórii zavesených mostov. Zároveň tiež titul kultúrne barbarstvo 20. storočia. Aby sa preňho vytvorilo miesto, museli zbúrať historické nábrežie s domami z 18. a 19. storočia. Trhaviny zrovnali so zemou nielen neologickú synagógu, ale aj židovské geto v Podhradí. Budovy geta prežili vyše tristo rokov rozkvet i biedu bratislavskej židovskej komunity. Mnohé z nich si pamätali požiare z rokov 1811 a 1913. Paradoxne, nepadli za obeť vojnovému besneniu, ale doprave.
Palác kultúry a vedy vo Varšave
Aj naši severní susedia sa môžu pochváliť vyhliadkovou vežou. Je súčasťou Paláca kultúry a vedy, čiže komplexu budov, ktoré slúžia ako múzeá, galérie, knižnice, divadlá či kiná, ale aj Akadémia vied. Slúži na rozhlasové a televízne vysielanie. Má 42 poschodí, výšku 231 metrov a vyše 3 000 miestností. Funguje v nej až 33 výťahov. Vyhliadková terasa je na tridsiatom poschodí vo výške 114 metrov nad povrchom. Niekoľko ľudí z nej v minulosti spáchalo samovraždu, od prvého incidentu z roku 1956 sa tu preto museli nainštalovať bezpečnostné zábrany. Od 2. februára 2007 je celý objekt pamiatkovo chránený. Podobne, ako výstavba nášho Mostu SNP aj Palác kultúry a vedy postavili za bývalého režimu a hneď dostal nálepku kontroverzný. Bol vybudovaný v rokoch 1952 až 1955 ako pocta Stalinovi.  Pôvodne sa nazýval Palác kultúry a vedy Jozefa Stalina, no počas destalinizácie bol názov zmenený a Stalinovo meno spolu s jeho sochou odstránili z interiérov. Budova preťala historické mesto a stala sa obrovskou bariérou na pešej zóne. Veža bola donedávna najvyššou vo Varšave i celom Poľsku. Minulý rok ju však zatienila stavba najvyššieho mrakodrapu v Európskej únii v tesnej blízkosti – Varso Tower. Na výstavbe sa podieľala aj slovenská firma. Mrakodrap s vyhliadkou prerástol palácovú vežu o takmer 100 metrov. Poliaci sa tak konečne môžu pozerať z hora na budovu sovietskeho architekta, ktorú chápali ako symbol stalinizmu a potláčania Poľska.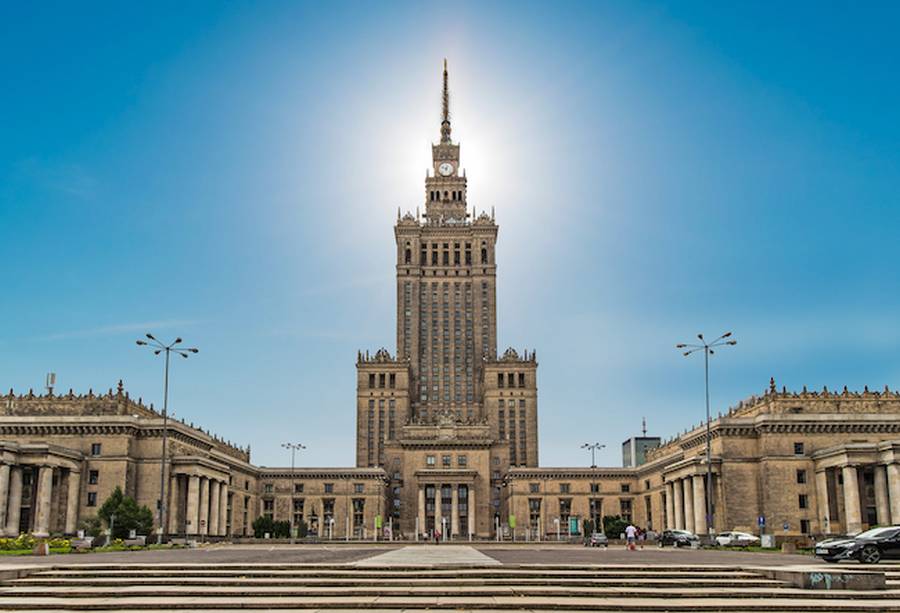 KL tower, veža v Kuala Lumpur v Malajzii
Keď zavítate na vyhliadkovú vežu KL, napriek tomu, že sa nachádza na opačnom konci sveta, pri vstupe do nej uvidíte kúsok domova – fotku nášho mosta SNP s vyhliadkou v tvare UFA. Aj veža v hlavnom meste Malajzie Kuala Lumpur patrí do asociácie World Federation of Great Towers. Je to najvyššia telekomunikačná veža v juhovýchodnej Ázii a siedma najvyššia na svete. Bola postavená s cieľom zlepšiť kvalitu telekomunikačných a vysielacích prenosov. S výstavbou začali v roku 1991 a bola dokončená o päť rokov neskôr. Veža sa stala jednou z najvýznamnejších pamiatok Malajzie, symbolom napredovania a rozvoja národa. Vyhliadka sa nachádza na vrchole Bukit Nanas vo výške 421 metrov a bola postavená so zámerom, aby splývala s prírodou. Bukit Nanas je jednou z najstarších trvalých lesných rezervácií v Malajzii. Lesná rezervácia má rozlohu približne 9,37 hektára a je jediným zostávajúcim panenským tropickým dažďovým pralesom v centre mesta Kuala Lumpur. Rezervácia slúži ako zelené pľúca mesta, je tiež domovom bohatej flóry a fauny malajského tropického dažďového pralesa. V skutočnosti je KL Tower jedinou vežou na svete, ktorá sa nachádza v lese! Samotná rozhľadňa ponúka dychberúci 360° výhľad na panorámu mesta Kuala Lumpur z výšky 276 m nad zemou. Ak sa príliš nebojíte výšok, vykročte na Sky Deck – vonkajšiu vyhliadkovú plošinu pod holým nebom, ktorá vám umožní vychutnať si ničím nerušený výhľad. Môžete sa tiež odfotiť na presklenej podlahe. Pocítite tak vzrušenie, ako keby ste sa vznášali vo vzduchu vo výške 300 metrov nad zemou.