Upustite uzdu fantázii. Viete, koľkokrát si pri novoročných vinšoch podáte ruku s blízkymi?
Ukážte, že vo vás drieme kreatívna duša a odlíšte sa. Vyžite sa v detailoch. Krásnu
manikúru vám podľa týchto inšpirácií pripravia v ktoromkoľvek lepšom salóne. A tie z vás,
ktoré mate viac času pre seba, to s našou pomocou zvládnete aj doma!
Trblietavé, pozlátené, vzorované, francúzske, viacfarebné, decentné, také i onaké. Vyberte si
tie, ktoré dokonale zvýrazňujú vašu osobnosť a šmrncnite sa. Nechtový dizajn je dnes hotové
umenie!
Zelená pripomínajúca ihličie vládne tohtoročným trendom. Buďte in! A neriešte, že vám nie
vždy bude ladiť k outfitu. V tom je ten trik. Nechajte ju vyniknúť. Výrazná manikúra je niečo
ako červený rúž doplňujúci nezaujímavé fádne čierne šaty. Niekedy je to skrátka tak, že platí
pravidlo – nie šaty robia človeka, ale detaily!
Infantilné sobíky či santa? Prečo nie! No a čo, že na to nemáte vek. Veď je to roztomilé. Na
Vianoce si môžete pokojne dopriať aj takýto výstrelok. Ukážete ním svoju nekonečnú
hravosť a dieťa, ktoré vo vás zostane navždy. Tento extravagantný štýl sa hodí najmä
k nekonzervatívnym spontánnym povahám, no môžu ním prekvapiť naopak aj tie z vás,
ktoré nezvyknú byť stredobodom pozornosti.
Tento motív zvládnete aj vo vlastnej réžii. Všetky nechty si nalakujte jednou farbou, tou,
ktorá vám je blízka. Odporúčame skôr lesklý ako matný lak. Najmä však kvalitný, ktorý sa
hneď neošúcha a vydrží aj nekonečné umývanie riadov po niekoľkochodovej večeri. Na
jeden z nechtov vytvorte detail, tradičný znak Vianoc – stromček alebo hviezdičku, prípadne
vločku. V drogériách disponujú rôznymi pomôckami, ktorými si obrázok na nechte
vytvarujete, prípadne len otlačíte.
Ako z ľadového kráľovstva. Aj zamrznutý look má niečo do seba. Vločky predstavujú typický
vianočný znak. Existuje celá škála modrých odtieňov. Počas roka by ste si túto farbu na
nechty zrejme nezvolili. Zima je pre ňu skrátka špeciálna príležitosť. Modrá je
kombinovateľná aj s bielou či striebornou. Fantázii sa medze nekladú.
Francúzka manikúra na vianočný štýl? Nám sa to páči. Je to skrátka "iné". A každá z nás je
iná. Nebojme sa ukázať svoju inakosť. Takéto nechty pôsobia ako šperk. Zaujímavú manikúru
by mali v tomto čase podniknúť najmä dámy, ktoré pri svojej práci vystavujú ruky neustálej
pozornosti pri rôznych službách, či už v reštaurácii, hotelierstve alebo akejkoľvek asistencii.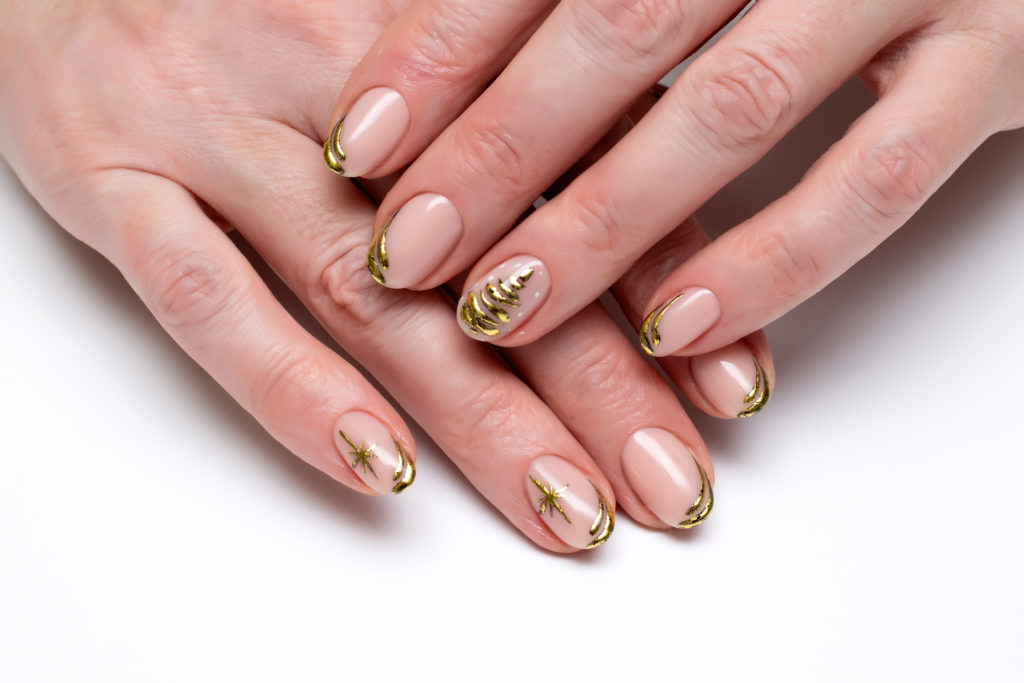 Že vám tie prekombinované pestré farby a gýčové trblietky nič nehovoria? Máme tu niečo aj
pre minimalistky. Nenápadné a zároveň nápadité! Tento štýl sa hodí na vianočný firemný
večierok, Silvestrovskú párty, ale aj bežné nosenie počas zimných mesiacov.