Hľadáte originálny vianočný darček pre svojich blízkych? Pocit, že darujete jedinečný darček, ktorý si budú pamätať, nič neprekoná. Keďže je obdobie sviatkov, väčšina ľudí hľadá darčeky pre svojich blízkych. Ale čo ak nie ste práve talentovaní v kreatívnom výbere toho pravého darčeku? Svojich priateľov a rodinu určite potešíte zážitkovým darčekom, ručne vyrobenou drobnosťou, či rozprávkovou výhrou vo Vianočnej lotérii.
Verte tomu alebo nie, existuje darček, ktorý ocenia všetci členovia vašej rodiny. Nie je pritom vôbec dôležité to, koľko eur ste na darčeky minuli.
Láska ide cez žalúdok
Ak si už teraz lámete hlavu s tým, čo budete variť keď vás omrzia sviatočné maškrty, môžete seba aj svojich milých potešiť darčekom v podobe kurzu varenia, kde zistíte, že variť jedlá z talianskej, ázijskej či mexickej kuchyne nie je žiadna nuda. Je to skvelý spôsob, ako sa zabaviť a podeliť sa o svoju lásku k jedlu aj s vašou rodinou či priateľmi. So samotnou prípravou vám pomôže skúsený šéfkuchár, vďaka ktorému si osvojíte šikovné triky, ktoré využijete aj pri príprave každodenných pokrmov.
Doprajte si aktívny relax na hodine jogy
Zvládanie stresu z povianočného návratu do práce či školy je pre niektorých ľudí veľmi problematické. Oddýchnuté telo aj myseľ môžete naštartovať na spoločnej hodine jogy, ktorá pomáha znižovať stres a napätie, a tým zvyšuje vašu pohodu. Dnes už na Slovensku existuje veľa štúdií jogy, ktoré majú špeciálne ponuky pre jednotlivcov, páry ale aj skupiny, takže ide o šport cenovo dostupný takmer pre každého.
V zdravom tele zdravý duch
Tých, ktorí si radi udržiavajú telo v dobrej kondícii aj počas sviatkoch, určite poteší nejaké zdravé a chutné prekvapenie. Ak viete o obľúbenej značke a produktoch, máte vyhrané. Ak nie, môžete staviť na klasiku ako arašidové maslo, mandľové maslo, či slnečnicové a tekvicové semienka, ktoré nájdete vo väčšine supermarketov. Kúpou zdravých maškŕt navyše môžete podporiť lokálnych výrobcov a značky produktov, ktoré sa vyrábajú na Slovensku.
Personalizovaný darček na mieru
Veľkému úspechu sa dlhé roky tešia spomienkové darčeky, ktoré sú jedinečné tým, že sú vytvorené na mieru. Tradičnú fotoknihu môžete nahradiť personalizovaným hrnčekom na kávu alebo čaj, ktorý na sebe bude niesť špeciálny odkaz pre vášho blízkeho. Takýto darček je veľmi praktický, rovnako môžete svojim blízkym zadovážiť originálnu podložku pod myš, uterák s vtipným textom, alebo kryt na telefón s vašou spoločnou fotografiou.
Výhra vo vianočnej lotérii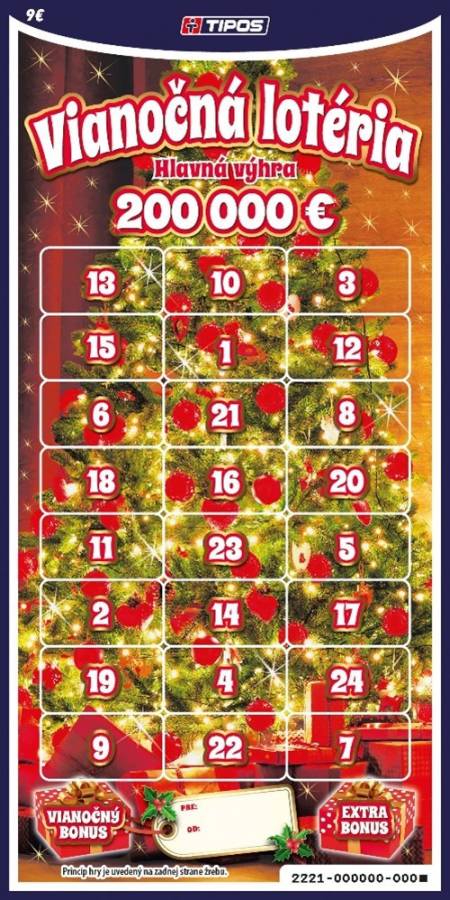 Koho by nepotešila výhra rozprávkovej sumy? Ak si stále neviete rady s výberom toho ideálneho darčeka, môžete to nechať v rukách vašich blízkych. Obľúbené žreby Vianočnej lotérie od Tiposu sa tešia každý rok veľkému úspechu. K tomu, aby ste týmto darčekom obdarovali svojich blízkych, stačí, ak už mali 18 rokov a na stieracom poli nájdu tri rovnaké symboly, vďaka ktorým môžu vyhrať až 200 000 eur. Žreb je v predaji na celom Slovensku do 31.12.2022 v cene 9 eur.